Pengcheng Shi to lead GCCIS in research
Ph.D. program director aims to make research opportunities more available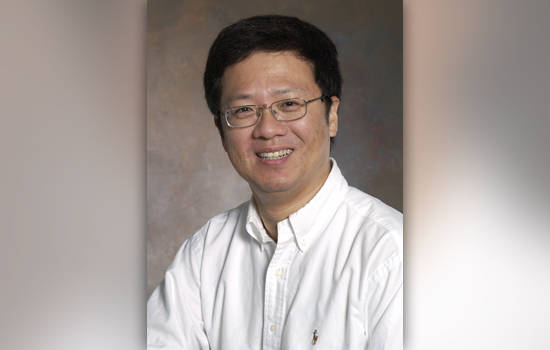 Pengcheng Shi has been named associate dean for Research and Scholarship of the B. Thomas Golisano College of Computing and Information Sciences at Rochester Institute of Technology.
Shi has been serving as the director of the Ph.D. program in computing and information sciences since 2007. He will now take on both roles, leading the college's commitment to research and scholarship while enhancing student education.
"Pengcheng is the right person for the job due to his success leading and growing the Ph.D. program," said Anne Haake, dean of the Golisano College. "He brings years of research experience and an understanding of research and scholarship at RIT to this position."
In the new role, Shi plans to focus on improving ways to recruit, mentor and retain new faculty. He will also continue supporting cutting-edge interdisciplinary research throughout the college.
"Of course, we will have faculty and Ph.D. students conducting hard-core computing research," said Shi. "But they will also be working in other fields—including medicine, art and engineering—that can be assisted, enabled and inspired by research in computing."
Shi also plans to encourage, embrace and support more scholarship activities for interested faculty. He will explore semester-long weekly training and workshops for learning how to come up with research ideas and how to further existing research. He also has ideas for creating a master-apprentice relationship program and introducing special seed funding programs.
In addition, Shi hopes to integrate research and education by creating more opportunities for undergraduate and graduate students to get involved in research and scholarship.
"We want to open the door for students who may be interested in a research career," Shi said. "This would also really help faculty because a lot of research is ultimately done by students."
Shi received a bachelor's in biomedical engineering from Shanghai Jiaotong University and a master's and Ph.D. in electrical engineering from Yale University. He also worked as a professor and researcher at Yale University, where his 1996 dissertation, "Image Analysis of 3D Cardiac Motion Using Physical and Geometrical Models"—and follow-up works—helped define a new direction for computational heart image analysis.