Ph.D. in microsystems engineering—Archana Devasia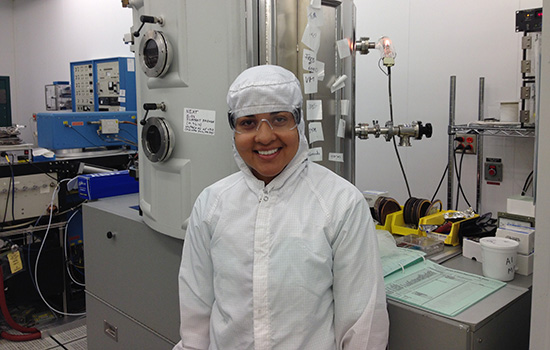 High-tech equipment launched by NASA is exploring the origins of the universe in the farthest, most remote reaches of space. Archana Devasia's work building some of the complex detector systems on that equipment ensures that data is being successfully transmitted back to Earth.
The microsystems engineering Ph.D. graduate is a research associate with NASA's Center for Research in Space Science and Technology (CREST) and is part of the team developing custom detectors that span the entire electromagnetic spectrum for astrophysics applications.
"One of the projects I'm working on is about taking measurements of the Cosmic Microwave Background, the radiation which was emitted thousands of years after the Big Bang," said Devasia '05, '11 (electrical engineering, microsystems engineering). Her team fabricated the space-based Fourier Transform Spectrometer, designed to measure polarization and intensity spectra of that radiation phenomena.
"It is almost like taking pictures of the start of the universe. It is so exciting to be learning about this."
At CREST, based at Goddard Space Flight Center in Maryland, Devasia works in a clean room environment. Many of the tools and processes she uses to build micro-scale detectors there are similar to those she worked on in the Semiconductor & Microsystems Fabrication Laboratory in RIT's Kate Gleason College of Engineering.
During her doctoral studies, she ventured to Brookhaven National Laboratory in 2009 as a visiting researcher and the following year worked as an advanced substrate research intern at IBM. While there, she worked with her adviser, Santosh Kurinec, RIT professor of microelectronic engineering; Kris Campbell, associate professor of electrical engineering at Boise State University and an expert in microfabrication and optoelectronic circuit design; and Simone Raoux, a former researcher in electronic materials and nanospectroscopy at IBM.
"Dr. Kurinec gave me so many opportunities to collaborate with different scientists," Devasia said of her faculty mentor. "Because of her, I was able to learn firsthand from experts."
That familiarity helps her deal with technical challenges associated with building intricate microscale devices for use in space. After graduation in 2011, Devasia became a process yield analysis engineer at Micron Technology where she monitored wafer level reliability performance of advanced memory and storage technologies. She became a postdoctoral research associate at NASA Goddard in 2014 before moving into her current position with the CREST team.
"When you are doing your Ph.D., it is very isolating. Your work is your bubble. You don't often know what work is going on in other groups across the country and because of these experiences, I was able to come to know what was happening in other fields firsthand. It made me look beyond that bubble. It helped broaden my outlook."
That broad outlook now includes her helping to discover the vast mysteries of space.
Alumni today
Many of the graduates hold positions at semiconductor corporations—and the companies that use these complex, integrated circuit technologies—around the world. They are research scientists and materials research engineers on teams at the U.S. Naval Research Center; process integration engineers for Apple Inc. developing next generation display panels and sensors; directors of R&D at Megachips America Inc.; and research faculty at major universities. Companies with RIT graduates are NASA, Intel, GE, Analog Devices, Samsung, IBM, Sandia National Laboratories, Texas Instruments, Global Foundries, Mentor Graphics and IMEC (the Interuniversity Microelectronic Center in Belgium).