Phil Castleberry named vice president for Development and Alumni Relations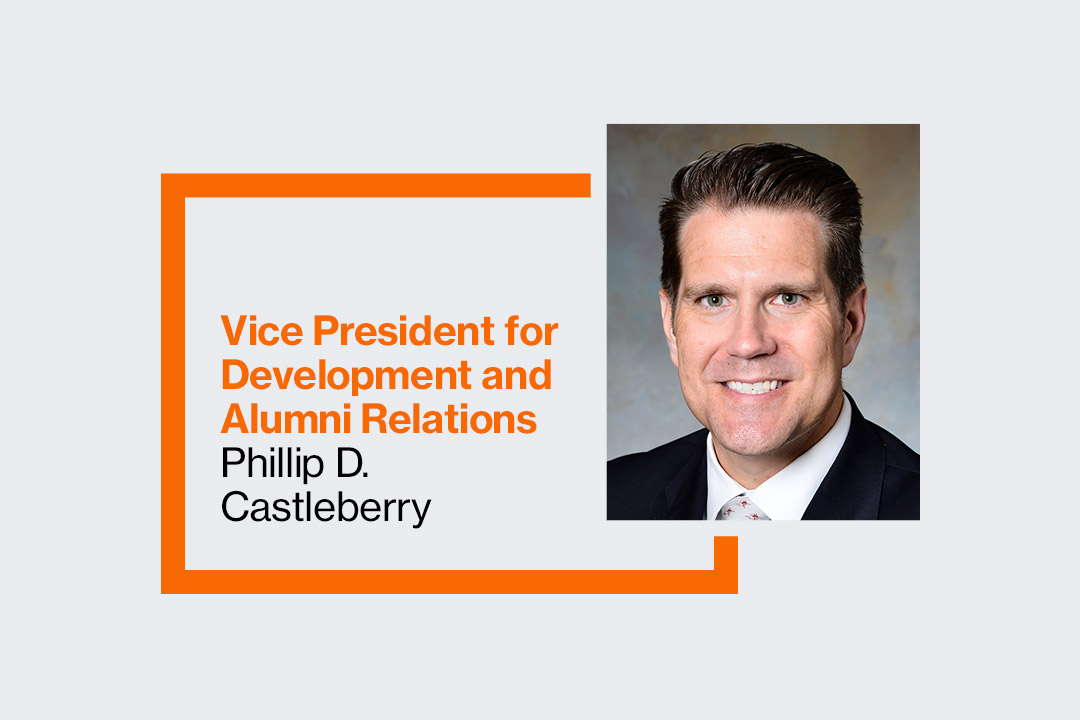 Rochester Institute of Technology has selected Phillip D. Castleberry, a 20-year veteran of higher education advancement and fundraising, as its new vice president for Development and Alumni Relations. Castleberry, who is currently serving as vice president for institutional advancement at St. John Fisher College, was chosen after a national search. He begins his RIT duties on Feb. 1.
"We are excited to be bringing Phil on board at a key moment during the largest fundraising effort in our university's history," said RIT President David Munson. "Phil's exemplary work at a host of other colleges and universities has prepared him well to accept the challenge of further elevating our alumni relations and fundraising programs at RIT. I know that ​the RIT Tiger family will enjoy meeting and working with Phil."  
Castleberry's duties at RIT will include providing strategic vision and operational leadership for all aspects of the university's development and alumni initiatives, including fundraising and cultivating constituency relations. He will oversee a team of approximately 100. In 2018, RIT publicly launched a $1 billion blended campaign. The campaign is unique in that it's blended, meaning RIT is seeking support from a variety of investors, including alumni, government and corporate partners, and research foundations and agencies. The campaign, titled Transforming RIT: The Campaign for Greatness, has raised $671 million to date.
"I am honored to have the opportunity to lead RIT's development and alumni relations team. While the next few years will be focused on achieving, and exceeding, the ambitious goals of Transforming RIT: The Campaign for Greatness, we will also cultivate a culture of philanthropy and engagement with RIT alumni and friends across the region, the nation, and the globe that will extend far beyond this campaign," said Castleberry. "The creativity and drive of RIT students, faculty and staff, combined with the leadership and passion of President Munson and the leadership team, makes this an exciting opportunity both personally and professionally."
At St. John Fisher College, Castleberry oversees development, alumni and constituent engagement, corporate and foundation relations, government affairs, advancement services, stewardship, and events. Castleberry generated significant philanthropic giving and is the architect of "Fisher Forward," the most ambitious comprehensive campaign in the college's history with a fundraising goal of $75 million. Prior to St. John Fisher College, Castleberry was involved with two separate $1 billion campaigns at national research universities. This includes the University of Rochester, where he served as associate vice president of university advancement, and Washington University in St. Louis.
Castleberry holds a bachelor's degree in political science and speech communication from the University of Central Missouri as well as a master's degree in political science from the University of Missouri — Kansas City.
Castleberry succeeds Lisa Cauda, who served in the role for 15 years. Cauda will be transitioning into a new role of Vice President and Secretary of the Institute. Here, Cauda will support the work of the RIT Board of Trustees, manage the President's Roundtable, assist in attracting high-profile visitors to campus, and lead the process for selection of honorary degree recipients.
"I would like to thank Lisa for her tireless efforts in building the Division of Development and Alumni Relations and for the critical contributions she and her colleagues have made in enabling the ascension of RIT over a period spanning three presidents," said Munson. "I look forward to continuing to have Lisa as a partner in her new role." 
Cauda's accomplishments include managing two university-wide comprehensive campaigns; personally raising more than $80 million in philanthropic support toward university priorities, including two of the top six largest alumni commitments in RIT history; and guiding campaigns for the Gene Polisseni Center, Saunders College of Business and the Joseph M. Lobozzo Alumni House.
Related News
Topics