'Positive/Negative' blends photography, design
Student Spotlight Alexandra Genova, fourth-year advertising photography student Carly Rumpf, fourth-year graphic design student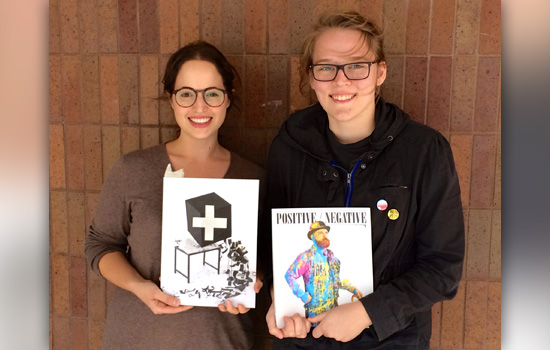 Derrick Hunt
Alexandra Genova, a fourth-year advertising photography student from Honeoye Falls, N.Y., and Carly Rumpf, a fourth-year graphic design student from Philadelphia, are the creative directors for this year's volume of Positive/Negative magazine, which will be available in both print and digital formats at the end of the semester. The student-run magazine has won dozens of prestigious awards both nationally and internationally. On top of Positive/Negative, Alexandra is a teaching assistant and shoots photographs for Reporter. Carly is the creative director for SportsZone, graphic designer for WITR and Imagine RIT and also plays on the women's club volleyball team.
Question: What brought you to RIT?
Alexandra Genova: "I transferred here from a school in New York City. When I realized that I didn't want to do journalism and wanted to do photography, RIT was a no-brainer. We have one of the best programs for it.
Carly Rumpf: "I came here for similar reasons. I had heard that RIT had good graphics programs and as soon as I visited campus I knew I had to go here."
Q: Why did you choose your major?
Alexandra: "I was interested in photography in high school but I kind of fell out of it. But when I didn't have any art classes my freshman year in New York, I realized how much I needed art in my life."
Carly: "I actually didn't know that you could be a graphic designer professionally until my senior year of high school. I'm not the best at drawing and painting and other fine art. I've always been more interested in the graphic arts."
Q: What is Positive/Negative magazine?
Carly: "The magazine is created by a class of senior graphic designers and photographers. Each designer pairs up with a photographer and together they create a story about whatever they want—it just has to take a positive or negative stance."
Q: What are you responsible for as art directors?
Alexandra: "Our job is to make sure that everything is on track and everyone is doing their job. I wouldn't say we run the style of the magazine, but we're highly involved with it."
Carly: "We both lead a majority of the decision-making. For example, we just had a talk about our cover design. We held meetings and narrowed the designs down and then presented them to the class. It's like an art director for any other agency: we tell people what to do and we also make the final decisions on a lot of things."
Q: What separates Positive/Negative from other student publications at RIT?
Carly: "There are other magazines around campus like Reporter and Signatures, but what's different about Positive/Negative is that we don't have any ads and our stories take interesting viewpoints about literally anything. I don't think you could find another magazine like this anywhere."
Alexandra: "The other thing is we pick articles that we can design around, which I find incredibly freeing from a visual perspective. And since we're mostly student-run, everyone works really hard to get it done and we're very proud of our work."
Q: Positive/Negative has won a ton of awards. What's the competition like for the magazine?
Carly: "The ADDY awards are very prestigious nationally and we took gold in several categories last year. Also, last year's magazine won best in show at the Creativity International awards, which is really neat because it's a worldwide competition. It seems like as it goes on, Positive/Negative wins more and more awards. As the art directors, we have to try and be even better than the previous magazines, which is really scary!"
Q: When does this year's magazine come out?
Alexandra: "We release the magazine on what would be our final exam day at the end of the semester. We're primarily student-funded, so we ask for donations if you're interested in getting a physical copy. Otherwise, the magazine is available digitally on our website."
Q: As you get closer to graduation, what will you take away from your time at RIT?
Alexandra: "I feel so thankful for having the chance to go to RIT. I think RIT has a diversity to it that's hard to describe. I've been exposed to so many creative minds here."
Carly: "I've learned so much. I feel really prepared to get a job. I don't know what I want to do–there's about a million things you can do with graphic design–but I know I feel ready."
Interested in supporting Positive/Negative? Please visit the magazine's Facebook page for updates and donation information.
Derrick Hunt compiles "Student Spotlights" for University News. Contact him at djh9758@rit.edu with suggestions.
Topics