President Destler offers State of the Institute address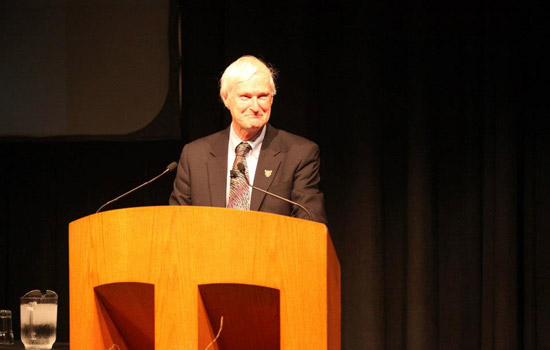 Kathy Wight '04
President Bill Destler addressed alumni, students and parents on Saturday as part of Brick City Homecoming & Family Weekend, sharing some of RIT's recent significant accomplishments and exciting new initiatives for the coming year.
"Good morning everyone and welcome to RIT's Brick City Homecoming and Family Weekend. It is wonderful to have so many parents, alumni and friends joining us for this magnificent weekend. As you tour the campus this weekend, you will discover a thriving and growing university unlike any other.
"To keep you up to date, let me review some of RIT's recent significant accomplishments and some exciting new initiatives for the coming year:
First, our enrollment has set new records:
• 17,600 students call RIT home, an all-time high. This is not just in Rochester, but also in satellite campuses around the world and even students studying on-line.
• RIT is the 11th largest private university in the nation, in terms of undergraduate enrollment.
• We received more than 26,000 applications this past year for freshmen, transfers and graduate students, an increase of 11 percent and an all-time high.
• For the fourth consecutive year, the National Technical Institute for the Deaf is welcoming a record number of enrollees – 1,547 students.
• 157 of this year's freshmen are children of alumni.
"Other highlights:
In the area of research, we received over $52 million in new contract and grant awards, and faculty submitted a record 653 proposals for research funding to external agencies this past year.
We held our fourth annual "Imagine RIT: Innovation and Creativity Festival," with 400 exhibits, demonstrations and performances displaying the extraordinary range of creative and innovative work produced by students, faculty, staff. Attendance hit 32,000 visitors. I could not be more proud to see these amazing exhibits. Save the date for our next festival, May 5!
Our reputation for the quality of our programs continues to rise, with eight of our degree programs now ranked in the top 10 nationally, the latest being our undergraduate and graduate game design and development programs.
Our MBA program was recently ranked for the first time, and despite the fact that we offer no Ph.D. program in business to bolster our research reputation in this area. We ranked ahead of Syracuse, Case Western and Drexel, among others.
The hallmark of an RIT education is the co-op program. Each year, more than 3,600 students complete more than 5,300 work assignments with more than 1,900 companies and organizations from small start-up firms to Fortune 500 corporations. Last year those students generated more than $30 million in earnings through their employment with industry, business, government, and the not-for-profit sector throughout the U.S. and in 40 foreign countries. U.S. News and World Report annually singles out RIT as one of the nation's elite internship/co-op schools.
Princeton Review also recently ranked us No. 7 nationally for the quality or our career development services.
"So how do we top all of this good news? We have more in store this academic year:
We have just opened our ninth college as part of the new Institute for Health Sciences and Technology. The college already enrolls 800 students and plays a key role in our strategic partnership with Rochester General Health System.
We have just welcomed our first graduate students in Architecture. They will focus on sustainability as a cornerstone of the program.
Later this month, I will be traveling to our campuses in Croatia and Dubai. In Croatia, we have opened a second branch of the American College of Management and Technology in the Croatian capital city of Zagreb. The new campus joins the college's existing campus in Dubrovnik. In Dubai, we are dedicating new facilities this fall and are welcoming students representing 50 countries.
We broke ground on a state-of-the art green facility for the Golisano Institute for Sustainability in the spring. The building will serve as a center for sustainability research, technology transfer, education and outreach and provide a state-of-the-art showcase for green construction and design. We expect it to be open a year from now.
Speaking of sustainability, I recently returned from a visit to New York City where I was invited with RIT Trustee Tom Golisano to the Clinton Global Initiative, led by President Clinton. Here, we announced a major commitment to share the RIT model of sustainability education developed at the Golisano Institute for Sustainability with five partner universities in developing countries around the world. With dwindling natural resources and the world's population reaching 7 billion this year, we all need to work on these vexing problems together.
"Let's now turn to my favorite topic: student life. We have a very vibrant campus with many success stories:
We offer diverse programming with nearly 200 active clubs and organizations. We even have an RIT Quidditch team, the game from Harry Potter. And they are soon going to a national competition held in New York's Central Park!
We have 24 varsity sports, including Division I men's hockey. Our intercollegiate athletic teams had one of the best years in recent memory, including championship seasons from men's and women's hockey and men's lacrosse, and this fall we are competing in the Liberty League for the first time against some of the finest private colleges and universities in the nation, including RPI, Union, St. Lawrence, Hobart/William Smith, Skidmore, Vassar, Clarkson, Bard and the University of Rochester.
"We have some amazing students at RIT, and here are just a few recent examples of their great work:
Luticha Doucette, a fourth-year bioinformatics student, is the reigning Ms. Wheelchair New York 2011. She recently won second runner-up at the 40th annual Ms. Wheelchair America Pageant. She is currently developing a motorized wheelchair app for the Android phone. She also doing a research project on protein algorithms that determine the surface area of proteins.
Ben Disinger created a music video for one of his favorite bands: Manchester Orchestra. The band liked the video so much that they made it the official video and is using it on MTV. Ben also had a winning video and earned a best director honor at the Los Angeles Reel Film Festival.
Dan Fritz, an industrial design student, won a design competition sponsored by Wilsonart International. His chair was featured in an exhibit at the International Contemporary Furniture Fair in New York City.
We have a group of undergraduate and graduate students, led by mechanical engineer Eric Lannan, who are finding ways to turn algae into bio fuel. And during the course of their research, they also discovered a way to turn wastewater into drinking water! Amazing research and discovery.
We also have a team of students working to solve energy issues using wind power in Kosovo. The team project — Kosovo Wind Gardens — was nationally recognized at the Dell Social Innovation Competition this summer. The multi-disciplinary team uses the strengths of students from the College of Liberal Arts, the Saunders College of Business, the Golisano College of Computing and Information Sciences, the College of Applied Sciences and Technology, the Kate Gleason College of Engineering and our American University of Kosovo. Now that is teamwork!
"Now, let me talk a bit about some of the conversations we've been having on campus about the future:
"We have made the decision to move to a semester-based academic calendar starting in the fall of 2013. For those concerned about this change, let me make this pledge to you: RIT will ensure that no student suffers any loss of progress toward a degree during this transition; that no student's graduation will be delayed as we make the change from quarters to semesters; and that no student will see any increase in tuition or fees related to the transition. As part of the transition process, every student on campus will be personally advised to ensure that this principle is upheld in every case. And most importantly, the academic rigor of an RIT education will remain unchanged.
"In sum, RIT is increasingly playing a leading role in academia. The wide-ranging talent of RIT faculty, staff and students is ideally suited to meet the needs of industry for new technologies and new ideas for businesses, products and services. Our combination of intellectual assets places RIT in a strong position to become a national leader in addressing complex social problems, such as meeting future energy needs or educating students for a more knowledge-based global economy. RIT's unique program mix of the traditional programs in science, technology, engineering and business combined with its strong programs in the liberal, design and creative arts and the unique diversity provided by NTID, gives the university the potential to become a national center of creativity and innovation unlike any other.
"To our faithful alumni: This weekend's homecoming activity is just one example of the programming added to our alumni relations program over the past decade. We recognize the important role our alumni play in the continued growth of RIT. That is why we are making a greater effort to enhance our alumni relations programming, services and benefits over the next several years. We will also be looking for more ways to engage our alumni with current students — as mentors, guest lecturers and career advisors. I am proud that we now have nearly 110,000 alumni living in 123 countries. The true measure of RIT success is not the graduation of students, but rather the success of our alumni!
"And our alumni and families' spirit is growing just as our campus spirit is. We are thrilled that nearly 10,000 people officially registered for the weekend activities. All of our major events are sold out, including nearly 1,000 at last night's President's Alumni Ball.
"These are some of the highlights I wanted to share with you today. My wife, Rebecca, and I are so grateful to all of you for giving us the opportunity to think big about what we can accomplish together, and we are honored to be a part of the RIT family.
"We have a full weekend planned for you, so we hope you will take this opportunity to participate in the variety of activities. We encourage you to mingle with faculty, administrators and staff. Enjoy yourselves at some of the signature events, including a presentation in the Gordon Field House by actor, director and author Michael J. Fox. And later tonight, the men's hockey team faces off against St. Lawrence in downtown Rochester's Blue Cross Arena. You will see 10,000-plus loyal Tiger fans. Let's fill the arena with a sea of orange!
"Thank you for being a part of our family and sharing this special weekend with us. We hope that you will leave here feeling a stronger connection to RIT and to each other.
"Thanks again and have a great weekend!"