Presidential papers on display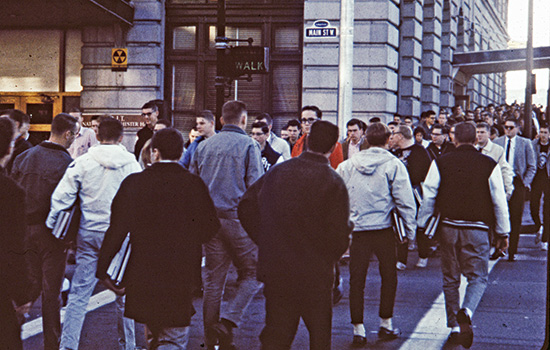 RIT Archives
In anticipation of the presidential election this fall, the RIT Museum will be featuring one of the university's historic collections—The Frederick Wiedman Jr. Collection of Presidential Papers. This collection of documents, with the signatures of 43 former U.S. presidents, provides a glimpse into the lives of the individuals who have held 
the most important office in the nation. Through these relics, we feel the presence 
of the men who touched these documents that occupied a moment in their lives. 

Ranging from personal to official, the papers touch on a variety of topics. 
There are many letters as well as shipping and customs receipts. One official document signed by President James Buchanan gives authority to the Secretary 
of the State to ratify the convention between the U.S. and Belgium by affixing 
the seal of the United States. In another document, President Andrew Johnson's signature appears on a military commission appointment to the Veteran Reserve Corps for disabled soldiers in 1865. 

One intriguing personal letter from then-Secretary of Commerce Herbert Hoover, begins, "My dear Clarkson, [Grosvenor B. Clarkson, publicist, worked for the Council of National Defense during World War I]: Do not have any hesitation on my account in having a strong go at Mr. Cushy's article— somebody ought to and you are the ideal man. I have not seen anything of late with as many wrong conclusions, misstatements and assumptions of fact." 

There is also a gracious letter from Richard Nixon to a schoolgirl dating from his tenure as a senator from California. He thanks her and expresses pleasure at receiving the letter with comments on "these critical problems that face our country today." 

Audible are the echoes of the times as Nixon writes: "I believe that your suggestion about telling Russia and other communistic countries about this great America of ours is a very good one, as I feel that we should try to bring the results 
of a free democracy to the attention of peace-loving people everywhere." 

The collection, on display until spring on the first and third floors of the Wallace Center, was assembled by Frederick Wiedman Jr., a long-time Rochester attorney 
and RIT supporter. He established the Frederick and Anna B. Wiedman Professorship in Imaging Science in 1985 in recognition of his parents and joined the RIT Board 
of Trustees in 1986. He was named trustee emeritus in 1993. Upon his death in 
1995, he bequeathed a major portion of his assets to the university to support 
the educational programs that he believed in. His portrait and a commemorative plaque hang in the lobby of the Chester F. Carlson Center for Imaging Science. 

Also on exhibit: Eisenhower campaign buttons and images of Presidents 
Carter, Reagan, Bush and Clinton, taken by former White House photographer 
Bernie Boston '57 (photography).