Princeton Review names RIT among Best Colleges
High marks for academics, student life, career services and green initiatives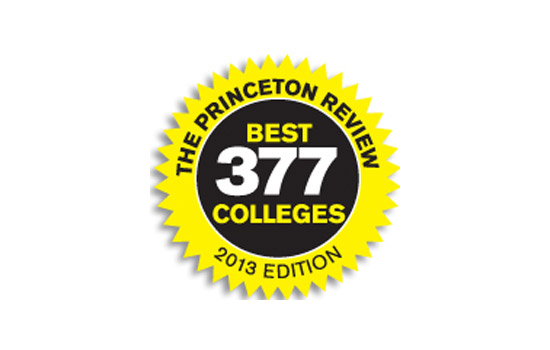 Rochester Institute of Technology is again being recognized as one of the nation's best institutions for undergraduate education, according to The Princeton Review. The education-services company features RIT in the just-published 2013 edition of its annual book The Best 377 Colleges.
In its profile on RIT, The Princeton Review quotes extensively from students at the university who were surveyed for the book. The publication credits RIT for "uniting creativity, innovation and applied knowledge where the technical left and artistic right brains collide." According to the summary of RIT student comments: "There is an 'emphasis on hands-on learning' and most majors require student to complete a cooperative work experience designed to 'give you the opportunity to make connections in an industry within your field.'"
"We commend RIT for its outstanding academics, which is the primary criteria for our selection of schools for the book," says Robert Franek, Princeton Review's senior vice president, publisher and author of the publication. "Our choices are based on institutional data we collect about schools, our visits to schools over the years, feedback we gather from students attending the schools and the opinions of our staff and our 30-member National College Counselor Advisory Board."
RIT President Bill Destler noted that the latest recognition from the education services company follows two other notable rankings earlier this year. In April, The Princeton Review, in collaboration with the U.S. Green Building Council, recognized RIT among the nation's most environmentally responsible green colleges. In March, The Princeton Review teamed with PC Gamer to produce the "Best Schools for Gaming 2012." RIT's game design and development program was ranked second at the graduate level and sixth at the undergraduate level in international rankings.
"This is more validation of RIT's rapid ascendancy into the ranks of the nation's and world's finest universities," Destler says.
The Princeton Review is a company known for its test preparation, education and college admission services. The Princeton Review has posted the school profiles and ranking lists in "The Best 377 Colleges" at PrincetonReview.com.