Professor Josh Owen shares his 'Lenses for Design'
Book published by RIT Press explores RIT professor's philosophy and approach to design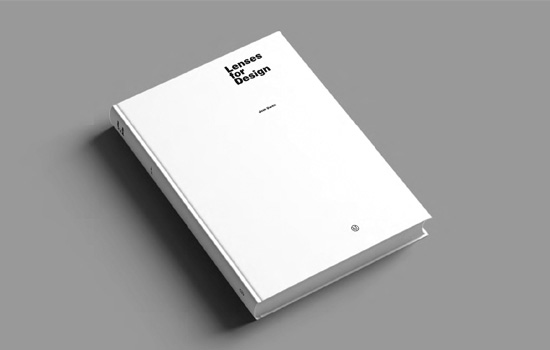 RIT Press
In a new book, Josh Owen compares his process for design to the way an optometrist asks patients to try on a series of lenses to find the best way of seeing.
"Like the optometrist, I use a series of lenses to solve design problems," said Owen, a professor and chair of the industrial design program at Rochester Institute of Technology.
In Owen's new book, Lenses for Design, the industrial designer and educator describes and explains his unique creative process for solving design problems. Through his projects, he illustrates and decodes his philosophy and approach to invention.
"I learned from my interactions with students and clients that they were particularly interested in understanding how my, perhaps idiosyncratic, 'ways of seeing' influence my teaching and design process," said Owen. "It is my hope that these lenses for design will provide some new perspectives to help others move their own ideas forward."
The book includes drawings and renderings from Owen's initial design ideas to the final products. His designs were created to combine clarity of purpose and functional efficacy with emotive and tactile qualities that prove instructive and inspirational.
"The response to good design—'Why didn't I think of that?'—implies that the solution is so simple that it should have been obvious," said Owen. "In the end, a well-executed result often reads as effortless when in fact it is the product of careful and tireless cultivation."
Owen's work has been featured at the Venice Biennale and is in the permanent design collections of the Centre Georges Pompidou, Chicago Athenaeum, Musée des Beaux-Arts de Montreal, National Museum of American Jewish History, Philadelphia Museum of Art and the Taiwan Design Museum, among others.
Significant manufacturers in the U.S. and Europe produce his home/design, furniture and office products, which are regularly featured in design books, periodicals and in critical design discourse. Owen's "Build" and "Meta" design academic projects have successfully pioneered integrated practice pedagogy for the field of industrial design.
The book is published by RIT Press, the scholarly publishing enterprise at Rochester Institute of Technology.
A book release event will be hosted Oct. 13 at the Memorial Art Gallery. There is an author reception from 5 to 7 p.m., a talk from Owen from 7 to 8 p.m. and a book signing afterwards.
Lenses for Design is available in hardcover for $49.95 at the RIT Press website or by calling RIT Press at 585-475-6766.