Professor takes pleasure in her homecoming
Easton returns to campus to share clinical forensic psychology expertise with students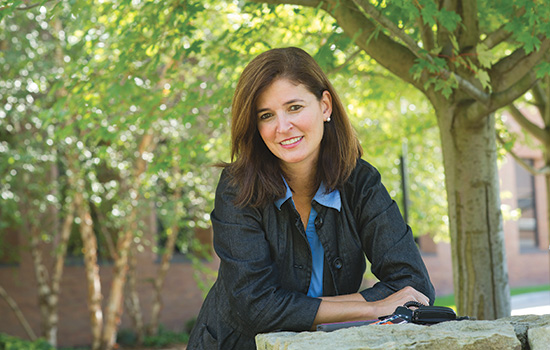 A. Sue Weisler
Caroline Easton's clinical work and research take her to dark places where addiction and family violence paint ugly pictures.

Easton, a forensic clinical psychologist, has recently joined the College of Health Sciences and Technology from Yale University School of Medicine Department of Psychiatry. She is the first faculty 
member in RIT's newest college to be 
hired from outside the university. 

She will help build a program in clinical psychology with a forensic emphasis and will collaborate with external partners at Rochester General Health System/Behavioral Health Network, University of Rochester Medical Center Department of Psychiatry, Monroe County Criminal Justice System and Monroe County Office of Mental Health. 

Easton, an alumna, earned her bachelor's degree in biotechnology with a minor in psychology in 1990. She received doctoral degrees in psychology in 1994 at University of Connecticut and re-specialized in clinical psychology at University 
of Massachusetts, Amherst, in 1997.

Easton returns to Rochester as a 
seasoned forensic psychologist and 
expert witness who is frequently called upon to testify about the role, if any, 
drugs played in a crime. 

"I've had a lot of experience treating 
clients who abuse various drugs, and I know what it does to brain behavior," she says. "The court or an attorney may want to know what happened around the time of the offense. Sometimes I might need to 
do psychological testing on a defendant 
to determine if they have an untreated mental health issue or if drug use induced 
a psychotic episode, or some combination 
of the two."

In 2003, Easton created the Forensic 
Drug Diversion Clinic at Yale, where she focused her research on addiction, violence and crime. Her therapies have had positive outcomes in reducing clients' aggression and helping them to manage their anger and abstain from drug use. Easton rejects the idea of treating substance abuse in a vacuum. She links drug and alcohol use to the bigger picture of family conflict and/or intimate partner violence. 

The reliance on ineffective treatment models for aggression and substance abuse frustrates Easton, whose integrative 
approach looks at the whole individual. Easton connects the failure of standard 
generic therapies to the increased number of clients referred to her clinic in New Haven, Conn., during the last decade.

"When I started, 67 percent of the 
clients were coming to our clinic for a legal problem they were having," Easton says. 
"It could have been from an arrest for 
possession of drugs or a disorderly conduct secondary to alcohol intoxication. Over time, the referrals from the criminal justice system have increased to approximately 80 percent. Our clients were really vulnerable in that they were facing lengthy jail sentences because their addictions were getting in the way of good decision-making."

Easton's alternative therapy is attracting international attention. Psychologists in Brazil and Great Britain, as well as in the United States, are adopting her model for treating individuals with co-occurring substance abuse and domestic-violence issues.

"The one-size-fits-all approach has been used for 30 years or so, and it hasn't changed," Easton says. "We've made progress in how we treat diabetes. We've made progress in how we treat most medical or behavior problems, but yet with this really serious issue of family violence, especially with co-occurring addiction and family violence, we're still using the same approach, and it has led to stagnation in the field. Once there's more knowledge about alternative approaches, I think, then, the field will start to move forward."