Professors roll out nutrition program for children
Educational program rolls out at Volunteers of America Children's Center preschool classrooms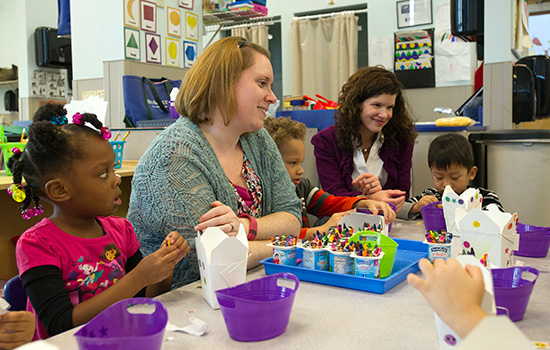 A. Sue Weisler
Preschoolers at Volunteers of America Children's Center in Rochester are learning about the importance of shared family meal time through a program developed by Barbara Lohse, head of the Wegmans School of Health and Nutrition in RIT's College of Health Sciences and Technology.
The NEEDs (Nutrition Education Engineering and Designs) for Tots program focuses on the importance of conversation at meal time, methods for accepting and refusing foods and the need to trust each person to manage his or her own eating.
NEEDs for Tots is a print and web-based curriculum designed to help families practice U.S. Department of Agriculture Core Nutrition Messages and division of responsibility in feeding. The program encourages "parental leadership with feeding balanced by child autonomy with eating," said Elizabeth Ruder, assistant professor in the Wegmans School of Health and Nutrition.
Ruder won an RIT boot-camp grant to introduce the program to 16 Volunteers of America Children's Center classrooms. Ruder and Lohse trained the teachers in September prior to the program rollout.
Early childhood educators incorporate lessons from NEEDs for Tots into their daily curriculum. Lessons are reinforced through story books, artistic and written activities provided through the program, dramatic play and taste-testing. Ruder and Lohse plan to introduce NEEDs for Tots to additional early childhood education programs in 2017.
Topics