Program helps students succeed in 'historically difficult' classes
RIT students lead study sessions to help students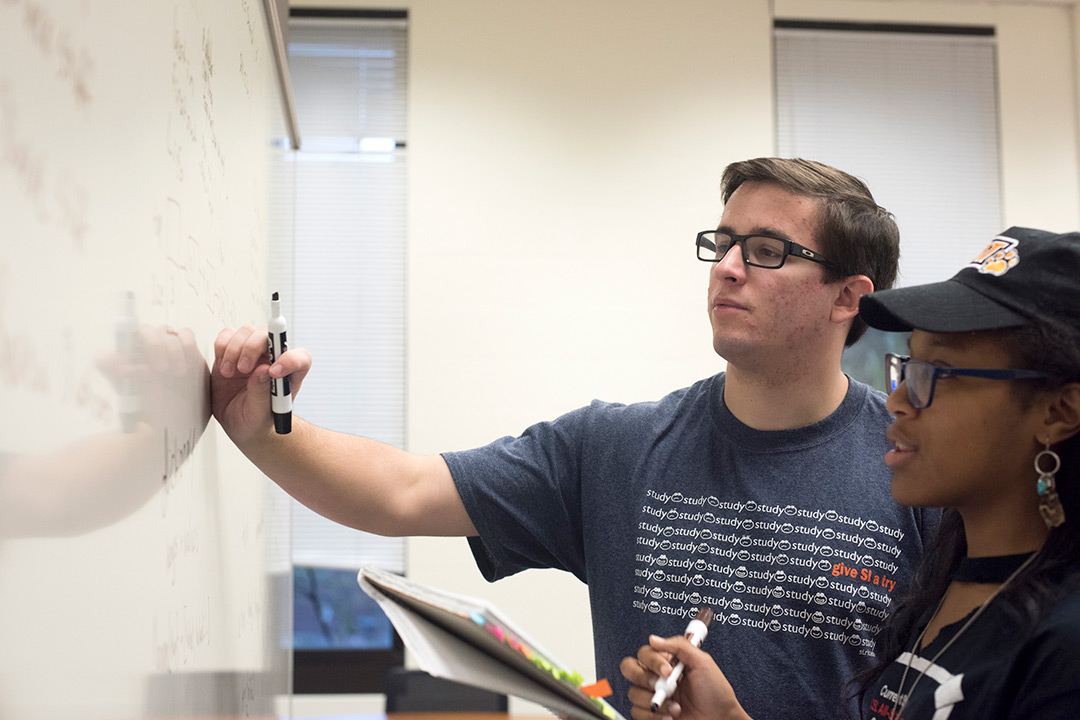 A. Sue Weisler
Tate Dyer's first semester at Rochester Institute of Technology was a world of new responsibilities, friends, and finding out how to get the most out of his classes, especially those that were "historically difficult" with high percentages of failing grades and course withdrawals.
Dyer, now a second-year computer science major from Houston, had heard about Supplemental Instruction (SI) for his first computer science course, where he could spend time with others from his class to go over course concepts and practice problems.
"I wasn't doing terribly in my class, but it was kind of nice to go to, to reinforce the material," Dyer said. "And in my first year, not knowing what to expect, the workload is a lot, especially at the beginning."
SI sessions have been offered at RIT since 2007, and the program recently became the first in the state to be certified by the International Center for Supplemental Instruction, based at the University of Missouri in Kansas City, Mo. To become certified, RIT's SI program had to demonstrate a strong focus on training and observing SI leaders and supporting them with planning for their weekly sessions.
The courses supported by SI generally have high freshmen enrollment and D and F grades or course withdrawal rates of 15 percent or more.
SI sessions differ from traditional tutoring because they are led by current students who have previously completed the class with a grade of B or higher. The leaders don't give answers to the students. Instead, they encourage students to collaborate with their peers to work through problems and gain practice while reinforcing course content.
"I went every week," Dyer said. "It definitely helped to reinforce the course material, have extra practice and hear about what's expected in the class from somebody that's taken it before."
Stephanie Haynes, SI coordinator in RIT's Academic Support Center, said 28 percent of eligible students participated in at least one of the 1,337 hour-long SI sessions offered last year. Only 16 percent of students who participated in at least one SI session last year received a D, F, or withdrew from the class, versus nearly 22 percent of students who didn't participate in the SI sessions.
"Supplemental Instruction sessions are for everyone enrolled in the supported class regardless of their experience and comfort level with the material," Haynes said. "The sessions are meant to help students get into the habit of studying and collaborating with their peers to better reinforce course concepts. SI leaders strive to help students practice and build study strategies and habits that can help with the course at hand but also help with other courses the students are taking. It's also a great opportunity for students to connect with their peers in a comfortable and informal setting outside of the class."
The following SI courses are offered this year: General and Analytical Chemistry I and II; Computer Science I and II; Principles of Microeconomics; Computer Problem Solving in the Information Domain I and II; Precalculus; Photographic Technology I and II; and Digital Fundamentals. SI support for a course in Computational Problem Solving I will be offered in the spring.
The experience was so positive for Dyer, he became a SI leader this year for first-year students. Even though he successfully completed the course last year, he sits in the class again this semester to know what his SI students are learning now. He also participates in weekly training with other SI leaders.
"You don't want to give them an answer, you kind of want to reword the question and have them look the answer up," Dyer said. "You give them a little push."
That's exactly what he did in a recent session, where seven computer science students sat in and talked about variables and user-defined structures.
"Awesome," Dyer told a student who wrote a formula on the board.
It was the first SI session Julian Vanderlinde, a first-year computer science major from Greece, N.Y., attended.
"I'm here because a test is coming up and I need a higher grade," he said.
Renee Veit, a first-year computer science major from Wheatly Heights, N.Y., is a regular in the SI sessions. "I just like the extra reinforcement," she said.
Jacob Brower, a first-year software engineering major from Carlton, N.Y., is another regular in the sessions, and figures his time is better spent studying than killing time.
"I'd either be sitting on a bench outside waiting for my next class, or coming here," he said.
Emily Wesson, a fourth-year computer science major from Victor, N.Y., was Dyer's SI leader last year.
"I like helping people understand stuff," Wesson said. "It's great to see when something clicks for someone. Or when they're 90 percent of the way there and you get them that final 10 percent. That means I'm doing something right."
SI provides a welcoming atmosphere where students, in the supported courses, can ask questions and receive help from their peers and the SI leader. From this environment, a community forms among regular attendees and the SI leader.
"A lot of the students I have, if they didn't come for SI, they still would do well," Wesson said. "This helps them more, and can boost their grade."
Wesson said SI was "super helpful" in her first year at RIT, and helped her land an A in the class.
"I wanted to take advantage of all of the different resources I could especially because I knew it was going to be a very challenging course," she said. "If I hadn't gone, I still would have been successful, but my understanding wouldn't have been as thorough. Right before tests, the reviews were extremely helpful to see where I should study a little bit more."
Topics