Project develops emotion-reading technology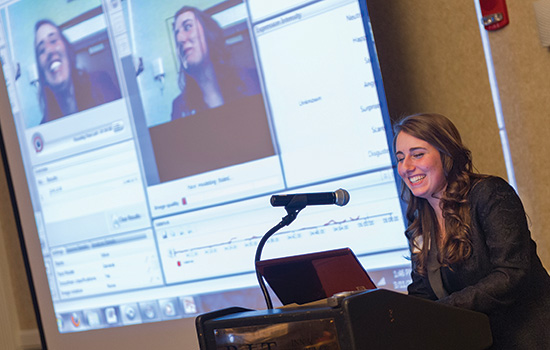 Elizabeth Lamark/RIT Production Services
Teraisa Chloros made faces at her laptop computer. Her mock expressions appeared on the overhead screen with labels identifying her emotions—happy, sad, surprised, angry, disgusted or scared—based on the position of her facial muscles. 

Chloros '11 (medical informatics) illustrated the FaceReader software by Noldus Information Technology to mental health professionals in March at a conference sponsored by the RIT College of Health Sciences and Technology and the Office of Research.

The software is one component of the 
interactive tool she developed with a faculty-student team led by Caroline Easton '90 (biotechnology), RIT professor of forensic clinical psychology. Easton asked the team to create computer programs for her clients to practice what they learn in therapy. The multimedia tools will augment her clinical model for treating clients with co-occurring substance abuse and domestic/intimate 
partner violence.

Easton's ideas depart from the standard treatment model that differentiates substance abusers and domestic violence offenders. Her integrative method of care connects the two mental and behavioral health problems and treats the individual, not the group. She is a proponent of adapting gaming technology to teach clients to reduce substance abuse and increase communication, anger management and healthy conflict-resolution skills.

"I think virtual reality tools are the 
future," Easton says. "Human visualization, cyber tools and gaming are all going to be 
an important part, coupled with our best practice procedures." 

Ideas for computer-assisted therapy led Easton, then-director of Yale University Medical Center's Forensic Drug Diversion Clinic, to tap her alma mater's technical 
expertise. The RIT connection resulted 
in a co-op for Chloros at the clinic and 
the challenge of building the technical
backbone to support Easton's vision. 

"My focus has been on the importance of reading emotion so clients can understand what their partners are expressing and what nonverbal behavior indicates," Chloros says.

The website application and supporting databases represent Chloros' capstone 
project for the master's degree she will 
receive this year in medical informatics. 
The Web application resembles a gaming 
environment with educational videos, interactive modules with role-playing exercises and realistic vignettes, and self-assessments. 

Therapists can use the videos as stand-alone educational resources or in conjunction with computer-assisted therapy, Chloros explains.

Integral to the application is Al-Virt, 
an empathetic avatar and customizable 
digital coach designed by Alan Gesek, 
who is graduating with his Master of Fine Arts in medical illustration. When fully 
developed, Al-Virt will interact with clients and model healthy communication skills. 

"The next phase of the project would 
be to incorporate FaceReader into a program like Al-Virt," Chloros says. 

The multidisciplinary clinical research team working with Easton and Chloros 
includes RIT professors Richard Doolittle, Shaun Foster, Glenn Hinz, Stephen Jacobs and James Perkins; and students Valerie Altounian, Nirja Desai, Timothy Fitzgerald and Gesek. 

"Human visualization and cyber tools 
are the future in mental and behavior health treatment and education," Easton says. 
"RIT students are doing it now. They're at the forefront."