Proposals wanted for Scotland's Mechanics Institute virtual conference
International committee members, including Provost Ellen Granberg, celebrate 200th anniversary of technical training institute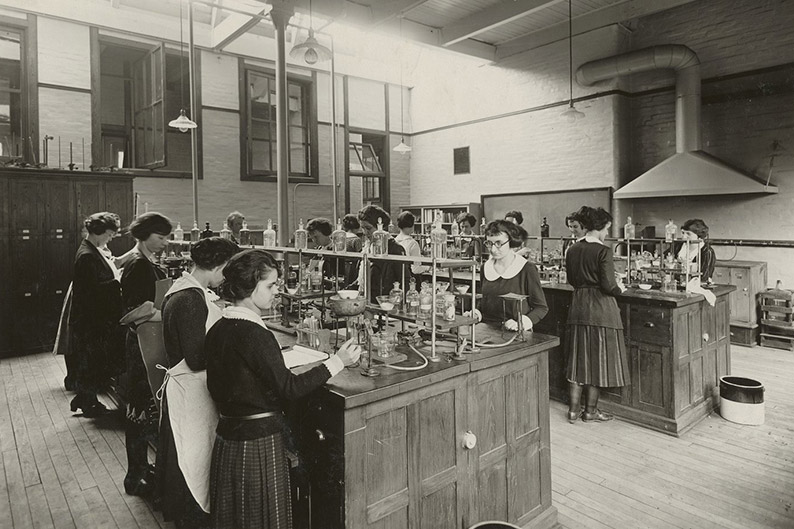 RIT Libraries Digital Collections
A celebration honoring the 200th anniversary of the founding of the first Mechanics Institute in Edinburgh, Scotland, will include a virtual conference this fall. RIT Senior Vice President for Academic Affairs and Provost Ellen Granberg serves on the international advisory committee for Mechanics' Institutes Worldwide 2021, and is encouraging RIT faculty to submit paper proposals or other contributions for inclusion in the conference. The submission deadline is June 30.
Launched in 1821 by Leonard Horner, the Mechanics Institute was a first-of-its-kind organization and the direct descendant of the School of Arts in Edinburgh. The institute was primarily for the instruction of mechanics in the field of physical science, along with practical applications of their trades. The first set of classes included chemistry, natural philosophy (mechanics), architecture, and farriery, a specialty in equine hoof care, with mathematics added the following year. English, French, and drawing were added shortly after.
But more than that, according to the conference website, these institutes also transformed societies, enabling social mobility and economic development, but also enhancing civil society in cities and rural regions.
RIT has a rich history involving technical training for skilled workers in industry. The Rochester Athenaeum was founded in 1829, and the technical training school, the Mechanics Institute, was founded in 1885 by Henry Lomb, Max Lowenthal, Ezra Andrews, Frank Ritter, William Peck, and other Rochester entrepreneurs and influential citizens. In 1891, The Rochester Athenaeum and Mechanics Association merged with Mechanics Institute, bringing under one roof a center for cultural education and practical technical training, The Rochester Athenaeum and Mechanics Institute. The name Rochester Institute of Technology was adopted in 1944.
"RIT was founded in the tradition of creating opportunities to develop practical applications for skilled workers," said Granberg. "This continues today with our commitment to blending exceptional academic programs with applied experiences such as co-op, and innovative research that is changing the way we learn and live. It's a privilege to be a part of this celebration of the first Mechanics Institute, and I hope  members of the RIT community will be interested in sharing their outstanding work at the virtual conference. "
For more about the virtual conference and proposal submission information, go to the conference website.  
Topics