Pulitzer Prize-winning alumni receive Thomas Award
Awards ceremony at Newseum; special recognition award for Bernie and Peggy Boston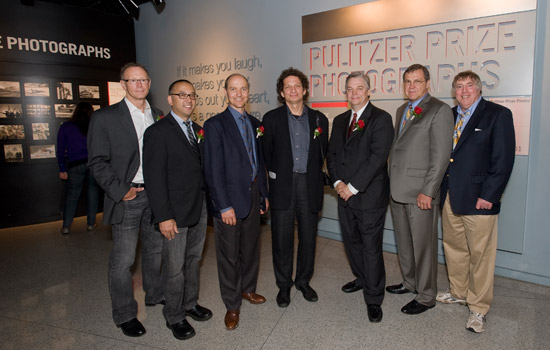 The lenses of their cameras have documented iconic moments in history. Their photos—whether of war-torn countries and their people, U.S. presidents or the Olympic Games—have captivated readers on a global scale.
Rochester Institute of Technology will honor its seven Pulitzer Prize-winning photojournalists with the Isaiah Thomas Award in Publishing at 10 a.m. Sept. 22 at the Newseum in Washington, D.C. The Isaiah Thomas Award, named for one of America's great patriot printers, recognizes outstanding contributions made to the publishing industry. RIT's School of Print Media and the Paul and Louise Miller Distinguished Professorship present the award.
The Newseum features five centuries of news history with exhibits and galleries including one of a comprehensive collection of Pulitzer Prize-winning images.
The recipients of this year's Isaiah Thomas Award are Paul Benoit, Robert Bukaty, Ken Geiger, Stan Grossfeld, Dan Loh, William Snyder and Anthony Suau. All seven are graduates of RIT's School of Photographic Arts and Sciences. Between the seven alumni, they've won a combined 11 Pulitzer Prizes.
"The Isaiah Thomas award is a huge honor," says Bukaty. "When I look at the other photographers receiving the award this year I have to ask myself, 'How the heck did I get on this list?' "These guys have an amazing passion for photojournalism. They've been my inspiration since my days of looking through back issues of RIT's Reporter magazine in the basement of the Student Alumni Union."
Bukaty and Loh were part of a team of Associated Press photographers that won a Pulitzer Prize in 1999 in the Feature Photography category for their coverage of the impeachment proceedings of President Bill Clinton.
The following is a breakdown of each recipient's Pulitzer wins:
Paul Benoit '76, winner of the Pulitzer Prize in 1979 in the Feature Photography category while working for Boston Herald-American. Benoit and members of the paper's photography staff won for their coverage of the blizzard of 1978. Benoit currently serves as the chief operating officer for MerlinOne Inc. in Quincy, Mass.
Robert Bukaty '82, winner of Pulitzer Prize in 1999 while working for The Associated Press. Bukaty and fellow RIT alumnus Dan Loh were part of the AP photography staff honored in the Feature Photography category for their series of images of the key players and events surrounding President Bill Clinton's affair with Monica Lewinsky and the impeachment hearings. Bukaty continues to work for The Associated Press, based out of the Portland, Maine, bureau.
Ken Geiger '11, winner of Pulitzer Prize in 1993 while working for The Dallas Morning News. Geiger and William Snyder, an RIT alumnus who is currently the program chair of RIT's photojournalism program, won in the Spot News Photography category for their images of the 1992 Summer Olympics in Barcelona, Spain. Geiger is deputy director of photography at National Geographic magazine. He joined the staff of National Geographic in 2004 after 24 years of working in newspaper journalism.
Stan Grossfeld '73, winner of two Pulitzer Prizes in 1984 and 1985 while working for The Boston Globe. Grossfeld won in 1984 in the Spot News category for his series of photographs revealing the effects of war on the people of Lebanon. In 1985, he earned a Pulitzer in the Feature Photography category for a portfolio of images of the famine in Ethiopia and of illegal aliens on the Mexican border. Grossfeld was also among the finalists for Pulitzers in 1984, 1994 and 1996. Grossfeld was named associate editor of the Boston Globe in 1987.
Dan Loh '95, winner of Pulitzer Prize in 1999 in the Feature Photography category while working for The Associated Press for his coverage of the Monica Lewinsky scandal. Loh currently works in New York City as a photographer covering weddings, portrait, corporate and editorial assignments.
William Snyder '81, winner of four Pulitzer Prizes, in 1989, 1991, 1993 and 2006, while working for The Dallas Morning News. Snyder was honored in 1989 in the Explanatory Journalism category. Snyder was part of a three-person team that reported how the National Transportation Safety Board conducts air-crash investigations following a crash in 1986. In 1991, Snyder won a Pulitzer in the Feature Photography category for his images of ill and orphaned children living in deplorable conditions in Romania. Snyder and Geiger won in the Spot News category in 1993 for their images of the 1992 Summer Olympics in Barcelona. Under Snyder's leadership as director of photography at The Dallas Morning News, the staff earned a Pulitzer in 2006 in the Breaking News Photography category for its coverage of Hurricane Katrina. Snyder returned to RIT in 2008 and is a professor and program chair of the university's photojournalism program.
Anthony Suau '78, winner of Pulitzer Prize in 1984 for Feature Photography while at The Denver Post, for a portfolio of images depicting the tragic effects of starvation in Ethiopia and for a single photograph of a woman at her husband's gravesite on Memorial Day. Suau is an Emmy award-winning photojournalist and author based out of New York. In 2009, he co-founded Facing Change: Documenting America, a collective of 10 prominent American photographers set out to document the U.S. in the enduring economic crisis.
During the Sept. 22 awards ceremony at the Newseum there will also be a panel discussion, "Citizen Journalism: So Everybody's a Photojournalist?" Rochester Democrat and Chronicle publisher Michael Kane will serve as panel moderator. The panelists are Rebecca Brubaker, vice president of operations, Chicago Tribune; William Snyder, professor in RIT's School of Photographic Arts and Sciences; David Griffin, visuals director, The Washington Post; and Mark Mikolajczyk, president and publisher, Florida Today.
A luncheon will immediately follow the ceremony. All seven Isaiah Thomas Award winners will participate in a panel discussion at that time called, "A Day in the Life of a Photojournalist."
Also at the luncheon, there will be a special recognition award given to Peggy Boston, for her and her late husband, Bernie, to honor their donation of a collection of photojournalistic images to RIT's Archive. Bernie Boston was a renowned photojournalist and a 1955 graduate of RIT. He died in 2008. One of his iconic photographs and his personal favorite, Flower Power, was shot during an anti-Vietnam protest at the Pentagon in 1967. The photo was a runner-up for the Pulitzer Prize. Boston was also a finalist for a Pulitzer Prize in 1987 for his photograph of Coretta Scott King unveiling a bronze bust of her late husband, Dr. Martin Luther King Jr.
A native of Washington, D.C., Boston's 30-year career kept him close to home as he documented stories of national significance while working for The Los Angeles Times. For much of his career with the West Coast paper, he served as its White House news photographer. Boston photographed every sitting U.S. president from Harry Truman through Bill Clinton as well as scores of other prominent newsmakers.
The Bostons gifted their collection of photojournalistic work to the RIT Archive at The Wallace Center, including prints, negatives and contact sheets. The collection holds 5,000 objects.
"The Boston Collection illustrates the educational and career trajectory of a photographer grounded in the working traditions of print photojournalism, with the power of not only informing, but also shaping public opinion," says Therese Mulligan, administrative chair of RIT's School of Photographic Arts and Sciences. "A study of the Boston Collection constitutes a walk through American and world history with civil rights leaders, presidents and ordinary citizens caught up in the momentous events of their era."
The Paul and Louise Miller professorship is an endowed chair that was established in 1976 by the Trustees of the Gannett Foundation in honor of Paul and Louise Miller. Paul Miller rose to a position of international influence in both the Gannett Corp. and The Associated Press, becoming president of Gannett Corp. in 1957 and elected president of The Associated Press in 1963. One of the professorship's goals is to bring greater recognition to the newspaper industry.
RIT established the Isaiah Thomas Award in 1979 to honor leaders in the newspaper industry. The award is named in tribute to an early leader of the American printing industry. In 1779, Isaiah Thomas created The Massachusetts Spy at a print shop known as the "sedition factory" by the British colonial government. Additionally, in 1810, Thomas wrote The History of Printing in America, which was regarded as the basic source of information on early American printing and publishing.
Past recipients of the award include Mark Mikolajczyk, president and publisher of Florida Today; Thomas Curley, president and chief executive officer of The Associated Press; Allen Neuharth, chairman and president of the Gannett Co. Inc.; and Katharine Graham, president of Washington Post Co.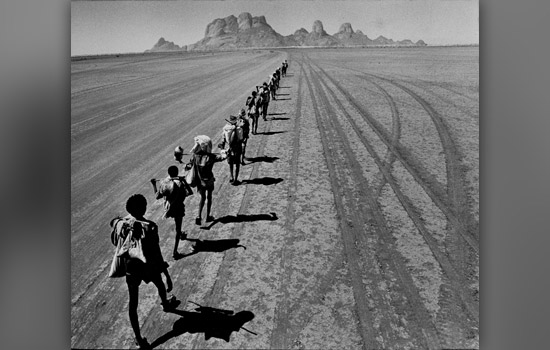 Stan Grossfeld/The Boston Globe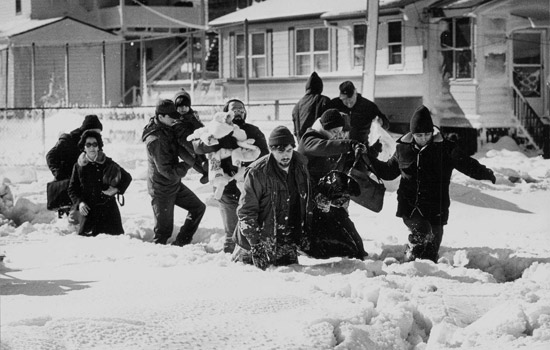 Paul Benoit/The Boston Herald American