Pumpkins, pianos, and performances highlight Brick City Weekend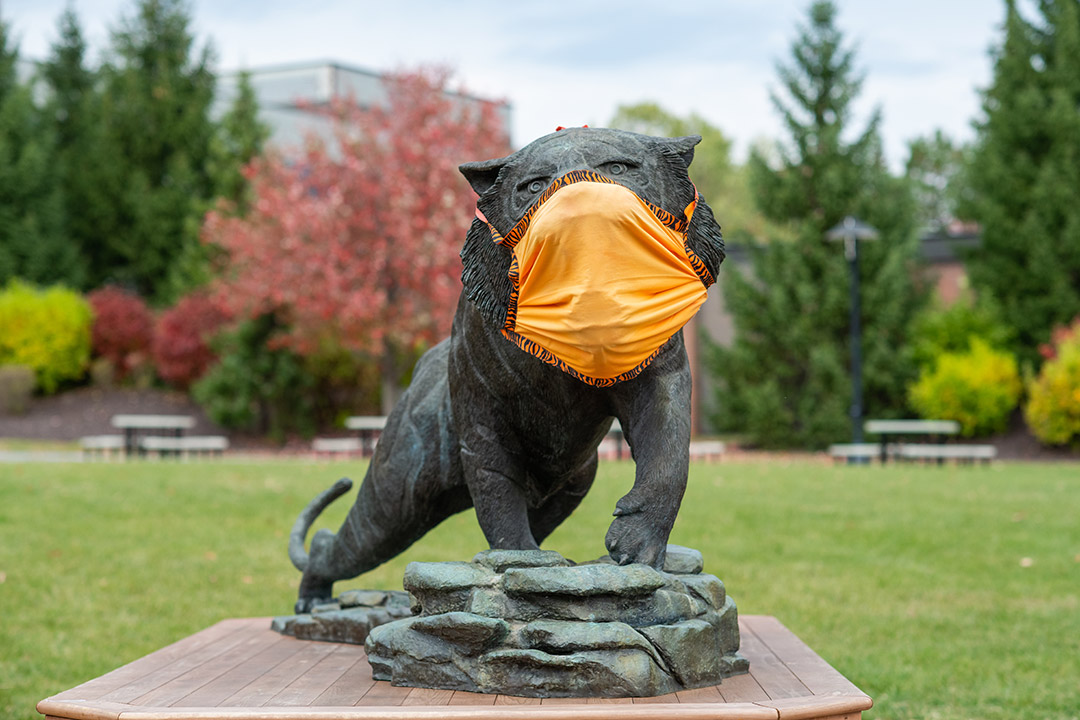 Gabrielle Plucknette-DeVito
While this year's Brick City Weekend events had to be planned with COVID-19 precautions, there still are plenty of free activities students on campus can enjoy this week.
Pumpkin carving, lighting—and then smashing—are new activities awaiting students this year, as are broadcasts of memorable RIT men's and women's hockey games. Popular mainstays such as movies, dueling pianos, and student music performances are also planned.
"We hope to engage as many students as possible with safe and creative opportunities to show their Tiger spirit and come together as the resilient, proud, and supportive RIT family that we are," said Lynn Rowoth, assistant vice president for community relations and special events.
Campus activities are for current RIT students only, although family and alumni may view virtual events. RIT's Division of University Advancement is offering dozens of virtual activities specifically for alumni, families, and students Oct. 19-24, including reunions, talks, a 5K, e-Sports, and even Tiger Trivia. Elan Lee '98, co-founder and CEO of Exploding Kittens, is the Alumni Association Distinguished Speaker on Oct. 24. His Zoom talk will be open to all students, faculty, staff, alumni, and parents.
Friday's events include virtual presentations about Hollywood special effects props and how to be creative, by Ryan Johnson and RIT's Cartoonist-In-Residence Leigh Rubin, creator of Rubes cartoons.
Also Friday are two performances by New York Dueling Pianos.
On Saturday, students can register (via Campus Groups) to receive a pumpkin to carve. Carve with Your College will be held from 10 a.m. to 4 p.m. in D Lot. Carving utensils will be provided, as will LED tea lights to put inside them. The finished pumpkins will be displayed from 4 to 8 p.m. at the Pumpkin Stroll in Tiger Stadium.
Students in D Lot can also make their own tie-dye masks. Supplies will be provided.
Food trucks will be on campus Saturday, and five student music groups will be performing.
On Sunday, students can release some stress at the Pumpkin Smash, 10 a.m. to 4 p.m. in D Lot. Bats, protective eyewear, and tarps will be provided.
Students are urged to register on the Brick City website which also has more details, and there is a Brick City tag in Campus Groups.
Brick City Weekend scheduled events include:
Friday, Oct. 9
5 p.m.: "Behind the Curtain: Take a Peek Inside the World of Special Effects Props in Hollywood!" Special effects wizard Ryan Johnson will tour his special effects prop fabrication company, NewRuleFX.com. Inside, he'll show how some of their most popular props are made and used, with live demonstrations and questions. (Zoom)
6 p.m.: "The Secret of Creating a Perfect Cartoon." Leigh Rubin, RIT's first cartoonist-in-residence and the creator of Rubes cartoons, talks about what it takes to stay creative, fresh and funny 365 days a year. (Zoom)
7 and 9:30 p.m.: New York Dueling Pianos. A high-energy, interactive party show featuring two grand pianos and pianists who try to outdo each other. Audience members can participate and request all types of songs, from classic rock, pop music, '80s cover songs and more. (Outdoor stage near the Gordon Field House and Zoom)
8 p.m.: "Somnium" Sneak Preview. Watch a live mini-preview of a downloadable, interactive blend of gaming and theater. Director Omen Sade will explain more about this genre-bending digital-theatre experience, and then actors will present several scenes in spoken English and ASL. Talk back to follow. (Zoom)
Saturday, Oct. 10
10 a.m.-4 p.m.: Carve With Your College, pumpkin carving, drawing, or painting for students. Pumpkins, carving supplies, and an LED kit to light them up provided. Registration required. May end early due to weather. (D Lot)
10 a.m.-4 p.m: Do It Yourself Tie-Dyed Masks, create your own tie-dyed mask. May end early due to weather. (D Lot)
Noon: RIT Brass Quintet, live performance (Sentinel outside the Student Alumni Union)
1 p.m.: Red Brick String Quartet, live performance (Fireside Lounge)
2 p.m.: RIT Gospel Ensemble, live performance (outdoor stage near Gordon Field House)
3 p.m.: RIT Steelband Ensemble, live performance (on the steps of the Gordon Field House and Activities Center)
4 p.m.: African Percussion Ensemble, live performance (on the steps of the Gordon Field House and Activities Center)
4-8 p.m.: Food trucks (M Lot)
4-8 p.m.: Pumpkin stroll, with completed carved or decorated pumpkins on display, and spooky music. (Tiger Stadium track)
5 p.m.: Broadway Cabaret. Presented by Performing Arts Scholars, watch a series of live performances featuring solo, duo, and trio renditions of contemporary and classic Broadway numbers. (Outdoor stage, outside Gordon Field House)
7 p.m.: Women's hockey. Re-broadcast of women's hockey Division III National Championship game vs. Norwich University from 2012. Current Women's Hockey Head Coach Celeste Brown, who played in the game, will offer commentary from SportsZone during the broadcast. Audience members can submit questions through SportsZone's Twitter page. (Ingle Auditorium for first 25 people, and online)
9:30 p.m.: Movie, "Hocus Pocus" (1993). A curious youngster moves to Salem, where he struggles to fit in before awakening a trio of diabolical witches who were executed in the 17th century. Presented by the College Activities Board. (Ingle Auditorium for first 25 people)
Sunday, Oct. 11
10 a.m.-4 p.m.: Pumpkin smash (D Lot)
1 p.m.: Red Brick String Quartet, live performance. (Fireside Lounge)
2 p.m.: Broadway Cabaret. Presented by Performing Arts Scholars, watch a series of live performances featuring solo, duo, and trio renditions of contemporary and classic Broadway numbers. (Outdoor stage near the Gordon Field House)
8 p.m.: Men's hockey. Re-broadcast of men's hockey vs. University of Denver 2010 Division I Championship Game for RIT's first Frozen Four appearance. Men's Hockey Coach Wayne Wilson will add commentary from SportsZone, and questions may be submitted through SportsZone's Twitter page. (Student Life Center Lawn and online)
Topics