Q and A: Human Resource Development Professor Torrence Sparkman earns SHRM Certification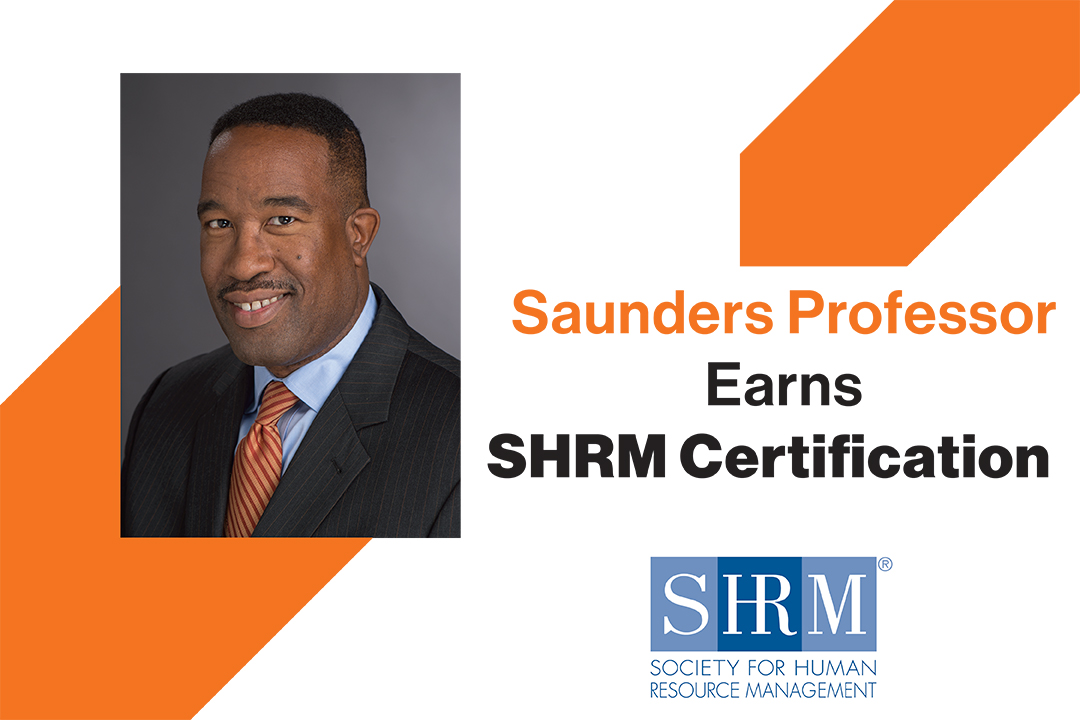 According to the Society for Human Resource Management (SHRM), an SHRM Senior Certified Professional is someone who "develops strategies, leads the Human Relations (HR) functions, fosters influence in the community, analyzes performance metrics, and aligns HR strategies to organizational goals."
Torrence Sparkman fits the bill.
Saunders College of Business is proud to announce that Associate Professor of Human Resource Development and International Hospitality and Service Innovation, Torrence Sparkman, recently earned his SHRM Senior Professional certification! As only 55% of test-takers pass, Professor Sparkman's accomplishment is well-deserved, especially given that it was his first time. We chatted with Professor Sparkman post-test to learn about his experience and what it means for the Human Resource (Development) program.
Q: Can you describe what the SHRM certification is in your own words?
A: The Society of Human Resource Management has a couple of certifications for HR professionals who are looking to demonstrate their competence and leadership in human resources. SHRM offers certification exams so that individuals have an opportunity to say, "I am leading in this area."
Q: What made you seek certification?
A: My background is on the human resource development side. I teach mostly courses related to performance, program evaluation, leadership development, talent development and anything that relates to performance, learning, and change. My background before I became a professor was an executive recruiter.
I wanted this certification to have a more in-depth knowledge of the management side of HR. I also think our program is moving towards more of an integrated program where students can take both HR management and HR development courses. Having this certification allows me to have a more robust knowledge that will benefit students.
Q: What did you do to prepare for the test?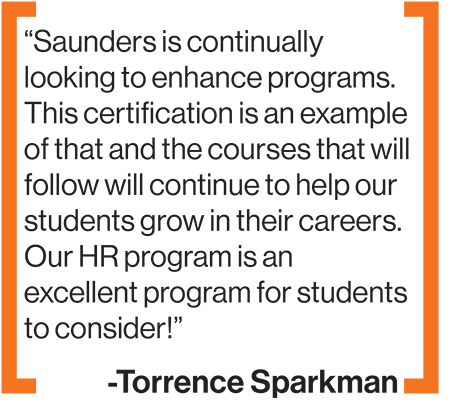 A: SHRM gives you two options, a handbook that describes their four competencies and knowledge domains or an online course. I chose the online path because I felt it would best prepare me for the certification. It was pretty involved as I took the course from September 2019 to mid-February 2020.
Q: How has Saunders helped you to achieve your certification?
A: I applied for a Saunders grant last year specifically for professional development on the Human Resource Management (HRM) side. The grant allowed me to purchase the online courses and register for the exam, as well as my SHRM membership. Saunders supported me in all of that!
Q: How does your accomplishment impact Saunders?
A: We have a more in-depth perspective of the management side of human resources, which broadens our teaching portfolio. This certification could also attract HR students knowing that a professor has gone through the training. Our courses could also inspire students to take the test before graduation.
Saunders is continually looking to enhance programs. This certification is an example of that and the courses that will follow will continue to help our students grow in their careers. Our courses are very conducive to the way our society and humans relate to each other. Our HR program is an excellent program for students to consider!
The Master of Human Resource Development program at Saunders equips graduates with the knowledge they need to maximize the human potential within their organizations. As a Personalized Degree Program, it offers the opportunity to study areas of interest to meet personal goals. The HR Development program is part of the International Hospitality and Service Innovation Department, which aims to provide students with broad exposure to diverse and lucrative career opportunities.
Topics