February 22, 2007
by Paul Stella
Record-breaking year for sponsored research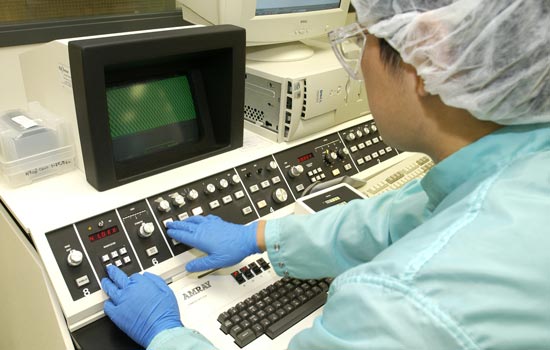 Faculty and staff members representing a range of academic disciplines have further energized RIT's commitment to scholarship and research. Together, they have tallied another record performance in the amount of sponsored funding received by RIT in a single year.
In 2006, $39.7 million in grants were awarded to RIT, according to Sponsored Research Services. That total is nearly $7 million higher than the sum achieved in 2005. The announcement comes as part of the university's annual salute to its principal investigators, taking place in the B. Thomas Golisano College of Computing and Information Sciences auditorium and atrium.
The event pays tribute to each member of the RIT community who submitted a grant proposal in 2006, regardless of whether or not the project received funding. "Last year, we submitted projects valued at more than $121 million," says Marjorie Zack, director of Sponsored Research Services. "These grants were written by 286 people across campus. A lot of people did a lot of grant writing last year." Zack says individual grant requests last year ranged from $17 million down to $148.
The largest award to RIT during that period was $2.7 million from the Office of Naval Research to continue the Defense Systems Modernization and Sustainment Initiative in the Center for Integrated Manufacturing Studies. Special recognition is being offered to individuals who received external funding last year for his or her first request as a principal investigator. Fourteen RIT researchers earned The Batting 1,000 Award, including Jim Myers, director of the Center for Multidisciplinary Studies. Myers led a team representing the Advanced Food and Beverage Manufacturing Institute of Upstate New York that received a $1.2 million award from the U.S. Department of Labor. The project will help to improve workforce skills in an industry that is critical to the regional economy. That funding, along with a $400,000 award from the United States Agency for International Development's Higher Education Collaborative Partnership Program to advance energy and natural resource policies in Kosovo, also earns Myers induction into the Million Dollar Principal Investigators Club, which recognizes RIT researchers who have received funding since 2000 that totals $1 million or more. "RIT is so fortunate to be at a point in its evolution where these things are truly celebrated and recognized," says Myers. "I appreciate that, and I absolutely respect how important it is to communicate the value of doing this kind of work to the broader campus community." Joining Myers this year in the Million Dollar PI Club are Stefi Baum, director of the Chester F. Carlson Center for Imaging Science; Karl Hirschman, associate professor of microelectronic engineering in the Kate Gleason College of Engineering; John Klofas, professor of criminal justice in the College of Liberal Arts; Carl Salvaggio, associate professor of imaging science in the College of Science; and Paula Brown, associate professor of communication studies and service at NTID. The group, who is being honored during an awards dinner at Liberty Hill, joins 28 other RIT researchers previously inducted into the club.
Topics