October 3, 2016
by Marcia Morphy
Reddit co-founder headlines SCB lecture series
Tech startup entrepreneur is part of RIT's Brick City Homecoming lineup on Oct. 14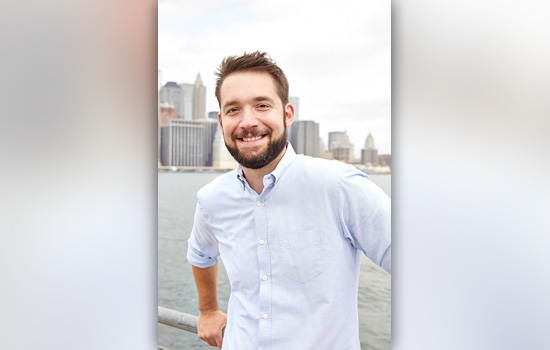 Alexis Ohanian is the 33-year-old co-founder of the website Reddit, the travel search engine Hipmunk, and the online geek-boutique Breadpig.
The tech startup entrepreneur says, "With fewer products being produced in the U.S., it is innovation coming from dorm rooms and garages that will continue generating wealth and jobs for the next generation."
Ohanian, who has more than 80 tech startups under his portfolio, is the keynote speaker for the Saunders College of Business Gasser Lecture Series at Rochester Institute of Technology. He will discuss "Think like a startup: Insights from a digital entrepreneur and startup investor," at 2 p.m. Friday, Oct. 14, in the Student Alumni Union's Ingle Auditorium. Open to the public, the event is one of the highlights of the university's Brick City Homecoming & Family Weekend.
Ohanian's talk will be followed by a signing of his book, Without Their Permission: How the 21st Century Will Be Made, Not Managed, in the Saunders College Atrium, Lowenthal Hall. The reception includes free ice cream and tours of the new Business Analytics Lab and REDCOM Active Learning classroom at Saunders College.
"We are delighted to have Alexis as our speaker for our Saunders College Gasser Lecture series and are excited to learn more about his success as a social enterprise entrepreneur," said Saunders College Dean Jacqueline Mozrall. "His guiding principle to keep 'making something people want' motivates our own RIT students in their pursuits to develop products and services."
In 2013, Ohanian launched a show on The Verge called Small Empires—which highlights founders of N.Y. tech startups and people/companies who use these digital platforms. He is currently a partner at Y Combinator, an American seed accelerator hailed as "the world's most powerful start-up incubator" by Fast Company.
Ohanian has spoken at TED (a talk viewed over a million times), was named to the Forbes 30 Under 30 in Technology two years in a row, and included in Inc. Magazine's 30 under 30 for his work at Hipmunk. He's a regular contributor on Bloomberg TV and is especially proud of his bucket­list achievement and guest appearance on The Colbert Report.
The William D. Gasser lecture series is hosted annually by Saunders College of Business and is designed to advance interaction and dialogue between business and academic communities. It is made possible by a gift from the late John Wiley Jones, former honorary member of the RIT Board of Trustees and founder of Jones Chemicals Inc., in memory of William D. Gasser. Gasser taught accounting at RIT from 1967 until his death in 1977.
Past Gasser lecture series speakers include Randi Zuckerberg, founder and CEO of Zuckerberg Media; Jerry Greenfield, co-founder of Ben and Jerry's Homemade Inc., and Daymond John, founder of FUBU and Shark on ABC's Shark Tank.
Doors open at 1 p.m., all seating is general admission and a ticket is required. The cost is $5 for students; $10 for parents, alumni, faculty/staff and guests. To register, go to saunders.rit.edu/reddit.