Research at RIT: Spring/Summer issue released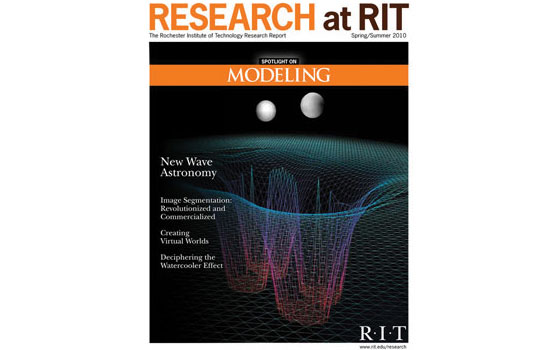 The latest issue of Research at RIT spotlights RIT's efforts in mathematical and computer modeling, with articles on new wave astronomy, rumor propagation, image segmentation and interactive games and media.
"This issue of Research at RIT explores the use of the latest modeling techniques across the disciplines to enable discoveries and advance technology," notes Donald Boyd, vice president of research and executive editor of magazine.
The issue also features a profile of Liban Inc. a company spun off from research with the Department of Defense undertaken by the Center for Integrated Manufacturing Studies, a component of the university's Golisano Institute for Sustainability.
"Liban is a perfect example of how RIT's applied research focus allows for rapid translation of innovations and technologies from the lab to the real world," Boyd says. "The company builds on over a decade of work conducted at CIMS and is now providing significant value to both the Department of Defense and numerous companies in the trucking and logistics industries."
Research at RIT started in 2008 and has previously focused on RIT's research efforts in imaging, sustainability, bio X and energy. The magazine also highlights national and international awards garnered by RIT faculty and related research conducted by students and faculty throughout the campus. To view a PDF or request print copies visit www.rit.edu/research.