Researchers make technology more accessible to all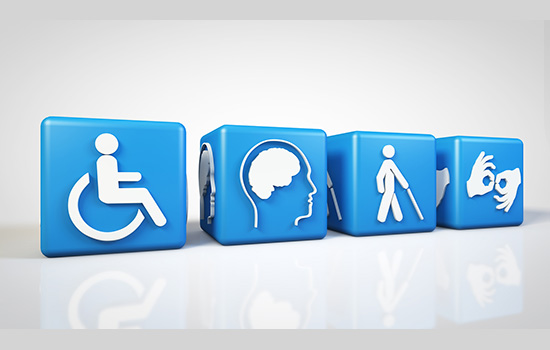 Using new technology and gadgets can be frustrating. For the more than 1 billion people around the world who have some form of disability, it can create significant challenges in everyday life.
At RIT, student and faculty researchers in the Center for Accessibility and Inclusion Research are working to change the culture of development in an effort to make technology accessible for all.
"Computers, smartphones and the Internet have become essential for communicating and getting a job, but there are a lot of people potentially being left out," said Vicki Hanson, a distinguished professor of information sciences and technologies. "This is a great opportunity for RIT to tap into its diverse culture of accessibility."
The Center for Accessibility and Inclusion Research, or CAIR, (pronounced "care") brings together researchers working on computer accessibility and assistive technology for people with disabilities, technology for older adults and educational technologies. Created in 2015, in RIT's B. Thomas Golisano College of Computing and Information Sciences, the center is now home to more than 25 faculty and graduate and undergraduate students looking to make a difference.
Larwan Berke, a computing and information sciences Ph.D. student, uses the center to research how Automatic Speech Recognition (ASR) captioning technologies can be used by deaf people in one-on-one meetings with hearing individuals. Because ASR technology is imperfect and deaf users have to cope with errors in the captioning, Berke is investigating ways to alter the display style of the captioning, based on how confident the ASR technology is in its output.
"As someone who is deaf, I personally understand the need for communication and oftentimes feel frustrated by the lack of access," said Berke, who is from Fremont, Calif. "Pondering accessibility issues encourages the computing world to come up with novel methods of including people with disabilities in their new creations, thus facilitating uses that the inventors never thought of."
Other researchers in the center are using motion-capture technologies to produce linguistically accurate animations of American Sign Language and finding ways to improve classroom accessibility.
Hanson and Matt Huenerfauth, an associate professor of information sciences and technologies, have also received a nearly $500,000 National Science Foundation grant to explore the best practices for training future computing professionals about inclusive technology development.
"Even the setup of our lab has accessibility in mind, with circular gathering spaces and transparent glass walls that provide line-of-sight for users of ASL and designated wide access paths for wheelchair users," said Huenerfauth. "It's important that people with disabilities are participating in the design process, so we can create technology that benefits everyone."