RIT alumni recognized for outstanding research on black holes
Researchers celebrated at annual Graduate Alumni Awards reception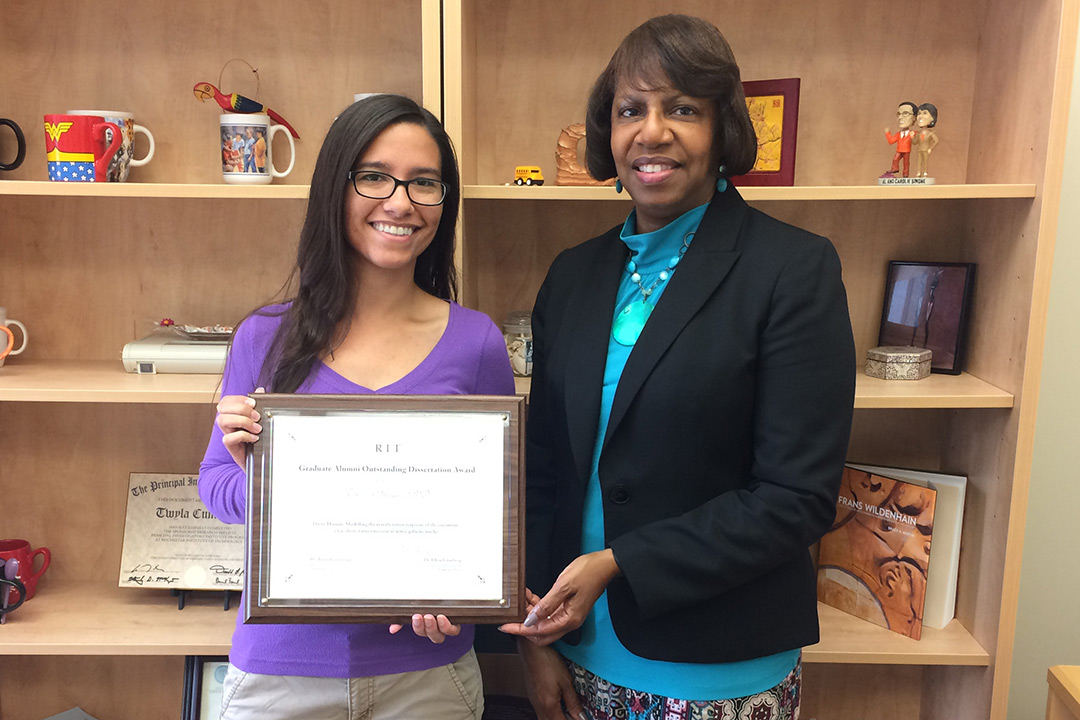 Rochester Institute of Technology's Office for Graduate Education recently celebrated groundbreaking research on black holes by two alumni at the annual Graduate Alumni Awards reception on Friday, Oct. 19.
Triana Almeyda '17 Ph.D. (astrophysical sciences and technology) received the Ph.D. Dissertation Award for her research on dusty molecular gas clouds that surround active galactic nuclei, the supermassive black holes at the center of large galaxies. Active galactic nuclei are typically too distant to image with telescopes, so Almeyda developed a computer model to determine the structure of the gas clouds. Almeyda said the support from her adviser, professor and director of the astrophysical sciences and technology Ph.D. program Andrew Robinson, and fellow Ph.D. students led her on a research path she could never have imagined before attending RIT.
"It was a lot more computer coding than I ever expected I would ever do in my life," said Almeyda. "I never considered myself a computer person and everything I always wanted to do in astronomy was observational. When I got into this project and they told me I was going to be working with computers all day, I thought it was my worst nightmare but it ended up becoming my baby. Since I basically wrote this model from scratch, it became my pet project, I got really into it and I actually ended up loving it more than I ever thought I would."
After five years researching the subject and completing her Ph.D., Almeyda said her dissertation springboarded her into a dream postdoctoral research fellowship at the University of Southampton in the United Kingdom, where she's managing the data stream from two telescopes in Chile to study active galactic nuclei in further depth. She said that once she concludes the two-year position, she hopes to ultimately pursue a position at NASA or as faculty teaching the next generation of researchers.
Daniel Wysecki '17 MS (astrophysical sciences and technology) earned the MS Thesis Award for his research using gravitational wave measurements to better understand merging black holes and neutron stars. Wysocki is an active member of the Laser Interferometer Gravitational-wave Observatory (LIGO) Scientific Collaboration, a multinational organization of thousands of scientists and engineers working on aspects of gravitational wave detection and analysis. For his master's thesis, he worked closely with his adviser Richard O'Shaughnessy, assistant professor in RIT's School of Mathematical Sciences, to interpret the information present in the waveforms detected by LIGO, that were generated by merging pairs of black holes.
"Imprinted in each waveform is information about what the mass of these objects were, how they were oriented, whether they were spinning or stationary as they spiraled in," said Wysocki. "My thesis was intended to explore two things: what is the distribution of binary black holes' properties, including their masses and how much they're spinning, and also whether we can go a step further back and model what they came from."
Wysocki is continuing his research on the subject as he works toward his Ph.D. in astrophysical sciences and technology at RIT, which he expects to complete in 2020.
For more information about the awards, including past winners, visit the Office of Graduate Education website.
Topics