RIT Alumni Show Their Metal in Bevier Exhibition
Invitational show features renowned national and international artists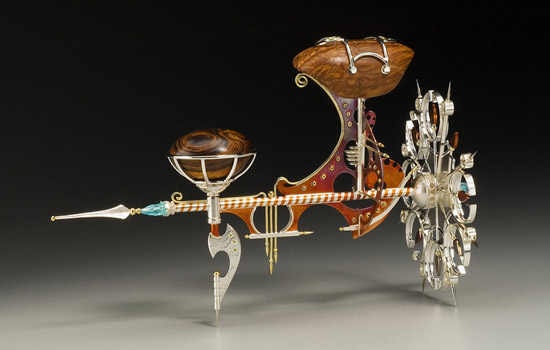 Juan Carlos Caballero-Perez knows every metal artist is inspired.
After all, he's one of them. He's also a professor and alumnus—'94, '01 (metalcrafts and jewelry, MFA) from the School for American Crafts at Rochester Institute of Technology.
Caballero-Perez says the Metals Alumni Exhibition, which makes its debut at RIT's Bevier Gallery this month, will showcase national and international artists who have graduated from the RIT program and have achieved recognition and success for their work. An opening reception will be held from 5 to 7 p.m. on Dec. 10, and the show runs through Jan. 19. Bevier Gallery is closed Dec. 18 to Jan. 2.
"This invitational show features 100 works from 52 artists who are true professionals in their field," Caballero-Perez explains. "Everything is one-of-a-kind and there is a wide spectrum in their achievements: jewelry, sculpture, wall-mounted art, even functional art objects such as a bench by Rochester artist Paul Knoblauch."
Caballero-Perez says the exhibition is a standard of excellence for RIT students who will graduate from the program.
"I was a student here and trained under metals professor Len Urso who came to RIT in 1983," he says. "We all want to know who came before us and achieved success. The students are hoping to be that—to become that—artist who makes a living out of their craft."
Bevier Gallery is handicapped-accessible and is located in James E. Booth Hall on RIT's Henrietta campus. Gallery hours are 9 a.m. to 4:30 p.m. Monday through Friday; 7 to 9 p.m. Monday through Thursday; 1 to 4:30 p.m. Saturday; and 2 to 4:30 p.m. Sunday. All exhibits are free. For more information, call 585-475-2646.
##