RIT alumnus recognized for body of work
Scott Wilson received a National Design Award for his product designs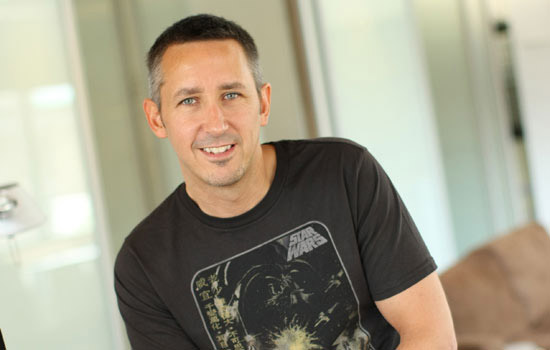 Kenny Kim
The Xbox 360 + Kinect sensor, TikTok + LunaTik multi-touch watch kit for the iPod nano and Dell's XPS laptop series all share something in common—they were designed and collaborated on by a company that is headed by an RIT alumnus.
Scott Wilson '91 (industrial design), the founder and principal of Chicago-based design firm MNML, has a portfolio that reflects the zenith of American design. This is confirmed by the Smithsonian's Cooper-Hewitt National Design Museum, which recently bestowed upon Wilson a National Design Award in the category of product design.
The annual awards, given out in conjunction with National Design Week, Oct. 13 to 21, honor designers who exhibit excellence, innovation and enhancement of the quality of life. First Lady Michelle Obama presented this year's awards at a White House luncheon earlier this year.
"It is wonderful, but not surprising, to see Scott honored by such a prestigious award, since he has earned his keep in the pantheon of independent American design voices," says Josh Owen, associate professor and chair of the industrial design program in RIT's College of Imaging Arts and Sciences.
Wilson, who founded MNML in 2007, is a former global creative director at Nike and has been a design leader in organizations such as IDEO, Thomson Consumer Electronics, Fortune Brands and Motorola. He cites his education at RIT as one of the contributing factors to his success.
"I humbly share the National Design Award with all of my mentors and teachers at RIT that were able to see my raw potential and passion, cultivating me into a designer with very marketable and flexible skills," Wilson says. "I'd like to also share the honor with my peers, who were instrumental in building an environment that enabled creativity and learning from each other."
In addition to his design work, Wilson's pioneering success using the crowd-funding website Kickstarter for product development projects such as TikTok + LunaTik, raised $1 million in just 30 days, far surpassing his initial goal of $15,000.

Wilson is one of 10 RIT alumni whose work will be featured in Design Autopsy, an exhibition of alumni work hosted by RIT's industrial design department. The exhibition, which runs from Oct. 12 to Nov. 14 in the Bevier Gallery at RIT, is meant to help reveal the diversity and process behind the profession of industrial design. The work that will be presented demonstrates a variety of fields that the alumni have explored.
"Scott's work mirrors RIT's innovative and creative spirit as well as the industrial design program's mission to prepare graduates to make thoughtful contributions to the global dialogue from a human-centered perspective," Owen says.
Topics