RIT and Air Force ROTC alumnus returns to talk about service, training and meeting challenges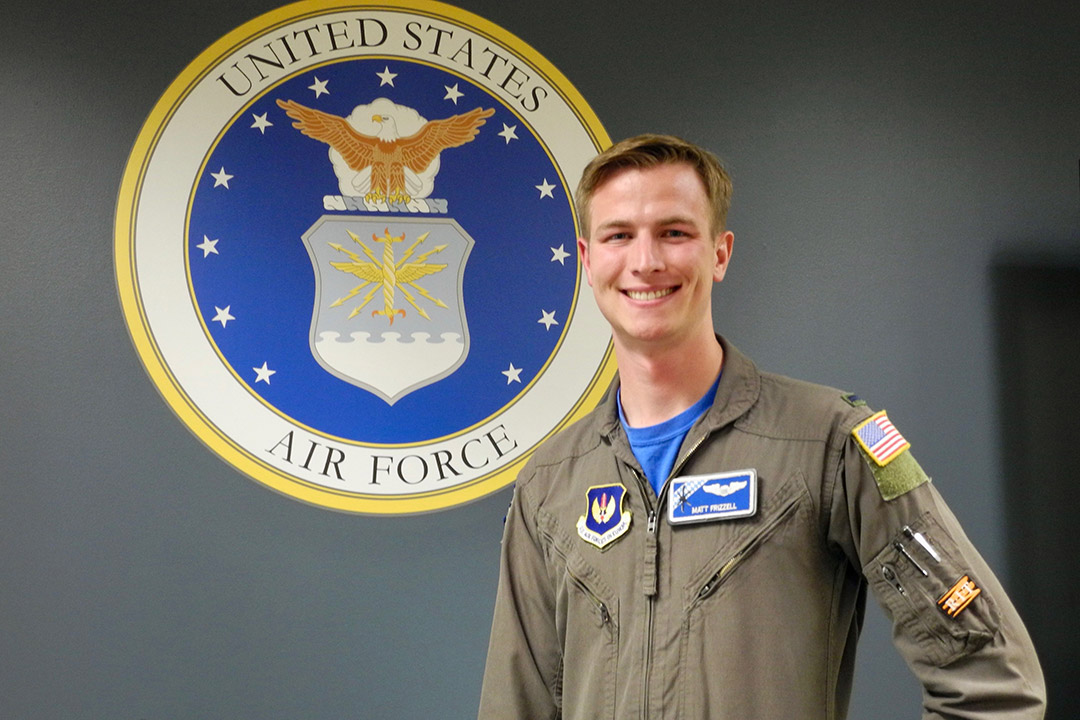 Matt Frizzell '16 (electrical engineering technology) shared his experiences as a pilot and first lieutenant during a recent visit with RIT's Air Force ROTC detachment. He also gave an update to a romantic story he set in motion in 2016.
Frizzell trained at bases in Laughlin, Texas, and Little Rock, Ark., after graduation. Today, he is stationed in Ramstein, Germany, supporting troop movements and humanitarian efforts as a pilot of one of the Air Force's C-130 military transport planes. With the nickname "Hercules" and in service for more than 50 years, the huge plane is one of the most adaptable aircrafts because it can take off and land on unpaved airstrips as easily as it can on an airbase tarmac.
"At Ramstein, we are the only airlift asset stationed in U.S. Air Force-Europe and U.S. Air Force Africa. We are the only permanently assigned unit in both of those commands, so our duties vary to do air lift operations in Europe and Africa," he said. Prior to arriving in Rochester for his visit, he had been in Senegal and was still feeling the effects of several time zone changes. "It's busy, a lot of fun, coffee is a wonderful thing!"
His assignments could include anything from moving people, equipment and ammunition to providing food and humanitarian relief supplies. An earlier mission was in Mozambique after Cyclone Idai killed nearly 600 people and injured close to 1,300; crews and aircraft from his unit would be stationed in the country for humanitarian operations for a month.
 "There's never a bad day flying," he said. "It can be challenging, frustrating, depending on what obstacles appear, but there's never a bad day flying. The most fulfilling part? Just two weeks ago, I had the privilege of medical evacuation of a U.S. service member. We were able to get him back from the Ukraine to Germany for the care he needed, and that is probably the most rewarding thing that I do—getting folks out of a bad situation into the care that they need."
While at RIT, he talked about those experiences and how he prepared for them as a way to help the new cadets understand both the responsibilities and the challenges of life in the Air Force and in other countries—including relationships.
Between training assignments, Frizzell surprised his college sweetheart, Josephine Kelly, whose proposal many witnessed at center ice between periods of the RIT Tigers hockey game on Dec. 13, 2016. The couple's viral video of her surprise at center ice was seen and remembered by thousands. They were married on June 2, 2018.
Topics