RIT announces Fall Planning Task Force
Proactive preparation response to pandemic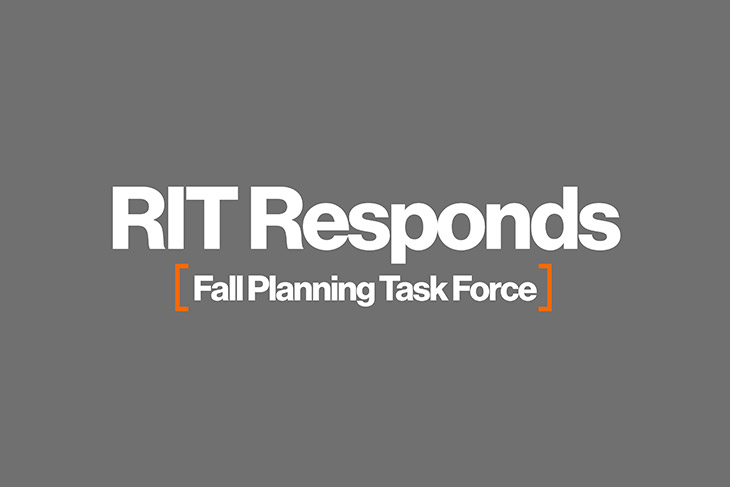 With "eyes on fall," RIT continues to respond to the COVID-19 pandemic with the creation of the Fall Planning Task Force and the work of three committees.
The Fall Planning Task Force is charged with development of creative strategies and contingency plans that will allow RIT to safely reopen on campus and conduct its missions in education and research, beginning in the Fall 2020 semester.
"The task force will place a strong focus on the best and safest ways in which to bring back the residential academic experience, with public health considerations at the forefront," said RIT President David Munson. A return to campus will require new practices and new safety standards related to places and spaces, and how we learn, study, conduct research, collaborate, and engage with one another, he added.
As RIT proceeds, the university will follow the latest guidance and direction of local and state health officials, New York State Gov. Andrew Cuomo, and the U.S. Centers for Disease Control and Prevention.
"In charting our path for a healthy fall return, the task force will consult with subject matter experts and will coordinate and synthesize the work of three committees: Academic Planning, Infrastructure and Health Technologies, and Community Readiness," said Munson. "The task force's work will advise the university leadership and the Board of Trustees regarding the educational format, safety policies and protocols, and changes in operational plans for the fall semester."
The task force and committees are comprised of more than 100 students, faculty, staff, trustees, parents, and medical doctors.
To learn more about the task force objectives, the charge of each committee, and the membership for each group, visit the Fall Planning Task Force webpage.