RIT announces public service award winners
Twyla Cummings and Claire Finnerty to be honored for their volunteer work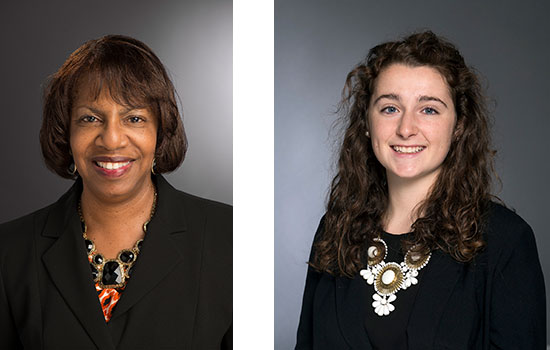 A devoted volunteer to several Rochester charities and nonprofits and a student passionate about global volunteerism will receive this year's Alfred L. Davis Distinguished Public Service Awards.
The awards will be given at a public ceremony at 4 p.m. Thursday, April 12, in the University Gallery.
Twyla Cummings, dean of Graduate Education, will receive the 2018 Four Presidents Distinguished Public Service Award.
Cummings joined RIT in 1998 and volunteers with numerous community-based organizations. Over the past 20 years she has served on and chaired the boards of the Rochester Area Business Ethics Foundation, YWCA of Rochester and Monroe County and the Rochester Women's Network. Previously her volunteer efforts earned her the Urban League of Rochester Outstanding Volunteer Award, and she has been a nominee or finalist for several other honors by the Rochester Women's Network, ESL Jefferson Awards program for community service and United Way of Greater Rochester.
"Receiving this award is an incredible honor," said Cummings. "I am truly humbled by the nomination and the selection. It means a great deal to be recognized for community service, but I am not involved in service for the recognition. I do it because it is the right thing to do and it makes me a better person."
Cummings will receive $2,500 as part of the award to give to charities of her choice. She will donate the funds to four organizations: YWCA of Rochester and Monroe County, The Rochester Women's Network, The Rochester Area Business Ethics Foundation and AKOMA, an African American women's gospel choir.
She said that winning the award would not have been possible without her support network of family and mentors. "Throughout my life I have had many role models to encourage me and to lead me toward a successful pathway," said Cummings. "I have also had people who were willing to help me during challenging times which is a reminder to not forget where you came from. Lastly, my mother is a great example of someone who always willingly gives of her talent, time and treasure."
Claire Finnerty, a fourth-year biomedical sciences and public policy dual major from Rochester, will receive the 2018 Bruce R. James Award.
Finnerty currently serves as president of the Global Health Association at RIT, a student club that aims to increase awareness of the health challenges faced by people across the planet. In the past, she has volunteered extensively with AutismUp through the Alpha Xi Delta sorority, served as the Alternative Spring Break coordinator for RIT's Center for Leadership and Civic Engagement and interned with the Ministry of Health in Botswana, Africa; Mary's Place Refugee Outreach; and U.S. Sen. Kirsten Gillibrand's Rochester office.
"I am extremely honored to receive this award, especially because I know the other nominees are doing amazing things in the community and are equally, if not more, deserving than myself," said Finnerty. "It means so much to me because I am being honored in what I have a passion for. Being born and raised in Rochester, I have been aware of the disparities but I am proud to say I have helped make a difference in my community."
Finnerty will donate the $1,000 she earned from the award to Mary's Place Refugee Outreach, a nonprofit refugee outreach center in northwest Rochester.
"After spending the summer interning there I realized what an amazing organization they are," said Finnerty. "Staff and volunteers teach English, provide food and clothing, prepare refugees to enter the workforce and provide genuine compassion and support. Mary's Place is so special to me because the people were so welcoming and friendly. They fully function on grant support and donations so this money will be important to continuing and improving their amazing work."
About the awards:
The Four Presidents Distinguished Public Service Award Fund was created by Alfred L. Davis on the occasion of the 65th year of his association with RIT, to commemorate the dedication of the four RIT presidents with whom he worked, in their service to the Rochester community. The purpose of this award is to honor the four presidents, Mark Ellingson, Paul Miller, M. Richard Rose, and Albert Simone, with whom Mr. Davis served at RIT, and to recognize a current member of the faculty or staff who, through his/her public service, mirrors the lives of the four presidents, who have been not only outstanding professionals but also caring members of the community. He died in 2008.
The Bruce R. James '64 Award was named after James, chair emeritus of the RIT Board of Trustees. The award recognizes a student for exemplary public service within RIT and/or the wider Rochester community. Its purpose is to highlight one of RIT's own hidden heroes while also encouraging other students to engage in public service.
Topics