August 17, 2010
by Marcia Morphy
RIT Archives Acquires Frans Wildenhain Ceramic Collection
Scottsville collector Robert Johnson donates 300-plus pieces from artist's career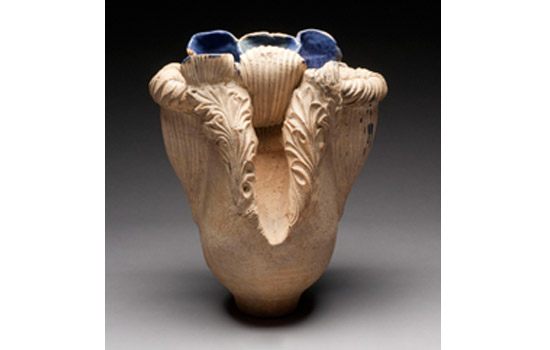 Ceramicist Frans Wildenhain once said to Robert Bradley Johnson—an avid collector of the sculptor's work—"You helped pay for the roof of my house."
"I started collecting his pieces in 1955," says 78-year-old Johnson from his Scottsville home. "I needed to furnish my apartment and a friend introduced me to Shop One, which at that time was the only craft shop in Rochester. So I picked up a couple of his lamps, a tea caddy, a few bowls, enough to fill all the corners."
Johnson later moved to his farmhouse in 1971, and the collection grew to fit the added space during several renovations to his home. The final tally was 330 pieces in total—300 of which Johnson recently donated to the Rochester Institute of Technology Archive Collections.
"Wildenhain's artistry has come home to RIT," says RIT archivist Becky Simmons. "He came to Rochester in the early 1950s and for the next 20 years taught in what is now known as the School for American Crafts. This major collection of early 20th century ceramics illuminates the history of art programs at RIT."
Johnson describes Wildenhain—who received his artistic training in the early 1920s at the Bauhaus pottery workshop in Weimar, Germany—as an imposing person who exuded electricity. "He was quite tall, husky and you could feel his sense of power and confidence," he remembers. "For me, his work has withstood the test of time; it's as if these pieces always existed. They almost seemed to be alive."
Following his apprenticeship, Wildenhain opened workshops in Putten, Holland, then Amsterdam, where he also taught at the School for Applied Arts. He came to the U.S. in 1947 to the Pond Farm Workshop in Gureneville, Calif., before joining RIT's School for American Crafts in 1950 where, along with Hobart Cowles, he helped create the legendary ceramics program.
Johnson's life equally took some interesting twists and turns. He graduated from Rensselaer Polytechnic Institute in Troy, came to Rochester in 1954, and while employed at Eastman Kodak, voraciously studied piano at Eastman School of Music.
"But my Kodak earnings were higher than those of a musician, so I ended up working at the company as a development supervisor until I retired 30 years later," Johnson says. "By then I was bitten by the collector's disease; I couldn't stop buying Wildenhain's pots.
"I believe in the Victorian theory of space. If you take a space and put something in the middle, then you have two spaces," he says with a laugh. "Sometimes I had to keep moving the pots around, changing their position, before they all settled down and could live together."
According to Simmons, many of the pieces in the archive collection are earth-toned in color and organically shaped. "Some of the vessels are quite large and simply decorative, and there's a few etched pieces and figurative sculpture. But we also have a lot of functional pottery items like vases, bowls and plates."
Johnson agrees that a few Wildenhain pieces in particular seemed to fill real needs. "A few items I still have in my home are all the lamps, and I also use a huge carved ceramic vase for an umbrella stand. But I never used his famous teapot (in the RIT collection) which is highly recognizable and was featured on the cover of several brochures. I was too afraid of damaging it."
Unlike most collectors, Johnson never kept formal records or receipts for his Wildenhain purchases. He simply bought what he liked, when he liked.
"Perfection is dull and what I treasured about Wildenhain's pottery were the irregularities—how his fingers could mold clay into something that lives and breathes life," Johnson says. "I never got tired of looking at them, and to me that was a priceless gift.
"He was a great artist and the public needs to see his work in a setting like RIT, where he taught for many years and demonstrated his astonishing creativity."
Note: Joint exhibitions of the collection are planned for Fall 2012 at RIT's Bevier Gallery and Dyer Arts Center at the National Technical Institute for the Deaf.