RIT to be 'carbon neutral' by 2030
University's commitment to sustainability on track with completion of Climate Action Plan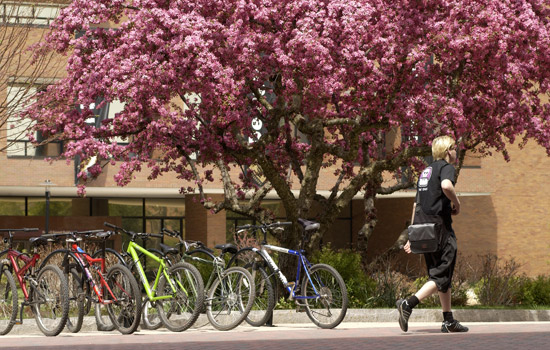 A. Sue Weisler
Rochester Institute of Technology has announced the release of its initial Climate Action Plan, putting it on track to be carbon neutral by 2030.
Completion of the Climate Action Plan is result of RIT's participation in the American College and University Presidents' Climate Commitment, a pledge by academic leaders to move their campuses toward climate neutrality, through more sustainable programs and practices.
President Bill Destler signed the commitment in 2009 and, in November 2010, the American College and University Presidents' Climate Commitment appointed Destler to its steering committee.
"This plan is a result of the collaboration from several faculty and staff members over the last year and reinforces RIT's commitment to sustainability," Destler says. "RIT is working to be at the forefront of sustainability and we are proud to be a part of this great initiative."
The initial plan establishes a framework for RIT to achieve climate neutrality by 2030. The plan will be updated every two years with increasing metrics and details on the university's progress.
"While significant, this is only part of our continued efforts to establish a sustainable campus, which can serve as a living laboratory and a model of best practices both in and outside of the physical classroom," says Enid Cardinal, senior sustainability adviser to the president at RIT.
RIT has several academic programs as well as campus-wide initiatives in place. Adding to a number of already existing degree programs related to sustainability, this fall a new Master of Architecture program focusing on sustainability, accepted its first class of students. The university has also committed to green building practices on campus as evidenced by several LEED-certified buildings including the "Platinum" University Services Center and the currently under construction Golisano Institute for Sustainability, which also aims to be LEED Platinum certified.
In addition to its new buildings, RIT has undertaken extensive energy conservation measures and installed a number of storm-water management features including pervious paving materials, rain gardens, green roofs and bioswales. Last year, 34 percent of the food RIT purchased was locally produced, and this year students on the newly established sustainable lifestyle floor enjoyed a local food welcome dinner.
About the American College and University Presidents' Climate Commitment:
The American College and University Presidents' Climate Commitment, a high-visibility effort to address global climate disruption, garners institutional commitments to neutralize greenhouse gas emissions and accelerate the research and educational efforts of higher education to equip society to re-stabilize the earth's climate. It is led by a steering committee comprised of 29 university and college presidents and is staffed and supported by Second Nature, a Boston-based national nonprofit organization.
Topics