RIT bowler is among the best in the nation
Laura Branch, 19, is named a member of Junior Team USA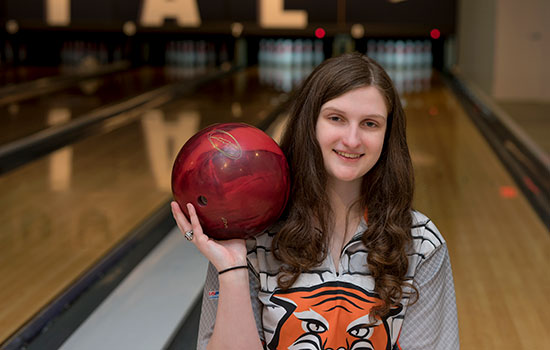 A. Sue Weisler
A member of Rochester Institute of Technology's bowling team has been named a member of the United States Bowling Congress's Junior Team USA, a prestigious honor given to the top 12 male and female bowlers in the country who are under age 21.
Laura Branch, 19, a second-year biotechnology and molecular bioscience major from Fairport, N.Y., received the honor on Jan. 7 at a qualifying tournament in Las Vegas.
It comes with a lifetime pass to the International Training and Research Center in Arlington, Texas—home of the United States Bowling Congress—where she will have access to the Team USA coaching staff. She also plans to attend Team USA camp in June, also in Arlington, where she'll be evaluated, coached and taught bowling skills, physical conditioning and more.
Based on her performance, Branch may also be selected to compete in the World Youth Championships or the Tournament of the Americas, the two largest youth bowling competitions in the world, she said.
"I can't put into words what an honor it was to be chosen to represent the U.S.A. in the sport I love more than anything," Branch said.
Team USA works with the International Olympic Committee, lobbying to get bowling into the Olympic games. "It's bound to happen," Branch said. "Some people think bowling is a dying sport, but it's getting more attention."
Her bowling interest began when she was just 7 years old and attended a birthday party of a friend at a bowling alley. "The guy behind the counter asked if I wanted to join a league," she said.
Her promising future in the sport was evident when she became a member of the varsity bowling team at Fairport High School. "They all said if I kept working on it, there would be good things ahead for me," she said.
Since then, Branch has bowled a perfect 300 game and has once even converted the dreaded 7–10 split. Branch owns 20 bowling balls but only uses 15 or 16 of them, depending on lane conditions and other factors.
"I like bowling because of the opportunity to always get better," she said. "There's always something you can work on, always new things being discovered about the sport and ways to make it more challenging."
Branch has a 196 average, the highest on RIT's bowling team, which won a tournament earlier this season in State College, Pa.
"This is made more impressive by the fact that the team is essentially a men's team, made up of 15 men and just two women," said Matt Gregory, a volunteer coach for the RIT bowling team. "We are all incredibly proud of Laura."
He said Branch could easily compete on some of the top NCAA women's bowling teams.
"Making Junior Team USA is the crowning achievement for a youth bowler, and I think it really speaks volumes about her work ethic and determination," Gregory said. "I know she had been preparing for Team USA trials all season, so it's fantastic to see her hard work get rewarded like this."