RIT celebrates past and future of 'Brick City'
50th anniversary of the Henrietta campus, speakers and hockey highlight weekend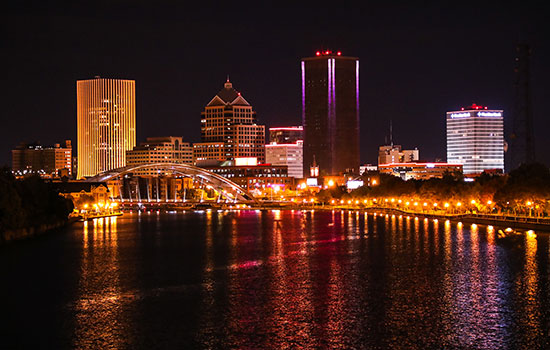 Ken Huth
The Rochester skyline was lit Tiger orange Saturday night, as part of a special celebration of RIT's annual Brick City Homecoming & Family Weekend.
More than 15,800 members of the Rochester Institute of Technology community came out Oct. 19-21 for 125 homecoming events, including the Presidents' Alumni Ball, a talk with The Big Bang Theory actress Mayim Bialik, the Brick City 5K Fun Run and Walk, women's hockey games and a sold-out men's hockey win at Blue Cross Arena.
The celebration was even more special this year because RIT marked 50 years since moving to the Henrietta campus. In 1968, the university moved from downtown Rochester—where its roots date back to 1829—to a newly built campus in the town of Henrietta. Brick was the main material used to build RIT's new facilities, giving the new campus the nickname "Brick City."
Rededicating the Henrietta Campus
RIT celebrated its 50th year at the Henrietta campus during a rededication ceremony Oct. 19, with musical performances, videos on the historical significance of 1968 and community speakers. The theme of the rededication was transformation.
"As we look back on how much has changed since we placed the first brick in Henrietta, the potential for RIT to be transformed and to continue to transform the lives of RIT family members is awe-inspiring," said Bill Buckingham '64 (business administration), honorary chair of the 50th anniversary celebration.
During the rededication, Deputy Monroe County Executive Tom VanStrydonck proclaimed Oct. 19 "Rochester Institute of Technology Day." A joint resolution was also presented to RIT by Assemblymember Harry Bronson and Sen. Patrick Gallivan, on behalf of the N.Y. State Senate and Assembly delegations. RIT alumnus and Henrietta Town Supervisor Stephen Schultz '89 (computer science) also announced a new scholarship for students from Henrietta.
"Fifty years later, the transformation hasn't stopped," said Board of Trustees Chair Christine Whitman. "Now, we are transforming the future by continuing to transform RIT."
RIT President David Munson showed off models of new monumental benches that will be located in Fountain Park, at the cusp of the original RIT campus edge. The benches were designed by RIT industrial design students and will be made of reclaimed wood from a century-old oak tree that once stood at RIT's entrance and fell during a windstorm in 2017.
The Henrietta campus was also honored at a photo exhibit showing activities in the lives of students, from the annual move-in days to sporting events and student hi-jinx. The "Rewarding Investment in Tomorrow" exhibit has photos from RIT archivist Becky Simmons and alumnus Andrew Franklin '75 (photography) that shows the lives of RIT students and illustrates the Henrietta campus experience since the founding.
 The exhibit runs through Dec. 21 in The University Gallery. It includes many images from the new RIT Press book, Transforming the Landscape: 50 Years on the New RIT Campus, an illustrated history of the Henrietta campus and its architecture.
Remembering downtown RIT
A historical marker now stands at the corner of South Washington and Spring streets, noting for passers-by where RIT's downtown campus stood until 1968.
During an unveiling ceremony for the marker Oct. 19, alumni and community members who witnessed the university's 1968 move gathered to remember the downtown campus. The marker was funded by the Pomeroy Foundation.
"We hope the marker stands as a testament to the alumni and future students of RIT for generations to come," said Steve Bodnar '12 (communication and media technologies), communications manager at the Pomeroy Foundation.
Attendees also took walking tours of the area, where they could see original campus buildings that still stand, including the Bevier Memorial Building.
Bob Wislocky '70 (printing) and Gail Wislocky '69 (retail management) remembered meeting at the Kate Gleason Hall, where she worked as a resident advisor. The couple reminisced about the dorm that is now an empty lot next to Interstate 490, remembering that at the time, women had to abide by a curfew, while the men did not.
"We knew about RIT's decision to move before we applied to school here and it was actually one of the reasons I decided to come to RIT," said Bob Wislocky, who is president of Newark Trade, a digital graphics company in New Jersey. "RIT was forward thinking and had a commitment to grow in the future."
Wislocky added, "The classes we took here made us more well-rounded (not just technically-focused) and ready to face the future."
At the ceremony, RIT leaders were proud to note that the university had returned downtown to open the RIT Downtown Center for Entrepreneurship and soon to be opening The RIT City Art Space gallery in the Sibley building.
Student Government speaker makes a big bang
About 2,500 people heard actress Mayim Bialik, this year's Student Government Distinguished Speaker, at the Gordon Field House Saturday afternoon.
Bialik, best known for her roles on the television shows Blossom and The Big Bang Theory, also talked about growing up in a poor neighborhood in Los Angeles, the paths that led her to acting, academia and to earn a Ph.D. in neuroscience.
Prior to her talk, she met with members of RIT's Student Government, where she talked about her life, her interest in science and her time management.
"I don't need much sleep," Bialik told the students. "When the sun comes up, it's like, OK Lord, let's do it."
Bialik told the students she became interested in acting because she enjoyed being in plays in middle school, and was 12 when she landed the role of a young Bette Midler in Beaches. She was the lead character in television show Blossom for five years, and then left acting to pursue her Ph.D., get married and have two sons. She's been on The Big Bang Theory for the past eight years, and auditioned in its third year never even having seen the show.
"Life is a winding journey," she said.
Bialik, an author, blogger and host of her own YouTube channel, said she's not certain what her future will hold after filming on her sitcom concludes in this, its last season.
"We're all a commodity," she said. "I'm actually looking for a job."
After her hourlong talk, Bialik answered some questions from the audience. One student asked how to find your passion.
"Experience a lot of things," Bialik said. "The more you look at, and the more you see, you will find it. Look for different points of views. Go see a lot of movies. Travel. See more places in this country."
Homecoming celebrations
Reunions, tours of RIT's new facilities and traditional homecoming celebrations brought people together throughout the weekend.
Women who work in STEM (science, technology, engineering and math) fields sought to inspire students and alumni at talks during the weekend. Jenny Fleiss, co-founder and CEO of Jetblack, discussed experiential marketing and intrapreneurship, while Suzet McKinney, the CEO/executive director of the Illinois Medical District, explored how technology can offer solutions to emergency preparedness and homeland security.
At the Presidents' Alumni Ball Friday evening, 850 attendees were surprised with a performance of "Eye of the Tiger," by Dave Bickler, former lead singer of Survivor and a parent of a first-year student.
On Saturday night, the RIT men's hockey team rolled to a 6-1 win over Colgate University in front of a sold-out crowd of 10,556 fans at Blue Cross Arena in downtown Rochester. During the game, the Rochester skyline shone with orange lights in honor of RIT.
Ed and Robin Olesky drove five hours from Audubon, Pa., to attend their first Brick City homecoming at RIT, and to see their daughter Amanda, a first-year new media marketing major.
They attended a Dueling Pianos show, heard Bialik's talk and watched the RIT men's hockey game Saturday night in downtown Rochester.
"It's been great," Ed Olesky said. "I'm definitely glad we came."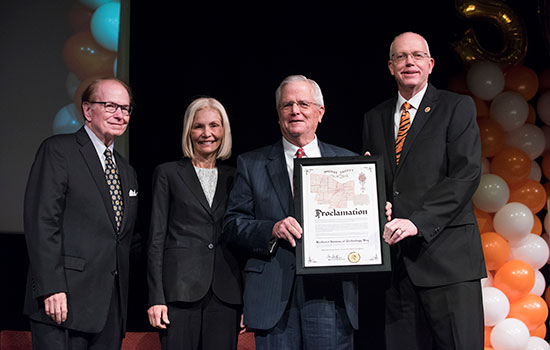 A. Sue Weisler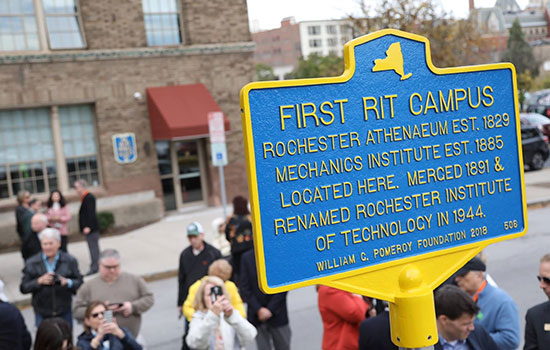 Ken Huth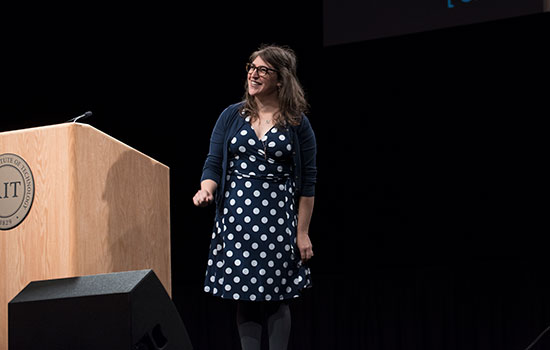 A. Sue Weisler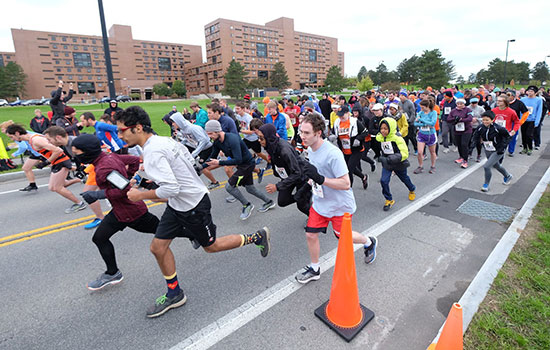 Ken Huth
Video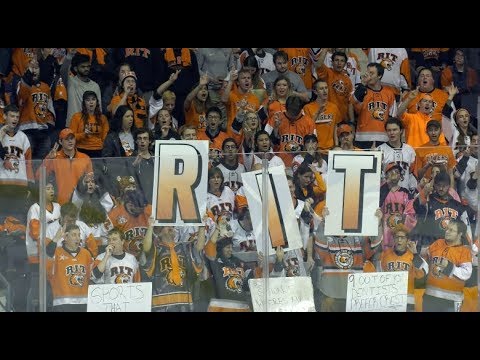 Related News
Topics