RIT co-hosts Light and Sound Interactive conference
RIT-UR event will bring together innovative technologies and start-ups in imaging, virtual reality, games, film and music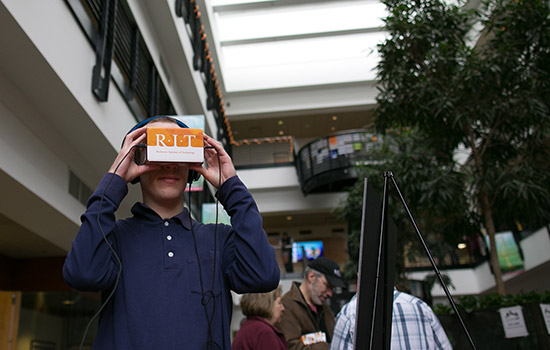 Mike Bradley
The first-ever Light and Sound Interactive (LSI) event, a three-day conference, expo and career fair focused on light- and sound-based technologies and their applications, will take place Sept. 12-14 at the Joseph A. Floreano Riverside Convention Center and Hyatt Regency in Rochester.
LSI will highlight innovations in augmented and virtual reality, interactive media and games, film, audio and music, imaging, displays, healthcare, optics and photonics. Keynote speakers, panel discussions, workshops, demonstrations, hands-on events, trade show exhibits, networking activities and a career fair will all be part of the mix.
LSI is being hosted by RIT and the University of Rochester with major funding provided by the Wegman Family Charitable Foundation. Platinum sponsors include Corning Inc., the Optical Society of America (OSA), Eastman Kodak Co. and Empire State Development. Gold and silver sponsors include Graywood Companies Inc., Nixon Peabody LLP, Optimax, Navitar, Syntec Optics, Mosaic Microsystems, Canandaigua National Bank & Trust, The Pike Co., Nazareth College and Monroe Community College.
"RIT is excited to be a partner in this event, which also speaks to our core strengths of working at the intersection of technology, the arts, and design," said RIT President David Munson, who will be a keynote speaker. "LSI will feature RIT researchers who are pushing the boundaries in light and sound technologies. This is an ideal opportunity to showcase that greater Rochester is a world-class leader in these interdisciplinary fields that will continue to shape creativity and innovation for years to come."
"This conference has outstanding potential to nationally showcase the region's and the University of Rochester's innovation and research in optics, photonics, imaging and audio engineering, all of which are improving lives around the world and advancing the frontiers of human knowledge and technology," said University of Rochester President and CEO Joel Seligman. "The University of Rochester and RIT are tailor-made to co-host this conference, and I look forward to joining with our area sponsors, industries and institutions this September."
Rochester is the perfect fit for LSI. The region is not only the birthplace of disruptive technologies such as the digital camera, it's also home to the University of Rochester's Institute of Optics, world-renowned Eastman School of Music, and programs in audio and music engineering, digital media studies; and RIT's School of Interactive Games and Media, School of Film and Animation, the MAGIC Center, and Center for Imaging Science. Rochester is also home to more than a hundred companies in the optics, imaging and photonics industries—the largest such cluster in the country.
Mark Bocko, chairman of the Electrical and Computer Engineering Department and director of the Center for Emerging and Innovative Sciences (CEIS) at the University of Rochester, which founded and is producing LSI, said, "The event will bring together some of the most exciting technologies and start-ups in the world's fastest-growing industries, including virtual reality, gaming, film and music – all of which have deep connections to academic and industry hubs in Rochester."
Paul Ballentine, executive director of CEIS and producer of LSI, said, "LSI is inspired by the success of South by Southwest Interactive in Austin, Texas, an offshoot of the world-renowned SXSW Music and Film festivals. With a strong, long-term vision and a can-do spirit, LSI can do the same for Rochester as SXSW Interactive did for Austin," he said. "If you're a light and sound technologist, animation artist, musician, game developer, or want to be—or simply want to explore the mix of creativity and technology—we want you at LSI."
The first-ever LSI is being held in the days preceding the 2017 KeyBank Rochester Fringe Festival, Sept. 14-23, which attracts 60,000 visitors. In addition to the convention center and Hyatt hotel, LSI satellite events will take place at the Eastman School of Music and the RIT MAGIC Center.
The timing of LSI also coincides with New York state's $10 million accelerator challenge, Luminate. The competition, managed by High Tech Rochester, will accelerate the boldest start-ups in the optics, photonics and imaging industries. Deadline for applications is Sept. 15, the day after LSI ends. For details, visit www.luminate.org.
Registration for LSI is free for the first 100 registrants and $150 afterwards. Students at all levels, from high school to graduate studies, may register for free at any time by showing a valid student ID when picking up their badge. More information, including a detailed event program, can be found at www.lightandsound.org. Follow LSI on Facebook, Instagram, and Twitter using the hashtag #LSI2017 for the latest updates.
Sponsorships are still available for LSI. For more information regarding opportunities, please contact LSI at 585-275-1990 or info@lightandsound.org.