RIT, community fans thrilled by Polisseni Center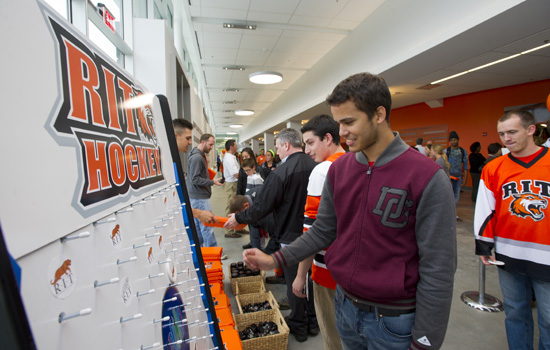 A. Sue Weisler
Amidst the blaring trumpets of RIT's Pep Band and resounding chants from the Corner Crew, hundreds of Tiger hockey fans were treated to their first look inside the Gene Polisseni Center at the official grand opening on Thursday.
"When you first walk in, you're just wowed by it all," said Carin Heckman '05 (information technology).
RIT students, faculty, staff, alumni and donors—along with youth hockey players and other members of the Rochester community—also felt that "wow factor," which was evident in the cheers heard during and after the ceremonial dedication. Fans were able to explore the arena through a one-of-a-kind, interactive experience including carnival games and complimentary concessions, self-guided tours, photo ops with Ritchie the mascot and ice time with the men's and women's hockey teams during an open skate session.
They shared their first impressions of the arena:
Diana Tubman, a fifth-year psychology and marketing major, hopes that the new arena will not only improve the performance of RIT's hockey teams, but also the performance of the RIT Corner Crew.

The dedicated group of students, alumni, faculty, staff and locals can be seen and heard cheering for the hockey teams at every home game. In the Polisseni Center, their corner is located at the southwest end of the rink and has been outfitted with a new cast bronze church bell that will be rung after every RIT goal.

"Loving hockey is just a natural part of being at RIT," said Tubman, a Rochester native who has been a part of the Corner Crew for two years. "And the best part about being in Corner Crew is that you get to be extra loud about it."

For Neil Guertin, a clarinet player and president of the RIT Pep Band, the new arena means bigger sound and more dancing. While the band was limited to 65 members per game in Ritter Arena, that will no longer be an issue in the 4,000-seat Polisseni Center.

"When I first saw the pep band playing during an RIT open house, I knew I wanted to be a part of it," said Guertin, a third-year computer science and mathematics major from Cornwall, Vt. "I'm glad to be a part of this huge moment at RIT."

In addition to more dancing from the tuba section, crowds can also look forward to a few new songs that have been added to the Pep Band repertoire.

Nine-year-old Riley Heckman is all about girl power. Not only does she aspire to play hockey for RIT's women's team one day, her ultimate goal is to play hockey on the women's U.S. Olympic team. For now, Riley, from West Henrietta, N.Y., skates out of Scottsville Ice Rink and plays for Monroe County Youth Hockey. In fact, Riley's passion for skating and hockey was born nearly four years ago after carefully watching the RIT teams maneuver skillfully on ice.

Riley and her mom are season ticket holders and have attended games at Ritter Arena for years.

"We wanted to come here to find our new seats," she said, proudly sitting in the front row of her section.

So, which team does Riley prefer to watch—the RIT men's team or women's team?

"Well, I like them both, but the women's games are better—because I'm a girl."

Terry Moore, an employee of United Association Local 13 and a Farmington, N.Y., resident, has been looking forward to bringing his son, Sam, 11, to the new Polisseni Center.

The Moores aren't strangers to RIT hockey, having attended many games at Ritter Arena. And the elder Moore is anxious to continue the father-son tradition at Polisseni.

"His favorite game was when the Tigers played against Clarkson University—because Sam's grandpa is a Clarkson alumnus," said Terry. "It's just a great family rivalry. And Sam loves the RIT Pep Band because they're so funny."

Sam could be considered a hockey veteran himself—having played the game since he was 3 years old. He currently plays for the Canandaigua Knights youth hockey program.

"He's a great skater," said Terry.

"This is so cool," said Sam, who on Thursday night was most looking forward to skating on the new Polisseni ice with both RIT squads.

"The new arena is an awesome addition to the RIT campus and it's also great for the hockey community," added Terry. "It's amazing that we have had local and regional players who are now captains for National Hockey League teams. This is a sport that will continue to grow."

Hoping to win some free RIT swag, Nicholas Aggerbeck lined up his shot. A few seconds later, the hockey puck was resting in the back of the net.

"It's beautiful—one of the best arenas in college hockey," said Aggerbeck, a first-year computing security student from Boston. "Who isn't excited for the season to start?"

Paul Fowler, a first-year civil engineering technology student, wholeheartedly agreed. Fowler grew up in Rochester and recalled having to squeeze into the old Ritter Arena for big games.

"The popularity of hockey around here has skyrocketed," said Fowler. "We definitely needed the expansion."

Kailon Jiang came to the dedication ceremony along with her mother, who has been visiting from Beijing, China, for the past month.

"I had never really been a hockey fan before I came to RIT, but I am now," said Jiang, a third-year marketing and mathematics major. "I think watching games in the comfortable seats of the new center is going to be really fun."

The Yackel family has maintained strong connections to RIT and its hockey program for decades. And they can't wait to watch the Tigers play in their brand new arena.

"I think the Polisseni Center is just fantastic," said Richard Yackel. "I started coming to RIT hockey games in 1980 and I've been going ever since."

Richard's wife, Sharon, worked for RIT for more than 15 years. The couple had four children together, all of whom attended the university, and the family would often go to hockey games together. Now, the Yackels continue the tradition with their grandchildren.

"RIT is very near to our hearts."
Includes reporting by University News staff members Scott Bureau '11 and Derrick Hunt '15.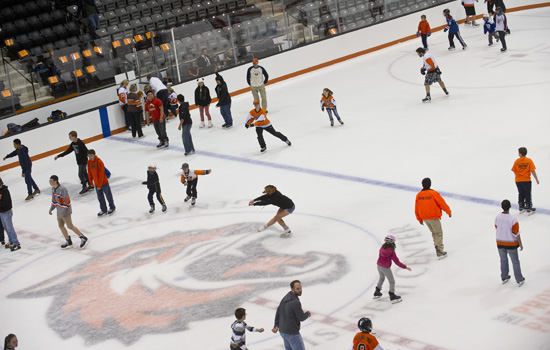 A. Sue Weisler
Topics