RIT community joins Fringe Festival fun
More than 500 eclectic performances and displays planned Sept. 12-22 in Rochester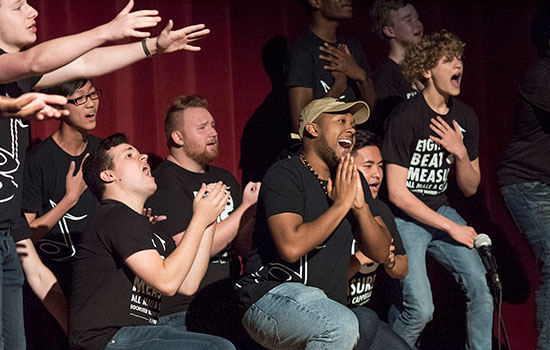 A. Sue Weisler
Rochester Institute of Technology students, faculty, staff and Osher members are part of an 11-day lineup of more than 500 eclectic performances in this year's KeyBank Rochester Fringe Festival, Sept. 12-22 in Rochester.
RIT also is a major educational sponsor of the community collaborative event, now in its seventh year. The festival is a celebration of the performing and visual arts in more than 30 venues in downtown Rochester, featuring world-renowned performers as well as up-and-comers. More than 78,000 people attended last year's festival.
More than 150 of the festival events are free, including all of the 39 RIT performances and exhibits, most which will be held at the Little Theatre, 240 East Ave.
RIT will provide free shuttlebus service to and from campus during the festival weekends.
Some of the RIT performances and exhibits include a showcase of locally-made video games, belly dancing, an exhibition of handmade masks, karaoke with puppets, and a one-man show describing what it means to be a black, deaf man.
Thomas Warfield, director of dance at RIT's National Technical Institute for the Deaf, will show and discuss On the Way to Oz, his documentary film about diversity in the arts.
There will also be favorites from past years, including a cappella groups, poetry performed in American Sign Language, folk music performed by retired RIT President Bill Destler and his spouse, Rebecca Johnson, and highlights from RIT's School of Film and Animation Honors Show.
 "Creativity is in RIT's DNA, and our participation in the Fringe Festival provides us with a great opportunity to showcase the many talented artists, performers and other creative individuals that are part of our campus community, as well as engage with the greater Rochester community in celebrating the vibrant City Center of Rochester," said Deborah Stendardi, RIT's vice president for Government and Community Relations.
"The arts bring people together, and there is nothing better than seeing the city streets filled with people from all parts of our community, as well as visitors from far and wide, enjoying all kinds of performances in a wide range of venues," she said.
The RIT offerings at this year's Fringe Festival include:
Beyond Words, original ASL poetry, song and comedy performance.
ROC Game Dev Showcase, display featuring locally-made video games and their developers.
RIT Ukulele Club, performs both classic and contemporary songs.
RIT Vocal Accent, all-female a cappella group performs empowering and emotionally charged music.
Eight Beat Measure, an all-male a cappella group.
Al Biles and GenJam, jazz performed by human and computer.
Crazy Platez, a Rochester-themed game, race against the clock to deliver plates before running out of gas.
RIT Improv, student improv comedy entertainment with three troupes: BrainWreck, Improvessionals and Work-In-Progress.
On the Way to Oz, documentary film and discussion on diversity in the arts, by Thomas Warfield.
The Gallileo Band, faculty and staff perform "feel good" music.
 Sunshine 2.0, traveling theater troupe from RIT's National Technical Institute for the Deaf, giving performances and activities for deaf, hard-of-hearing and hearing children and adults that highlight the fields of science, technology, engineering, arts and math, and more.
Mountain Blues: Himalayan to Appalachian, Howie Lester performs with sarangi and fiddle.
B2, Bill Dresnack and Evan Blaine play acoustic originals and songs by Neil Young, Tom Petty, Eric Clapton and others.
RIT Players Presents: 15 Minute Hamlet, students present an extremely shortened Shakespeare play on stage.
Out of Sync: Kaleidoscope, a live experience that combines abstract art, avant-garde film and experimental music into the realm of live performance, beginning with film loops painted by hand.
RIT Surround Sound, an a cappella group with a variety of songs including barbershop.
RIT Art House Showcase, a display of works from a community of RIT students who have a passion for the arts.
Three for Ten, a series of three 10-minute plays performed by students and faculty.
Signature Magazine Presents, RIT's undergraduate art and literary magazine offers poetry and prose readings by RIT students, faculty, staff and alumni.
RIT School of Film and Animation Honors Show 2018, a selection of the more than 250 projects students have completed this year.
Bill Dresnack, Original Songs on the Spectrum of Emotions, original songs on harmonica and guitar.
Proof of Purchase, student a cappella group performing in their signature upbeat style.
One Frogless Evening, a tribute to the amphibian Artiste Michigan J. Frog.
The Tragic Life of Arlecchino, dance duet, acrobatic tricks and elaborate masks, performed by deaf and hard-of-hearing students and staff members who integrate dance with American Sign Language. Voice interpreters provided.
Listen to Us, a selection of videos created by RIT photojournalism students.
Osher Lifelong Learning Institute Artists, exhibit from the artists belonging to the Osher Lifelong Learning Institute.
The Annual Bill Destler & Rebecca Johnson Show, retired RIT President Bill Destler and his spouse offer traditional and contemporary folk music, with guitar and banjo.
RIT Jam Club Live!, RIT student musicians play a variety of songs across various genres.
Brick City Singers, students performing a broad repertoire, wacky antics and amusing skits.
Mental Graffiti Poetry, slam poetry by students who will share original poems and favorite pieces.
Sad Bastards, faculty and staff meld punk, folk and pop music.
Desert Rhythms, belly dancing complete with swirling veils and dueling swords.
Norm & the Outliers, a jazz quintet featuring RIT and University of Rochester faculty and staff, which includes audience participation.
Virtual Karaoke, sing while controlling a virtual puppet using facial motion.
A Day in the Life of the Forcibly Displaced, a photo exhibit focusing on living conditions around the world.
Encore A Cappella, all-female a cappella group performs songs spanning several decades.
Motion Capture, audience members are invited to perform with musicians as their motions are captured and integrated into projected visuals via cameras and sensors.
Black Deaf Male: Who Am I?, an hour-long show, written and performed in ASL by Fred Michael Beam, with voice interpreting.
For a complete schedule of RIT Fringe events (and notations on interpreted performances) as well as the shuttle schedule to and from RIT, go to www.rit.edu/fringefest or contact RIT Assistant Vice President of Special Events Lynn Rowoth at 585-475-7408 or lynn.rowoth@rit.edu.