RIT contributes to success of photonics initiative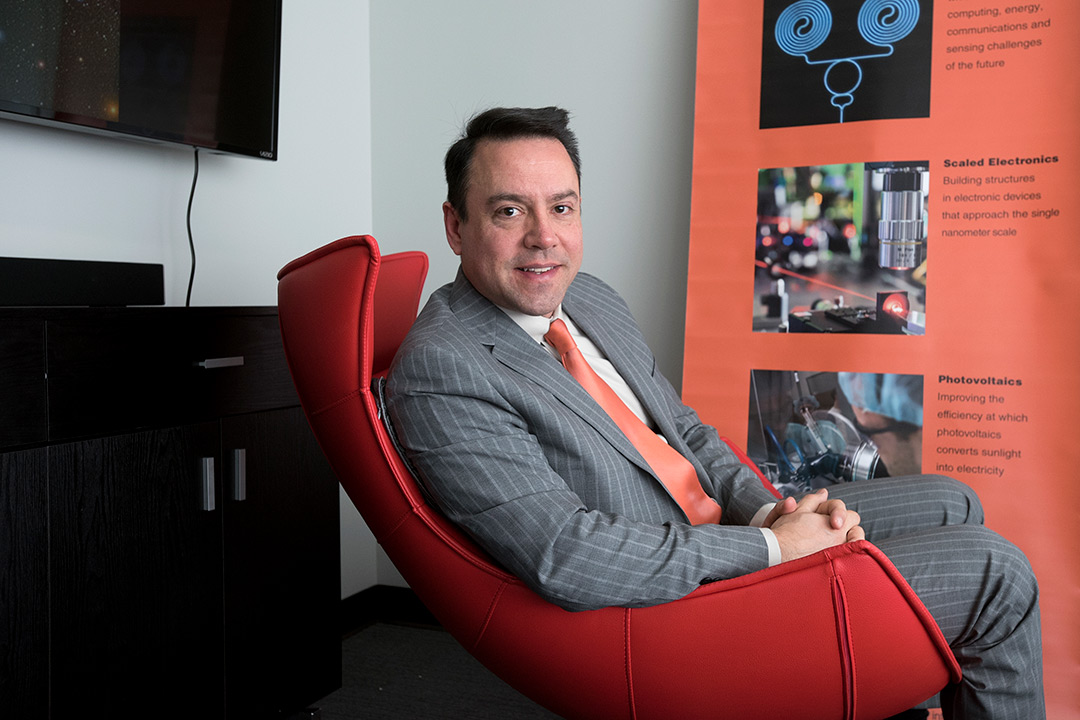 A. Sue Weisler
RIT's Future Photon Initiative is developing a system of quality-control protocols for a national photonics manufacturing hub located in Rochester.
The system will test and validate photonics devices produced at the American Institute for Manufacturing (AIM) Integrated Photonics facility. RIT, a Tier 1 Academic Member of AIM Photonics, is building software and hardware to interface with technology in development at Columbia University and at Precision Optical Transceivers Inc.
The Future Photon Initiative, an RIT signature research area led by Don Figer, will deliver the operational system to the AIM testing and packaging (TAP) facility in 2019.
Advanced photonics seeks to tap the speed and energy of photons, or light. The emerging technology could have wide-sweeping influence in potential markets including solar energy, biophotonics, high performance imaging, astrophysics, communications and electronics and computing. The industry's success is tied to developing scaled-up manufacturing processes that can mass produce functional photonic devices.
The AIM consortium is building the infrastructure and inventing the photonics products. It is building the photonics industry from the ground up.
"The tests don't exist yet. The devices don't exist yet. The software to design the devices doesn't exist," said Figer, whose team is developing the test station. "All these tools are in bits and pieces of the photonic ecosystem that we're building. It's the whole collaboration—AIM Photonics. One of the little pieces is the testing and verification."
Figer has experience designing tests for emerging technology. He tested imaging sensor technology for the James Webb Space Telescope and created the testing plan for infrared detectors on the Hubble Space Telescope. He is currently the co-chair of the detectors technology working group and a member of the High Definition Imager instrument team for NASA's future Large UV/Optical/IR Surveyor.
RIT has received multiple grants from AIM Photonics since 2015 for research projects in integrated photonics (circuit-sandwiches of new optical devices and traditional semi-conductors) and workforce education.
The majority of the funding supports research conducted by Stefan Preble, director of the RIT Integrated Photonics Group and professor of microsystems engineering in Kate Gleason College of Engineering. Preble coordinates AIM Photonics research projects at RIT.
Preble was instrumental in establishing a connection between RIT and Precision OT, a Rochester-based company that develops technology used in optical communication systems.
Precision OT's chief technology officer is Bryce Tennant '97 (electrical engineering), '04 (electrical engineering), a Ph.D. student researcher in microsystems engineering.
Precision OT is a member of the Future Photon Initiative's Industrial Partnership Program and occupies office space on the RIT campus for ease in collaboration. Equipment Precision OT purchased is used for research with RIT faculty and students.
"Precision's strategic partnership with the Future Photon Initiative has provided for a fruitful relationship between our company and the university," Tennant said. "Through the FPI we have been able to effectively build relationships with RIT, sponsor working projects with both faculty and students, and recruit new talent for our business."
Precision OT is working in tandem with Figer's research group to develop the integrated photonic reference design and programmable integrated circuits that will enhance the testing system's performance and efficiency.
"The Rochester TAP testing/verification project that Don's team is running at the Future Photon Initiative is a highly complex integrated system involving many intricate systems coordinating together to validate a multitude of integrated photonic devices," Tennant said. "The Future Photon Initiative's involvement with the software development and maintenance for the Rochester hub provides a critical component of the TAP's functionality."
AIM Photonics
The American Institute for Manufacturing Integrated Photonics is part of the federal government's Manufacturing USA initiative. Created in July 2015, it is run by a consortium of 90 university, government and corporate partners, led by SUNY Polytechnic, RIT, University of Rochester and Massachusetts Institute of Technology.
Topics