RIT COVID-19 Alert Level moves to Yellow
University community must remain vigilant as spring semester starts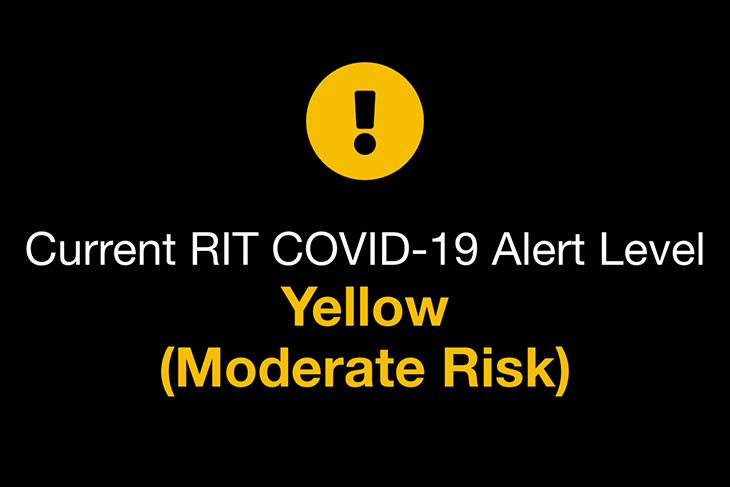 Dear RIT community,
After careful consideration, we have made the decision to move our alert level on campus from Orange to Yellow, meaning that the prevalence of the virus on campus remains a moderate risk. While this changes our alert level closer to where we all would like to be, we must continue to be extremely vigilant. We must not let our guard down.
A number of important factors are behind this decision. While the prevalence of the virus across our country and in our community is higher than it was for our fall start, we have more experience living amidst a global pandemic. We gained valuable information from our fall strategy which included surveillance wastewater testing, random testing, targeted testing, and testing those who were symptomatic. We have seen in recent days the prevalence of the illness in the greater Rochester area begin to decrease. We have greatly increased our capacity for individual surveillance testing in the spring; we have modified our wastewater surveillance to include both residence and academic areas. We are confident our plan to again require pre-semester testing for students, faculty, and staff will get us off to a safe start.
Even though students will have submitted a negative test prior to returning to campus, they will be retested at the beginning of the spring semester and frequently throughout the term. The first week of classes will see us testing a large number of students. In the second week, we will expect ALL students to be tested. With our increase in testing capacity, students who circulate on campus will see frequent notifications to schedule appointments for mandatory COVID-19 testing throughout the semester.  
While quarantine and isolation bed availability on campus was above 90 percent for most of fall semester, we have also increased our bed availability for spring out of an abundance of caution.
We anticipate the number of new COVID-19 cases in Monroe County will continue to decline as we move further from the holiday peak. It is reassuring that the town of Henrietta, where RIT is located, currently has some of the lowest infection rates in the county.
The following are Yellow Alert protocols
Mask Requirements
Wear a mask when you are not in your immediate bubble of close contacts (e.g., roommates, housemates, partners).
When dining with others, remove your mask only to eat or drink and put your mask back on immediately whenever talking.
These practices should be followed whether you reside on or off campus.
Gatherings
There are no changes to instructional spaces.
Capacity for non-instructional spaces limited to 50 percent (e.g. Ritter Arena, Gordon Field House)
Non-instructional indoor events are limited to 25 people.
Residence Halls, Guests, and Visitors
Students living in university residential areas are not permitted to have guests in their room/apartment. Residents are not permitted to visit other floors or apartments.
Students living off-campus are strongly advised to follow the same practice, and not have guests to their residences.
Dining
Indoor dining seating areas have been reduced to a maximum of two people per table, and six feet of distance must be maintained at all times.
Dining is allowed in designated dining areas in academic buildings, as long as six feet of distance is maintained between individuals with masks removed only to eat and drink.
Transportation
Shuttle occupancy will be at 50 percent.
We successfully completed in-person instruction in the fall due to the perseverance of the entire campus and our strict adherence to the three Ws — wearing a mask, watching your distance, and washing your hands. Now is the time to add a fourth "W" to our efforts to stem the spread of COVID-19—Willpower. The willpower to fight transmission of this virus for the next few months. Together, we successfully finished the fall semester. Let's repeat that success this spring.