RIT COVID-19 Alert Level Moves to Yellow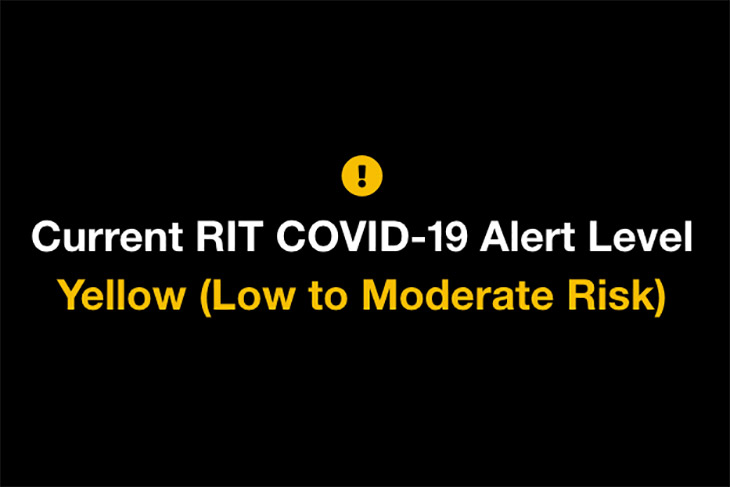 Dear RIT Community,
Over the past several days, we have been tracking some connected cases of COVID-19 stemming from a student who traveled off-campus and out of the Rochester and Finger Lakes region. This has resulted in a slight uptick in positive cases on campus. Along with isolating the students who have tested positive, we have also quarantined their close contacts.
This serves as a reminder that anyone traveling must follow all health and safety measures. We strongly recommend that students, faculty, and staff do not travel outside the Finger Lakes Region (Monroe and adjacent counties) unless absolutely necessary. If travel must occur, please remember to follow all safety precautions and refrain from participating in group gatherings where distancing and masking is not occurring.
We have made the decision to move our alert level on campus to Yellow. This means the prevalence of virus remains low, but indicators show potential for an increase in transmission. Because of this change, we will limit non-instructional indoor gatherings to 25 people and implement targeted testing. 
Our most recent wastewater surveillance samples detected the possible presence of COVID in parts of Riverknoll and Greek housing. Out of an abundance of caution, we will test impacted residents from those units starting this morning. Individuals needing testing will be alerted via text and email.
The actions we are taking may seem strong, but we cannot let our guard down. In fact, these recent positive cases are the very first cases of known transmission from one RIT community member to another. While we have seen good compliance with the three W's, we must work together, stay vigilant, and individually take on safety as our personal responsibility.
Today, we are implementing a program called "Get Back to Green," highlighting how the community can reduce risk and bring the numbers back down. You will soon see signage around campus and posts on social media, highlighting actions you can take to keep our campus healthy. More information is available on the Stopping the Spread page on the RIT Ready website.
Please continue wearing a mask, watching your distance, and washing your hands—the three W's. Avoid all gatherings where masking and distancing are not observed. Let's continue to be safe. Let's finish this semester successfully!
Dr. Wendy Gelbard
Associate Vice President, Wellness Student Affairs
A sign language interpreted translation of this message is available.