RIT Cricket Club encourages playing for your health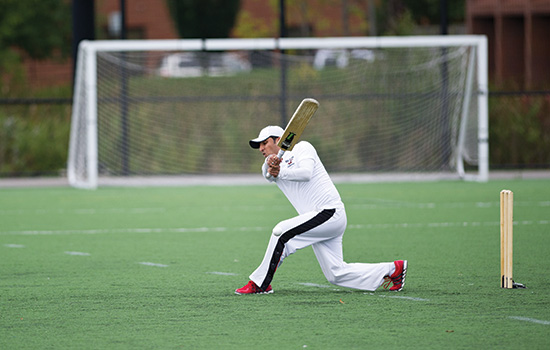 Carly Strods
Cricket is arguably the second most popular sport in the world, behind soccer—and at RIT, cricket is creating a strong following. The ball-and-bat game played with wickets and known for its unique terminology is the fastest-growing new intramural sport, based on enrollment figures. 

Now a certified wellness course offering at RIT, cricket is similar to baseball in that the fielding team must get batters "out" to prevent the batting team from scoring runs. Among many differences are the ability 
of the pitcher, or bowler, to bounce the ball when thrown, and the fact that there are essentially only two bases. While the 
average baseball game lasts a few hours, cricket matches can last for days. 

The sport's modern form originated 
in England, becoming popular by the 
17th century. Today, cricket is still a 
favorite among citizens of the British Commonwealth, including the Indian 
subcontinent, and West Indies. While the game is not as popular in the United States, interest is growing as large leagues have 
developed in cricket "hotbeds" like 
New York, Chicago and San Francisco.

"Cricket is played with passion and is 
followed religiously worldwide—especially in India, where the majority of our club is from," explains Srinath Sriram, an industrial engineering graduate student from Bangalore, India, and president of RIT's newly active Cricket Club. "We want to introduce the game to the RIT community and develop a cricket culture on campus."

Last winter, Wyatt Strong, a materials science and engineering graduate student and former graduate senator from Pompey, N.Y., began searching for new intramural activities for students. He and Sriram 
restarted the defunct Cricket Club, and, 
surprisingly, more than 50 people gathered to play by the club's second meeting. 

"I had never played cricket before, 
but I knew it would be popular among 
students while aligning with RIT's global 
initiatives," says Strong, vice president 
of the RIT Cricket Club. 

Today, the club has more than 180 
members. It has run two intramural 
tournaments and hosted a collegiate 
tournament at RIT, playing against Syracuse University and Cornell University. Tejdeep Vonteru, an electrical engineering graduate student and former state-level cricket player from Hyderabad, India, has expressed interest in instructing the cricket course.

"Our version of the game is slightly modified from the original, allowing the game to be played in 50 minutes," Sriram says. "We also do not require heavy 
protective gear, as we use a taped ball 
that is much softer than a real cricket ball, which is actually harder than a baseball." 

Cricket equipment is available for loan 
in the Student Life Center equipment cage. 

"The students playing intramural cricket are passionate about the sport and seeing the sidelines packed with cheering fans has been great," says Brennan Coon, assistant director of intramurals. "I'm sure cricket will continue to grow across campus."

"If you want to learn more about the game or the club, check out the schedule 
on our Facebook page (RIT Cricket Club) and join in a game," Sriram says. 
"Everyone is welcome."