RIT in Croatia
Launched a decade ago following a devastating war, RIT's American College of Management and Technology has had a tremendous impact on its students and its host nation.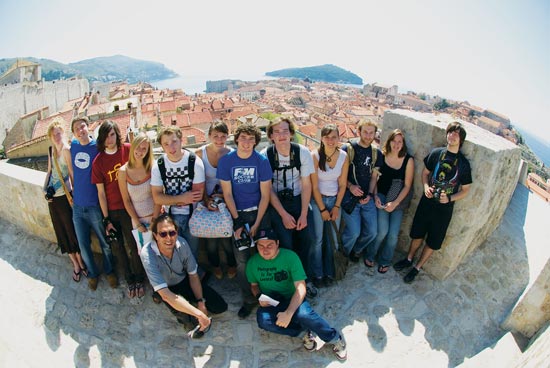 Staffan Larsson
Ivan Bavcevic had planned to attend college in the United States. A native of Split, Croatia, he had already been exposed to the American educational system, graduating from high school in Davenport, Iowa, as part of a student exchange program.
He decided to return home after his parents called with exciting news – an American college was opening in Dubrovnik, Croatia. The American College of Management and Technology (ACMT), a branch of RIT, opened its doors in September 1997.
Bavcevic was among the first students.
"The experience was amazing from the beginning," says Bavcevic. "It was something totally different than what I was used to in education here."
The Croatian government, looking to rebuild following the devastating 1991-1995 civil war resulting from the disintegration of the former Yugoslavia, approached RIT about opening a school with an American model of education.
"When two members of the Croatian Ministry of Science, Education and Technology visited RIT in the mid '90s, we assumed they would be most interested in our programs in information technology, telecommunications or engineering technology," says Stanley McKenzie, RIT provost. "At the end of their visit, to our surprise, we were informed the quickest jump start to the Croatian economy would be in tourism management, since the Dalmatian Coast had been the prime vacation spot for south-central Europe before the war in the Balkans."
Up from the ashes
Dubrovnik came under attack in October 1991. Bavcevic, in junior high at the time, recalls the shock and horror.
"War was everywhere. In Split, my family had to go to a shelter one night. In Dubrovnik everything was burned. People didn't have places to live. When we saw the army coming into the streets and planes flying overhead, we couldn't believe it was happening. It was 1990s Europe."
Bavcevic's mother, an accountant, left her job to join the war effort.
"Women were not recruited, but they needed people. She worked as a secretary for a general who was in charge in South Croatia. Every day she went with him out to the battlefield and would come back home in the evening."
The war ended in November 1995 with the negotiation of the Dayton-Paris Agreement between Croatia, Serbia and Bosnia and Herzegovina.
RIT came on the scene just two years later.
Through RIT's School of Hospitality and Service Management, ACMT initially offered a two-year degree in hospitality and tourism management. It was an immediate success. Today the college offers associate's and bachelor's degrees in hospitality and service management, a master of science degree in service management and several certificate programs to serve the local business community.
Dubrovnik is again thriving as a tourist destination with hundreds of thousands of people visiting the picturesque walled city along the Adriatic Sea each year.
Close connections
A member of ACMT's first graduating class who comes back to visit often is Petra Starcevic. She and her husband Vlado Resnik, a 2004 graduate of ACMT, live in Croatia's capital, Zagreb.
"I loved my class because we were so connected. Everyone was new and came from all different places," says Starcevic. "The professors and the students grew close. I don't think at any time in my whole life I enjoyed myself more than my time at ACMT."
Starcevic earned associate's and bachelor's degrees in hotel and resort management. She ultimately wanted to work in Croatia, but immediately after graduation moved to the United States. Her work in America ranged from a job in Walt Disney World guest relations to serving as a corporate trainer for Carnival Cruise Lines. Her experience led her back to Croatia to work at the country's biggest privately owned hotel company, Adriatic Luxury Hotels. Originally hired as the training manager for the Dubrovnik Palace Hotel, which was under construction at the time, Starcevic had to quickly transition into the role of human resources manager after someone unexpectedly quit.
"I felt like I was working 24 hours a day because the Dubrovnik Palace Hotel was getting ready to open," says Starcevic. "I hired all of the hotel's 265 employees in addition to handling the hotel's legal matters, including putting together the employee handbook and managing contracts. It was a very hectic time and the construction was not going as planned. When the employees were done with their regular jobs, we would head to the hotel construction site. Everyone had a job. Mine was to install all of the lamps, from the ones in the hotel rooms, even those in the bar and kitchen. The company recognized my hard work and I was promoted to human resources manager for the entire hotel company. I'm really proud of that part of my career."
Within the past year, Starcevic began working at the British Council in Zagreb. She is helping to implement the country's new civil service reform program, which must be complete for Croatia to join the European Union.
"The timeline for Croatia to join the EU is around 2011, which is perfect timing for our graduates because they are getting an education that provides them with knowledge about European Union guidelines and ways to manage business within these standards," says Bill Myers '98 (service management), ACMT hospitality and service management program chair.
Going global
Globalization is a primary focus of the ACMT curriculum. European methodologies are incorporated into many of the courses, with classes offered in Global Standards and International Human Resources. Students from every corner of the world attend ACMT, including China, Korea, Australia, Russia, Sweden, South Africa and the United States as well as Croatia.
"About 60 to 65 percent of our student body is from Croatia. It's a great representation of a global society," adds Myers.
Students also come from RIT's Rochester campus. Since the inception of ACMT, more than 40 RIT students from the College of Applied Science and Technology, College of Liberal Arts, and College of Imaging Arts and Sciences have studied for a quarter in Dubrovnik.
In spring 2007, a dozen photography majors from the School of Photographic Arts and Sciences took a six-credit photography course documenting the culture, food and people of Croatia. Their study-abroad experience was rounded out with elective courses offered through ACMT.
"It's nice to be able to get RIT credit, and be part of the RIT community, but be halfway around the world, completely out of my element, in a country where my language is not the native language, in a culture completely different," says Arion Doerr, a fourth-year advertising photography major. "The people were warm, and opened up to us. I made a lot of great friendships."
Among the students' professors are RIT faculty members who teach at ACMT on a revolving basis. Approximately one-third of the ACMT professors are from RIT.
"All of our faculty are tremendously dedicated," says Myers. "With two-thirds of a great foundation and provide consistency and familiarity for the students. Our other faculty travel from the U.S. and Canada to teach year after year and bring with them new experiences and fresh perspective from a different part of the world. With each quarter at ACMT comes fresh energy and an ever improving education for the students."
Dave Crumb, a professor in RIT's School of Hospitality and Service Management, spends every other spring in Dubrovnik teaching the Financial Management for Hotels course.
"It's been an enriching experience for me to learn another culture and to take some of our American teaching and thinking over to the students," says Crumb. "It's an exchange of cultures and the Croatian students are very energetic and energize the professors.
"I always encourage the students to get involved in the economy of their country. For example, one of my former students, Stipe Milecic – who is only 28 years old – owns a boutique hotel in the city of Gradac. It's such a pleasure for me to see students like Stipe achieve their objectives at an early age."
Over the past decade, the number of ACMT students has grown from 175 to more than 600. When ACMT first opened, the college shared a facility with the Polytechnic of Dubrovnik (now the University of Dubrovnik). To accommodate rising enrollment, ACMTe has moved into its own facility outside of Dubrovnik's Old Town. The four-story building houses classrooms, computer labs and offices.
"Being in a shared location for the first eight years, we were pretty limited in what programs we could offer," says Don Hudspeth '99 (service management), dean and president of ACMT. "In the fall of 2008, we hope to offer a degree program in information technology. It will be very similar to the RIT degree program and offer courses in such areas as networking, e-commerce and security."
ACMT is also looking at offering a program in environmental science.
"We are in some ways running two institutes because we are a fully accredited Croatian institute in addition to being part of RIT," says Hudspeth. "The support from the Croatian government has been wonderful all along."
During commencement ceremonies in June, the Office of the President of the Republic of Croatia presented presidential medals to RIT President Albert Simone and Provost Stanley McKenzie recognizing them for their courage in establishing ACMT shortly after the end of the war.
"This is the highest honor I've ever received and it was a total surprise to me," says McKenzie. "It's been tremendously gratifying and thrilling to experience the joy and appreciation of the ACMT students."
Ivan Bavcevic is just one of so many students who experienced ACMT for all it has to offer.
"The professors at ACMT are like family. Completely," says Bavcevic. "It's really special. I wouldn't have my own consulting company if I didn't know what I do now."