RIT Dubai celebrates first class of graduates
Students travel to Rochester for the first time to participate in graduation ceremony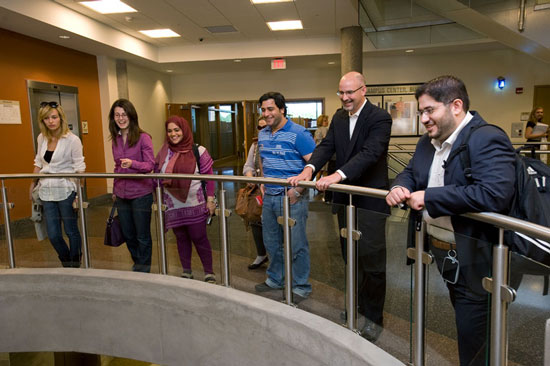 A. Sue Weisler
Fatma Al-Bedaiwi first heard of RIT during the formal ceremony announcing that the institute would establish a site in Dubai at the Silicon Oasis. She was among the crowd at the new site, observing and asking about the American college. Three years later, she was among the first graduates of RIT Dubai to make their way for the first time to Rochester for graduation ceremonies.
Al-Bedaiwi, Sameer Al-Marzouqi and Majid Al-Zarouni traveled more than 14 hours and crossed several times zones to get to Rochester. The group recently toured the campus previously seen only in photographs.
All three students graduated with master's degrees in the service leadership and innovation.
"The service leadership program is one of the first of its kind in the area," says Al-Bedaiwi. "It opened many doors and offers many opportunities for us."
Al-Bedaiwi works for the Dubai Holdings Company. She, like her classmates, worked during the day and took classes in the evening. Al-Marzouqi works for an import/export organization, while Al-Zarouni is retail manager for a petro-company.
"It would be good to have had at least one quarter to work with the students here," Al-Bedaiwi says. While this was her first time in Rochester, she and her sister, Sharifa, who traveled with her, have been to the United States before. Both have a fondness for Orlando, Fla. "We love Disney and Universal Studios," she says.
More students from the Rochester campus should be encouraged to travel to Dubai for classes and to learn more about his homeland, says Al-Marzouqi who intends to continue work, but also enroll in a Ph.D. program. "Dubai is an open country, it is very welcoming. It is very international," he says.
The RIT Dubai campus was established in 2008 in the United Arab Emirates, which has quickly established itself as the foremost tourist, business and educational destination. RIT is one of several colleges that have launched new ventures in the region. The college provides undergraduate degree programs in applied arts and sciences, business management, computing and information science, and engineering. It offers graduate degrees in business, mechanical and electrical engineering, service leadership, and networking and systems administration.
Despite recent financial challenges in the country, the RIT Dubai campus is growing. A new campus building is being constructed and enrollments continue to climb.
"RIT recently received a commitment from the governmental agencies of Dubai to launch undergraduate programs starting in the fall of 2010," says James Watters, senior vice president, Finance and Administration. "Their continued confidence in RIT was further evidenced by the recent commitment of a new facility to support the undergraduate programs. They continue to value this great relationship."
##