RIT Dubai leader named Libya deputy prime minister
Mustafa Abushagur, president of RIT Dubai, returns to his homeland to rebuild government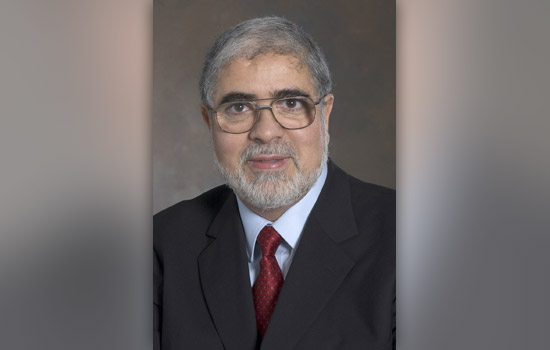 The president of RIT Dubai is returning to his homeland to serve as the deputy prime minister in the newly liberated country of Libya.
Mustafa Abushagur, who is also a professor of microsystems engineering at Rochester Institute of Technology, will leave his RIT post immediately for an eight-month period to begin building a democracy in Libya.
Abushagur was a Libyan refugee and was on a "Most Wanted" list in Libya because he actively opposed the Moammar Gadhafi regime. The regime was toppled by rebels this year and Gadhafi was killed in October. For the first time in 32 years, Abushagur said he felt safe enough to return to his homeland. He visited with family and friends in the capital city of Tripoli this fall.
"The Libyan people have won their freedom after 42 years of oppression," Abushagur said in a statement to students, faculty and staff at RIT Dubai. "Libya now is in the stage of moving from the revolution to building a nation. The country is calling upon its entire people to join hands and come together to build the nation that tens of thousands of its people gave their lives for its liberty. I have been active during the last 30 years of my life in supporting the efforts to liberate Libya from tyranny."
Abushagur joined RIT in 2002 and led the development of the world's first doctoral program in microsystems engineering, while also conducting research in nanophotonics and micro-optical systems. He became founding president of RIT Dubai in 2008. Prior to moving to the Middle East, Abushagur resided in Brighton, N.Y.
"RIT has graciously encouraged me to answer the call of my nation," said Abushagur.
RIT President Bill Destler, who recently returned from a visit to RIT Dubai in October, said Abushagur is needed immediately in Libya as the nation looks for stability and growth. "Mustafa will be a great leader in Libya," said Destler. "Under his leadership, RIT Dubai has come a long way in a short period. He is leaving us in great shape and now he has a greater duty."
As deputy prime minister, Abushagur will lay the groundwork for a democratic government in Libya, with free elections occurring later in 2012. He intends to return to RIT Dubai in eight months.
In the meantime, Luther Troell, a professor in the B. Thomas Golisano College of Computing and Information Sciences, will lead academic and student affairs at RIT Dubai. James Watters, RIT's senior vice president for finance and administration, will oversee finance and administration duties of the global campus. An interim president of RIT Dubai will be named in the near future.
Watters noted that Abushagur's leadership role in Libya will parallel the experience RIT has with other global campuses in Croatia, Kosovo and Dubai, where the university was called upon by those governments to assist in rebuilding infrastructure in those nations.
"We have assisted the governments and the people of those countries with our expertise in technology, engineering and entrepreneurship to help modernize their workforce," said Watters.
"It is wonderful that a high-profile RIT leader will have this opportunity in his home country. Mustafa will have an impact on developing a new way of life for the people of Libya."
##
About Mustafa Abushagur: Mustafa Abushagur, deputy prime minister of Libya, is the founding president of RIT Dubai, established in 2008. An expert in micro-optical systems and nanophotonics, Abushagur joined RIT in 2002 as a professor of electrical engineering and director of the university's microsystems-engineering research and education initiatives in the Kate Gleason College of Engineering. He later became founding director of the college's microsystems engineering Ph.D. program. Abushagur came to RIT from the University of Alabama at Huntsville, where he was professor of electrical and computer engineering and professor of optical science and engineering. He also led development of the university's optical engineering degree program. He has taught at the University of Rochester and the Association for the Institution of the Free University of Nuoro in Italy.
A native of Libya, Abushagur earned doctoral and master's degrees in electrical engineering from California Institute of Technology and a bachelor's degree in electrical engineering from Tripoli University. He founded LiquidLight Inc., a developer and manufacturer of optical network systems for the metro-access market, and Photronix, of Malaysia, a maker of fiber-optic components. He has consulted for the U.S. Army Missile Command, NASA, Boeing Co. and other firms, has published numerous papers and holds several patents.
About RIT Dubai: RIT Dubai was established in 2008 to provide world-class educational university programs in the United Arab Emirates for students and professionals from the Middle East, North Africa and Southeast Asia. RIT Dubai offers the same accredited degrees as Rochester Institute of Technology. For more information, go to www.rit.edu/dubai.
About RIT: Rochester Institute of Technology is internationally recognized for academic leadership in computing, engineering, imaging technology, sustainability, and fine and applied arts, in addition to unparalleled support services for deaf and hard-of-hearing students. RIT enrolls more than 17,600 full- and part-time students in more than 200 career-oriented and professional programs, and its cooperative education program is one of the oldest and largest in the nation. RIT is the 11th largest private university in the United States. For more information, go to www.rit.edu.
Includes reporting by Michael Saffran.