RIT Dubai students win electricity award
Panel uses sun's rays to cool parked car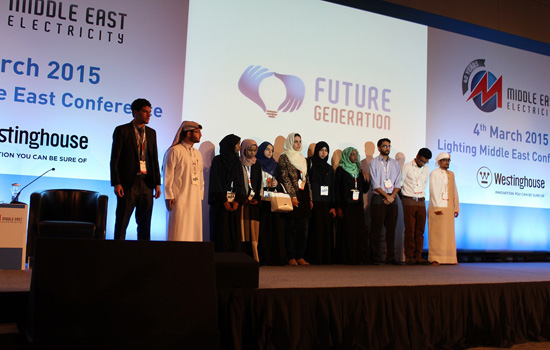 Engineering students from RIT Dubai won the Official Judges' Award at the Future Generation Competition, one of the largest power events in the world that highlights the potential and innovation of undergraduate engineering students in the United Arab Emirates.
Anishta Lakhani, Bilal Sharqi, Mohamed Amin and Sami Jouaneh entered "Solar Powered Car and Desert Cooler," which involved a prototype that harnesses the sun's energy to cool a car without using the car's engine or existing cooling system. By placing a solar panel on the roof of a car, electricity can be generated and stored in a battery. This power will be supplied to a system of thermoelectric coolers that provide a cooling effect when the car is parked and the engine turned off.
Using solar power for the energy source, thermoelectric coolers are used to bring down the temperature inside a parked car, which is especially effective during the scorching summer months.
"It was a wonderful experience participating in the competition and the response we got was overwhelming," said Sharqi. "People approached us asking when we are going to make it a finished product and were willing to sponsor us. Explaining our ideas while getting to know so many professionals who encouraged us was great exposure for college students. Winning was just the icing on the cake."
The judge's award was decided by a panel of three industry experts who reviewed all of the entries.
RIT Dubai entered another project, "Automotive Thermoelectric Generator," which placed second. The participants were Hamza Hashmi, Michelle Jayawickrama, Mohamed Amin, Sami Jouaneh and Syed Siddiq.
"What I really like about the Future Generation Competition is the fact that undergraduate students get to interact with engineers from industry and not just people from academia," said Wa'el Abdel Samad, assistant professor of mechanical engineering at RIT Dubai. "A priceless outcome of our students' participation in this completion was learning how to sell and promote their ideas to potential investors and sponsors. Such skills are often hard to teach in a formal classroom setting, which is why, as faculty, we always encourage students to participate in such competitions."
Since RIT opened one of its global campuses in Dubai in 2008, part of the university's overall strategy has been to enhance research, innovation, and to support the realization of the UAE Vision 2021 in vital areas such as sustainability, energy efficiency and sustainable environment.
The campus, located in Dubai Silicon Oasis, houses two main research centers for its engineering students: the Energy & Sustainability Center and the Mechatronics Laboratory. The focus of this program is on energy sustainability and efficiency in the UAE and the rest of the world, and this award-winning project is only one of the many innovative solutions students have created.
For more information, go to http://www.rit.edu/dubai/.
About RIT Dubai
Established in 2008, RIT Dubai is a not-for-profit global campus of the Rochester Institute of Technology. RIT Dubai offers bachelor's and master's degrees in business and leadership, engineering and computing. It offers American degrees, and all of RIT's programs are UAE accredited. The faculty consists of outstanding professors from the United States, the Middle East, and around the world. RIT Dubai is located in Dubai Silicon Oasis, a technology park with over 900 companies such as SAP, Henkel, Schneider Electric, Fujitsu and Axiom.
Topics