RIT with edX offers soft skills program
Flexible online program allows learners to hone communication skills that help advance careers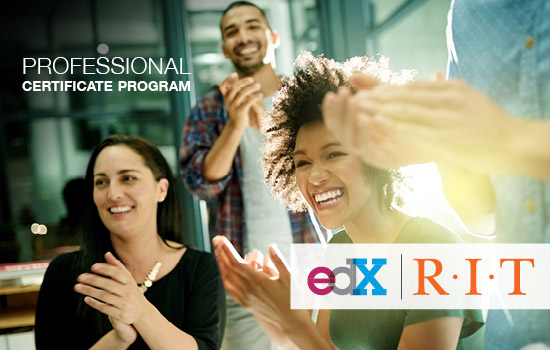 Professionals looking to master their soft skills—the tools that help you build relationships, improve productivity and boost collaboration in the workplace—can now do it online with Rochester Institute of Technology's Soft Skills Professional Certificate program on edX. With the certificate, learners can showcase their newly earned skills that employers value.
EdX's Professional Certificate programs are a series of in-demand offerings designed to build or advance critical skills for working professionals. Created by industry leaders and top universities, Professional Certificate programs offer a flexible, affordable way to develop the essential skills and actionable knowledge needed for today's top jobs.
Enrollment is now open for the six offerings in the Soft Skills Professional Certificate program. The first offering begins Nov. 28.
The series will teach learners a blend of interpersonal, communication and social intelligence skills that are in high-demand across all industries and jobs. Offerings are taught by faculty in RIT's School of Communication.
"Soft skills are power skills that require practice," said Andrea Hickerson, director of RIT's School of Communication and associate professor, who is teaching several of the Soft Skills offerings. "With this new program, professionals can hone the skills they need for promotions and management-level positions."
The Professional Certificate program consists of six three-week offerings that can be taken any time after the start date:
Business Communication (starts Nov. 28)
Teamwork and Collaboration (starts Jan. 16, 2018)
Critical Thinking and Problem-Solving (starts March 6, 2018)
Storytelling in the Workplace (starts April 24, 2018)
Public Speaking (starts June 12, 2018)
Visual Presentation (starts July 31, 2018)
Within each offering, learners will have access to videos from the instructors, readings and discussion boards with other participants. Each module takes about seven hours per week to complete.
"We are honored to work with RIT to offer a Professional Certificate program in Soft Skills—which are in huge demand in today's workplace," said Anant Agarwal, edX CEO and MIT professor. "We've heard from our global community of learners that they are seeking courses to help them advance their careers. Professional Certificate programs on edX deliver career-relevant education in a flexible, affordable way, by focusing on the critical skills industry leaders and successful professionals are seeking today."
The offerings in this program may be audited for free. For a fee, the program also allows learners to earn a verified Soft Skills Professional Certificate upon successful completion of all the offerings. Exclusive learning opportunities, including live events hosted by subject matter experts, will be available for verified learners who pursue the Professional Certificate.
"RIT has already been able to help more than a quarter million people through edX programs, and we're excited to add our first Professional Certificate program," said Thérèse Hannigan, director of RIT Online. "This is a great way for people to get connected to RIT and become aware of our terrific communication programs."
Details and enrollment information for RIT's Soft Skills Professional Certificate with edX can be found at the RIT Online and Professional Education webpage.