RIT enjoys stellar night at annual SMPTE awards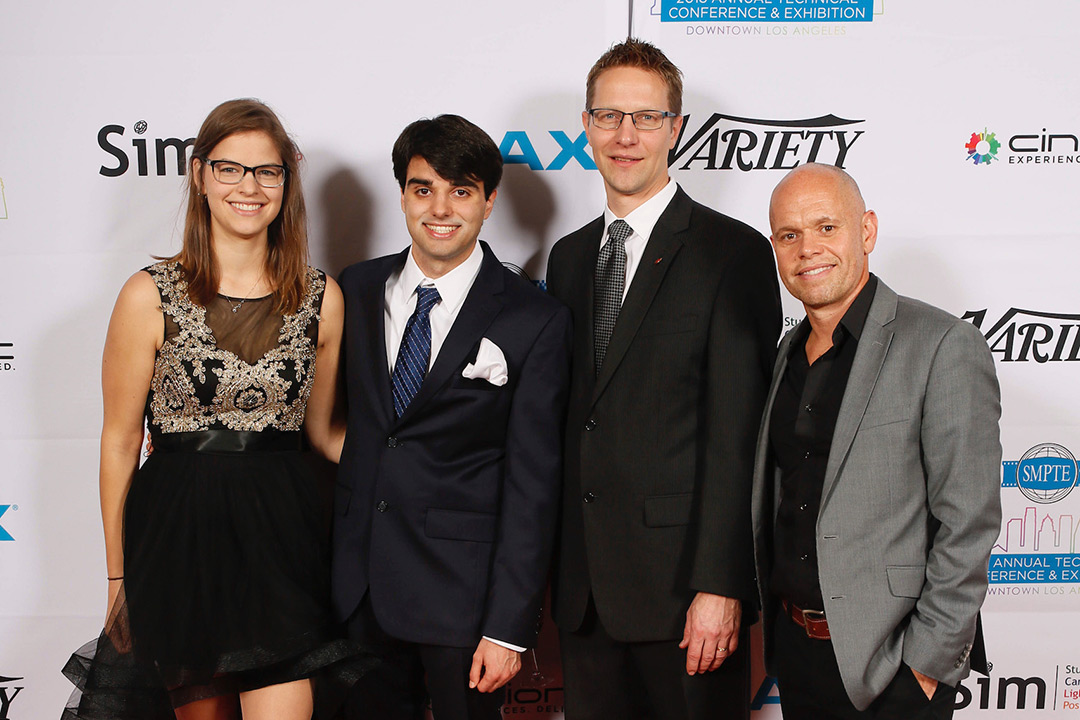 In what is becoming an annual tradition, Rochester Institute of Technology's motion picture science (MPS) program in the College of Art and Design enjoyed a stellar night at the 2018 SMPTE awards in Hollywood last week.
RIT students, faculty and alumni took home several awards at the Society of Motion Picture and Television Engineers (SMPTE) 2018 Annual Technical Conference & Exhibition on Oct. 25. The evening, which highlights innovative leaders advancing technology in media and entertainment, featured a red carpet, reception and dinner at the Westin Bonaventure Hotel & Suites in Los Angeles.
"These awards are yet further affirmation that RIT's motion picture science program prepares our students with one of the broadest and strongest curriculum choices in the country," said David Long, director of MAGIC Spell Studios and associate professor in MPS who attended the SMPTE awards.
"With each MPS alum joining the industry, our reputation is quickly growing with RIT becoming widely known for its many contributions to cinema technology," he added.
Current fourth-year MPS seniors Grace Annese of Webster, N.Y., and Jake Zuena, a native of Massapequa Park, N.Y, won two of the three Louis F. Wolf Jr. Memorial Scholarships presented. The scholarship assists students in furthering their undergraduate or graduate studies in motion pictures and television, with an emphasis on technology.
Two 2018 MPS alumnae were recognized with honorable mentions in the student research competition. Emily Faw, a 2018 MPS graduate who now serves as a color science technician at Technicolor, received an honorable mention for her paper titled, "What Does a High-Dynamic Range Mean: Creating a High-Dynamic Range Workflow for Film Students."
Catherine Meininger, currently a color scientist at Portrait Displays Inc., also earned an honorable mention for her paper titled, "Determining Visibility Thresholds for Spatial and Spatiotemporal Chromatic Noise."
A Journal Certificate of Merit was presented to 2017 MPS alumnae Jaclyn Pytlarz and Elizabeth Pieri who were recognized for their article titled, "Objectively Evaluating High-Dynamic-Range and Wide-Color-Gamut Color Differences," published in the March 2017 issue of the SMPTE Motion Imaging Journal. The article, also written with Robin Atkins, highlighted part of the trio's research at Dolby Laboratories.
In addition, Ricardo Figueroa, an associate professor in MPS, along with two MPS alumni—Trevor Canham and Catherine Meininger—each had papers accepted for the full conference program. The acknowledgement was particularly notable for Canham and Meininger because there is no student category for papers, meaning their thesis work merited recognition in a peer-reviewed competition with current industry professionals.
The Oscar and Emmy Award-winning Society of Motion Picture and Television Engineers is an internationally recognized and accredited organization that advances moving-imagery education and engineering across the communications, technology, media and entertainment industries. It has more than 6,000 members worldwide.
Topics