RIT evolves partnership with Malmo University in Sweden
Undergraduates from Malmo are spending the summer at RIT researching computational sensing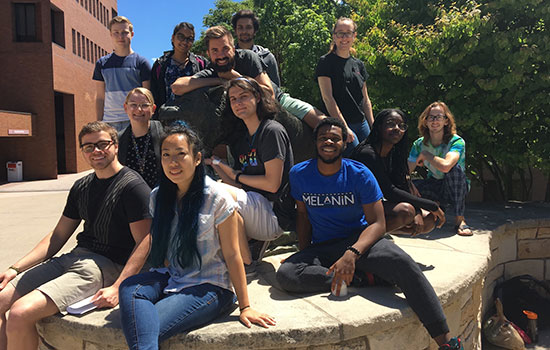 Rochester Institute of Technology expanded its partnership with Malmö University this summer by hosting Malmö undergraduate students for a 10-week intensive research experience. The Malmö students are conducting research in human-centered computational sensing alongside students from across the United States participating in the Research Experience for Undergraduates (REU) Site in Computational Sensing. While RIT and Malmö University's students have participated in semester-long exchanges and their faculty and administrators have visited each other's campuses multiple times, this marks the first time Malmö University students have engaged in research at RIT.
Malmö University computer science majors Gustaf Bohlin and Kristoffer Linderman are developing a system that recommends videos based on how users physically react to other videos. They are conducting their research under the guidance of RIT associate professors Cecilia Ovesdotter Alm, from the College of Liberal Arts, and Reynold Bailey, from the Department of Computer Science at RIT.
 "Through webcams, we are working on using viewers' facial expressions and pulse to create a video recommendation system," said Linderman. "Based on what the person is viewing, we want to create a model that can determine, do you like this video or do you not like this video? Do you want to watch similar videos? How would you rate this video?"
Bohlin and Linderman are working alongside 10 undergraduates enrolled in the REU who came to RIT this summer from universities including Georgia Institute of Technology, University of Puget Sound and University of Maryland, Baltimore County. The common theme of all the researchers' work is improving the way machines interpret and react to human behaviors and cognitive processes.
 "Humans are generating digital data all the time, so we must develop ways to use the data that are responsible and effective with the goal of improving the human experience and human lives," said Alm. "There are important scientific outcomes from the projects that are being conducted as part of the experience."
The REU Site in Computational Sensing was launched in 2016 by Alm and Bailey, who serve as principal investigator and co-PI, respectively. It is funded by a nearly $360,000 grant from the National Science Foundation and aims to help a diverse group of American students develop a passion for performing research. The Swedish students received funding to participate from Malmö University and RIT Global.
The students are all assigned to cross-disciplinary RIT faculty mentors to help guide their research, and Malmö University faculty are involved in the programmatic activities as well. Malmö University faculty serve as external reviewers for the students' presentations about their research twice over the course of the summer and provide the students with feedback to help them refine their final presentations at the RIT Undergraduate Research Symposium in August.
 "It's a really good opportunity to figure whether or not this is something you want to do," said Regina Wang, a computer science student from Mills College participating in the program. She also noted that having international students working alongside the REU students created a unique intercultural exchange. "It's been really great having not only the Swedish students, but the rest of us are all from different parts of the United States as well. We all come from very different schools, so I think that being able to meet people from all over and outside the U.S. has been a really great experience."
To learn more about the Research Experience for Undergraduates in Computational Sensing at RIT, go to cs.rit.edu/~reu.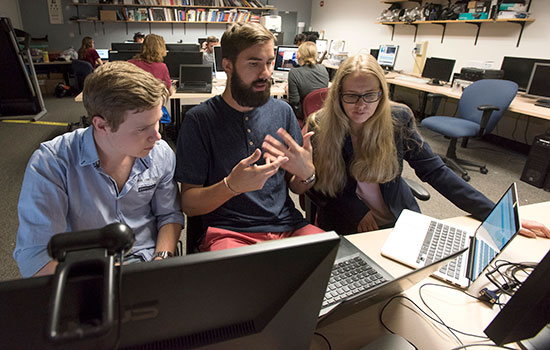 Topics