RIT a finalist in Challenging Extremism Initiative
Saunders College of Business team heads to Washington, D.C., on June 27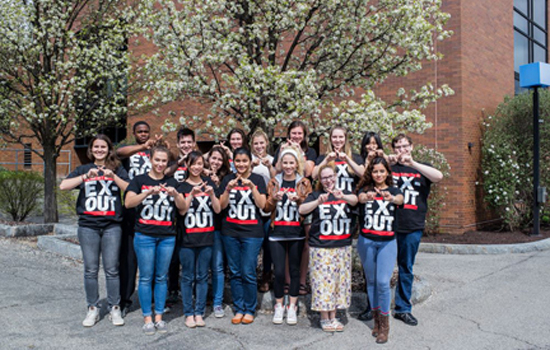 For a second time, Rochester Institute of Technology has been invited to participate with universities worldwide in the Peer to Peer (P2P): Challenging Extremism Initiative. Now in its third year, the U.S. Department of State sponsored program administered by EdVentures Partners is geared toward millennials countering extremism among their peers and in the community.
"We not only placed in the top three out of 56 national and international teams, we are also the only USA team in the finals," said Adriana Bóveda-Lambie, assistant professor of marketing at RIT's Saunders College of Business.
"Last year we placed in the top six honorable mentions," she said. "We are excited to present our campaign in Washington, D.C., on June 27."
Bóveda-Lambie assigned the P2P challenge to students in her social media marketing class for the spring 2016 semester. The Saunders-designed platform, "It's Time: Ex Out Extremism," focused on combating violent extremism through education and understanding.
With an operating budget of $2,000, the 17 members of the Saunders P2P team created a public relations and strategy agency, "It's Time," to implement interconnected campaigns to unite and empower the silent majority. The team's tactics included a logo, website, social media, video platforms, and events to raise public awareness both on campus and in the community.
Five members from the team, all fourth-year students who graduated from RIT this May, will be presenting their campaign results to government officials and industry leaders at the U.S. Department of State in Washington, D.C., on June 27.
The students are Jessica Kellner '16 (new media marketing) from Honeoye Falls, N.Y.; Margaret Harrington '16 (photographic sciences) from Tucson, Ariz.; Kate Sudar '16 (illustration) from Cleveland, Ohio; Olivia Hauck '16 (advertising and public relations) from Rochester, N.Y.; and Kailun Jiang '16 (marketing) from Beijing, China.
"There is so much hatred in the world and a lot of it comes from lack of knowledge," said Kellner, an executive officer of It's Time. "I think we are taking a very unique approach to educating and informing people and I am very excited to watch It's Time and Ex Out further develop and see how our project impacts and changes others views."
Bóveda-Lambie agrees, and said violent extremism is this generation's challenge, not only for millennials, but also for tweens. "Extremists have taken over online; there are too many of them and new ones show up every day. We can't challenge them in numbers and we can't physically challenge them, but at It's Time, we believe we can Ex Out extremism and promote higher understanding and acceptance."
The winning team of the P2P challenge will receive a scholarship prize of $5,000, followed by $3,000 for second place, and $1,000 for third.