RIT finishes second overall at Baja SAE Rochester
Michigan, RIT, Centro Universitario da FEI (Brazil) and Cornell win Top Performance awards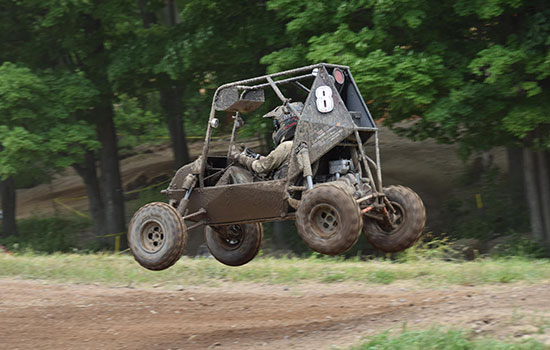 Andrew Edgecomb
RIT's Baja race season could have ended with only 20 minutes left in the four-hour endurance race. Spectators watched uneasily as the No. 8 car was towed off the field with some front-end damage. But, RIT Baja would return to the race in under 10 minutes after repairs, catch up to the leaders and close the 2016 Baja SAE Rochester event with an exciting fourth-place finish.
The competition took place June 9-12 with several events at RIT's Gordon Field House and Activities Center and at Hogback Hill Motocross Racetrack in Palmyra, N.Y. RIT was second overall in the four-day competition among 100 collegiate race teams. The University of Michigan-Ann Arbor came in first overall, and topped the field with several individual awards including the coveted Mike Schmidt Iron Team Award for the best overall scores for the season.
More than 1,200 students from universities such as Purdue, Clemson, the University of Rochester and Clarkson University competed. The University of Prince Edward Island (Canada) and City College of New York fielded teams for the first time at Baja SAE Rochester. They were joined by a large contingent of university teams from Canada, Venezuela, India, Brazil and Mexico.
In SAE Baja competitions, engineering students design and build off-road vehicles that must survive the severe punishment of rough terrain—hill and rock climbs—acceleration and maneuverability challenges. Teams run the four-hour endurance race over hills, rocks, log barriers and around hair-pin turns.
For Sunday's endurance final, there were still patches of mud from the rain on Saturday. High winds kicked up dust limiting visibility in some places. After more than 40 laps, RIT Baja led. They had one of the fastest course lap times at four minutes and 15 seconds, and it held up throughout the race. But with only a short time until the checkered flag, and with a broken upper control-arm failure on the front suspension, it looked like RIT might have had to call it a day.
"We fixed the control arm in nine minutes," said Nate Wynne, fourth-year mechanical engineering technology student and the team's lead suspension tech. RIT driver Doug Botto roared back onto the course.
"He pushed hard to catch up and picked up laps," Wynne added. "He knew that we were down at that point and we had to make up the time because there was not a lot of time left in the race. He was pushing hard for the finish."
Wynne, who graduated this past May, will begin work as a manufacturing engineer at Caterpillar. "It was excellent to watch Doug. He was able to pick good lines, get around other cars and to protect the car. He has to not only be fast, but be smart driving the car."
In the endurance race, the top finishers were the University of Michigan-Ann Arbor, Cornell University, the University of Akron and RIT.
The event is more than racing, said Cuneyt Oge, SAE International president, who addressed the student teams, and said their participation on Baja teams as well as classwork that includes information about sensor technologies and 3D-printing, for example, will contribute to how the automotive industry evolves over the coming years.
"We're living in an amazing age of mobility—how we use power, how we drive, how we move— and in your career as engineer, you'll create a mobility industry by 2050 that will look fundamentally different than what we have today. You are living in an incredibly important time, and this work needs to remain relevant for the benefit of society."
2016 Baja SAE Rochester Results
Briggs & Stratton Overall Performance Awardees
(Top overall event finishers)
University of Michigan Ann Arbor
Rochester Institute of Technology
Centro Universitario Da FEI (Brazil)
Cornell University
Polytechnique Montreal (Canada)
Iowa State University
University of Wisconsin Platteville
Ecole de Technologie Superieure (Canada)
Queens University (Canada)
Ohio Northern University
The Mike Schmidt Iron Team Award was presented to the University of Michigan Ann Arbor. RIT and Cornell were second and third, respectively. Mike Schmidt was an early member of the RIT Baja team. For several years, the team did not compete and it was through his influence and several other RIT Baja alumni to resurrect the team, competing in the three national events through SAE. Schmidt, however, died in a car accident just short of his graduation from RIT.
Marty Gordon, team adviser and Rochester event coordinator, recommended the award to recognize Schmidt's inspiration. Schmidt's father, Michael, presented the award.
"The award has been around," said Michael Schmidt of the numerous collegiate teams from around the world that have won the cup since it was first given in 2001. "This recognizes the sacrifices and the force of excellence that it takes for teams to build the cars, and to complete in three major events over the year."
Other individual event winners include:
Sales presentation
Universidade Federal de Pernambuco (Brazil)
University of Wisconsin Platteville
University of Michigan Ann Arbor
Polaris Design Award
University of Michigan Ann Arbor
Universidade Federal de Pernambuco
Rochester Institute of Technology
Cost Award
Centro Universitario da FEI (Brazil)
University of Michigan Ann Arbor
Johns Hopkins University
Acceleration Award
University of Michigan Ann Arbor
RV College of Engineering (India)
Case Western Reserve University
Toyota Hill Climb Awardees
University of Michigan Ann Arbor
RIT
Centro Universitario da FEI
Manga Maneuverability Award
Centro Universitario da FEI
RIT
University of Michigan Ann Arbor
Toyota Suspension Award
Cornell University
Pennsylvania College of Technology
Centro Universitario da FEI
Honda Overall Dynamic Day Awardees
(Top combined scores from dynamic day events)
University of Michigan Ann Arbor
RIT
Cornell University
Topics