February 3, 2011
by William Dube
RIT, First Niagara partner on community engagement
Effort seeks to better connect students with local community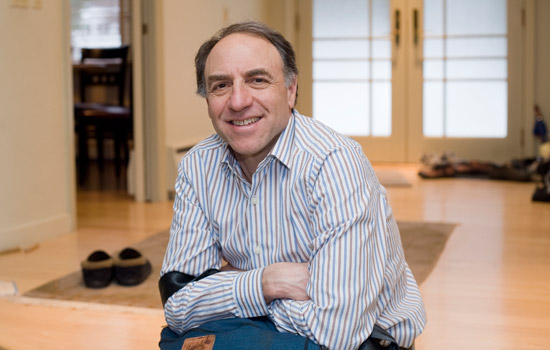 Rochester Institute of Technology and First Niagara Financial Group are working together to increase student engagement in the Rochester community and provide greater publicity for a host of social issues impacting the region.
The effort includes the development of the course Narrative Nonfiction: Writing a Community, which invites students to choose a local social issue and produce writings on the topic for potential publication in the Rochester media.
"This course seeks to better link classroom learning with real-world issues affecting people in our community, helping to make our students better writers and more involved citizens," notes Peter Lovenheim, adjunct professor of English at RIT and developer of the course. "I would like to thank First Niagara for its support of this undertaking."
"Good writing skills and a strong social conscious are important characteristics that First Niagara promotes in its own workforce," adds Patrick Burke, Rochester regional president for First Niagara. "We are happy to partner with RIT to promote community engagement and awareness among our future entrepreneurs, bankers, scientists and journalists."
Students in the course are able to choose topics they are interested in and work with local social service agencies, not-for-profit organizations and area advocates to gain a broader understanding of the local impacts of, and potential solutions to, current social challenges. Selected topics include discrimination against the deaf, preservation of local landmarks, domestic violence, homelessness, public education and alcohol abuse on college campuses.
Community leaders have also visited the class to discuss the impact of a variety of social issues on society. Speakers have included Bradley Tyler, assistant U.S. attorney for the Rochester region, and Jane Sutter, deputy editorial page editor for the Democrat and Chronicle. Several students will also have the opportunity to discuss their research and writing on the local public affairs program, "Many Voices, Many Visions" produced by WHAM-TV.
"I had not had a lot of experience with this kind of writing and was very interested in learning more while getting to promote an issue I cared about," says Scott Backus, a fourth-year manufacturing engineering technology major. "This class has definitely made me a better writer and provided a deep sense of satisfaction that in a small way I have helped to make my community a better place."
Lovenheim and Burke hope to offer the course in future academic years and also promote it as a model for how to teach social-issue writing and community engagement.
"As the old adage goes, the pen is mightier than the sword," Burke says. "By helping people become better writers and more socially conscious we can ultimately affect powerful change in our society."
Topics