RIT Formula racecar team opens its 2011 season with top-20 finish
New car recognized for improvements to overall design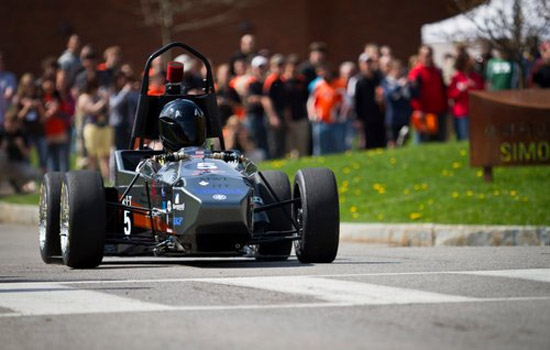 Big changes to overall design and equipment proved to be the right choices for the 2011 RIT SAE Formula racecar, according to project managers Ed Gliss and Kursten O'Neill.
The changes earned the team a fifth-place finish in the design category of its opening SAE student design competition May 11–14 at Michigan International Raceway. The team also received an honorable mention for the Chief Design Judge Best Three-View Drawing Award. This designation highlights the team's submission of a report detailing how the car was built, the strategies to improve its performance through design and detailed renderings of the racecar.
"Our fifth-place finish in the design event truly is a testament to how hard our design team worked to develop a well thought out and innovative Formula car," says Gliss.
"It is truly a significant accomplishment for the team to be a design finalist as it has been 10 years since the team was last awarded this honor at the Michigan event," adds O'Neill.
Overall the racecar team placed 21st among 120 teams from the U.S., Austria, Germany, Brazil and Japan. It placed fifth in the acceleration event, seventh in autocross, 15th in the formal presentation and 18th in skidpad events.
"The 2011 Formula SAE Michigan event proved to be very challenging. Many top-ranked European teams were able to attend this year, which added to the competitiveness," says Gliss, a fifth-year mechanical engineering student and team project manager.
Some of the new elements the team used included a new data acquisition system, similar to the ones used by professional racing teams to capture engine and system performance information such as fuel efficiencies, wheel speeds, suspension movement and equipment temperatures. Additionally, the chassis combines steel tubes and a carbon fiber monocoque, or fuselage, to support the majority of the frame. All the changes will make the racecar more competitive as its participates in two international challenges this summer, says O'Neill, who graduated in May and will begin working with Boeing in Washington, D.C., as a spacecraft systems engineer.
The first European competition the team will attend is Formula Student Austria July 27–30 at the Red Bull racetrack in Spielberg, Austria. Afterward, the team heads to the Formula Student Germany competition, Aug. 2–7 at Hockenheim, Germany.
Topics