RIT Formula team performs well despite challenges
Team puts in a strong performance despite technical difficulties and prepares for international event in July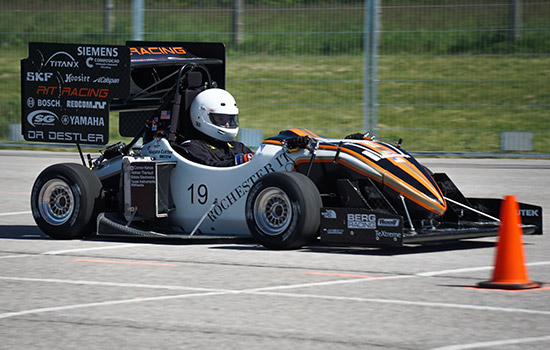 The RIT Formula SAE Racing Team experienced elation and disappointment this past weekend at Formula North, its second event of the 2017 season. The team was ranked seventh overall in points for both the static and dynamic events during the competition. Taking the checkered flag as overall champion was a possibility until the final three laps of the endurance run.
"Our Friday and Saturday went extremely well," said Jon Washington, RIT Racing project manager. "We ended up in a three-way tie for first-place in autocross, finished second in skidpad and received third-place for our business presentation."
The Canadian event is held on a very demanding track surface, and a number of established teams had technical issues in endurance due to the rough track surface, said Patrick Burke, the team's chief engineer.
"Heading into endurance with a healthy overall points lead, we had a technical issue in the drivetrain and had to retire the car with three laps to go," he said of the 29-lap endurance event. "It stings, but that's part of motorsport. We'll repair the car and be ready for our final 2017 competition in Budapest, Hungary, in July."
Adding to the disappointment in endurance, a course timing and scoring malfunction necessitated the removal of autocross points from all entrants. Teams may have scores adjusted after further review by event coordinators.
In their first event, RIT Racing competed at Formula SAE Michigan, May 10-13, placing ninth overall among more than 100 collegiate teams from the U.S., Canada and around the world.
"Formula Michigan is always a great benchmark for us to assess how the rest of our season will turn out," said Burke. "Our ninth-place finish inspired a lot of confidence in our team and our racecar, and it showed this weekend without a doubt, despite the disappointing end result at Formula North."
RIT Formula competes as the only American university in the Formula Student East competition July 20-23. More than 115 collegiate race teams from 28 countries are expected. Information about the event can be found online.
Includes reporting by Samuel Kramer, marketing/PR lead for RIT Formula SAE Racing