RIT group helps recovery efforts in Puerto Rico
Island still recovering from Hurricane Maria which struck Sept. 20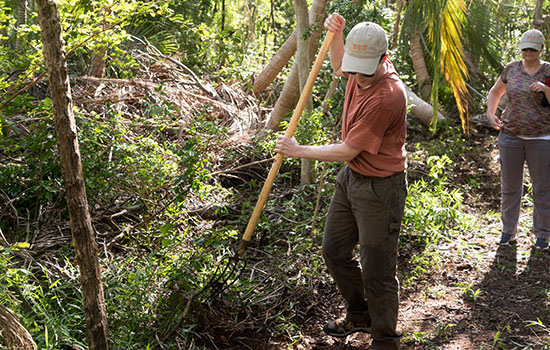 Ethan Whitecotton
While many of their fellow students relaxed with their families during the winter break, a group of seven honors students and four administrators or staff from Rochester Institute of Technology volunteered to spend a week in hurricane-ravaged Puerto Rico, helping clear debris, distribute needed supplies in neighborhoods and clean a Boys and Girls club there.
The service trip, organized by the College of Liberal Arts, gave the group a first-hand look at the devastation caused by Hurricane Maria, which struck Sept. 20. Many areas remain without electricity and the ability to access basic necessities, and the island's tourism industry is struggling.
"It made me realize how fortunate I am to live in a place where we don't have to worry about where our water is coming from or if we have electricity consistently," said Ryan McMullan, fourth-year environmental sustainability, health and safety management dual major from Easton, Pa., who called the trip "life changing" for him.
The group stayed at the Cabezas de San Juan Nature Reserve, on Puerto Rico's northeastern coast, where they chopped, cleared and cut their way through fallen trees and tangled vegetation to make hiking and biking paths accessible once again.
"I was using a machete cutting dead branches out of the way," McMullan said. "They rely on tourism, and if those paths aren't open, nobody wants to go there."
Evidence of Maria's destruction was also evident when the group moved into communities. Although some of the main highways were slowly getting back to normal, students saw downed power lines, water marks up to three feet high on buildings and previously empty lots now filled with fallen trees, trash and other debris. Bridges destroyed by landslides had still not been replaced in many areas, making villages in more remote areas difficult to reach.
"It was like we were looking at ruins of some ancient city, but people were living in those conditions," McMullan said. "That was a sobering experience. We were the first people to hand out supplies to them. We got a lot of 'thank yous' and 'God bless you all for what you're doing.'"
Taryn Brennan, a fourth-year international and global studies and sociology and anthropology major from Portland, Maine, was profoundly affected by a relief visit to Yabucoa, one of the hardest hit municipalities in Puerto Rico. The group brought drinking water, food, medications, baby supplies, flashlights and solar lamps to the coastal residents who were extremely grateful.
"We were the first people to walk through that area since Maria hit," Brennan said. "It highlighted the difficulties and inefficiencies of aid and resource allocation in areas without the ability to get to aid centers because of limited or no access to transportation. Still, the folks we interacted with were kind and helpful."
The group arrived in Puerto Rico on Jan. 6, Three Kings Day, which is celebrated there as a traditional day of giving. The group brought toys from Rochester to give to children at the Boys and Girls Club in Santurce, where they removed mold from walls to help make the club useable again.
Bobby ColÏŒn, RIT's general counsel, wanted to go on the trip because he was angry that hurricane relief efforts were taking so long.
"I went because I needed to channel my anger into something positive," ColÏŒn said. "It was very emotional for me because Puerto Rico is where my family is from. The residents there are still suffering."
John Smithgall, assistant dean for College of Liberal Arts and coordinator of the trip, said residents of Puerto Rico continue to live in extremely difficult situations.
"In some places, they are collecting rainwater in order to flush their toilets, and people stand in line for hours just to receive a few gallons of drinking water," he said.
But he said they were taking it in stride despite the harsh conditions.
"The work we did was just a small fraction of the work that still needs to be done," Smithgall said. "It was truly an honor and a privilege for RIT to serve the people of Puerto Rico."
A presentation to the RIT community is being planned by the students in order to share their insights and information about the trip and to discuss the trip's impact on their individual research and areas of study.
And many members of the group hope they can return to Puerto Rico next year.